UBE Express Guide for Expats
UBE Express Guide for Expats
Updated as of December 27, 2018
The UBE Express is one of the latest additions to how the government is dealing with traffic around all Ninoy Aquino International Airports (NAIA). It's a premium bus service that consists of a fleet of 24-seater PWD and senior citizen-friendly buses equipped with WiFi that goes from every NAIA Terminal to four areas in Metro Manila: Entertainment City, City of Manila, Makati, and the Grand Prix Hotel in Pasay City.
You can now enjoy the UBE Express Bus' amenities, all buses are fully air-conditioned equipped with GPS technology, WiFi, operated by a well-trained crew, sufficient luggage compartments, and CCTV.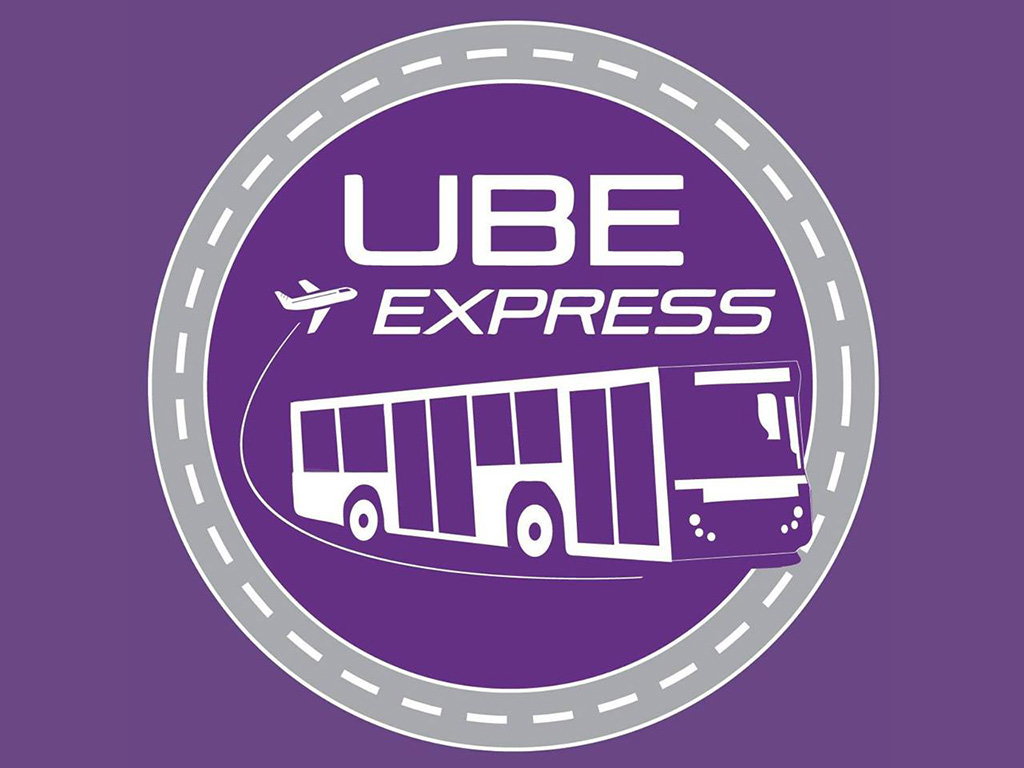 We've seen people online who are confused as to where these buses go, how to pay for your ride, and how often you can catch an UBE Express. Here's Philippine Primer's guide to the UBE Express:
Routes

NOTE ON THE STOPS. Yellow stops are those where you need to call or book for your ticket online via booking.ubeexpress.com. White stops, on the other hand, need no reservations./IMAGE UBE Express Facebook page
Perhaps the most critical piece of information you would look for is the routes these buses take. UBE Express currently runs four routes before heading straight for NAIA after the last stop: Entertainment City, Robinsons, Makati, and Grand Prix. Tickets for these routes cost Php 100.
Entertainment City Route
The UBE Express Entertainment City route passes through the part of Entertainment City that's not serviced by Solaire's, City of Dreams', and Okada's shuttle buses. The stops are as follows:
Go Hotel (Pasay road)
Solaire
Hotel 101
SMX Convention Center
SM Mall of Asia
Go Hotel (Ermita)
Robinsons Route
The only reason why this route is called Robinsons: it passes by Robinson's Manila, one of the largest malls in the City of Manila. It's going to feel like being on tour through the former center of everything in Metro Manila, what with the old and new hotels it passes by. Here are the stops:
Atrium/Jam Liner
Copacabana Apartment Hotel
Midas Hotel
Networld Hotel
Century Park
Hotel Jen
Diamond Hotel
Luneta Hotel
New World Manila
Pan Pacific Hotel
Manila Manor Hotel
Bayview Hotel
Manila Pavilion
Manila Hotel
Robinsons Manila
Intramuros
Makati Route
Most people who fly in from the airport usually head for Makati. It's the country's largest business district, making this route a no-brainer. Here are the stops:
Park Square, Ayala Center Makati
Grand Prix
No, it's not what you're thinking; it's not a trip to a race track. It's the shortest route of all the four. Grand Prix only has two stops: the Kabayan Hotel (along EDSA) and the Gran Prix Hotel Pasay (located at the Victory Liner Pasay Terminal).
Araneta Cubao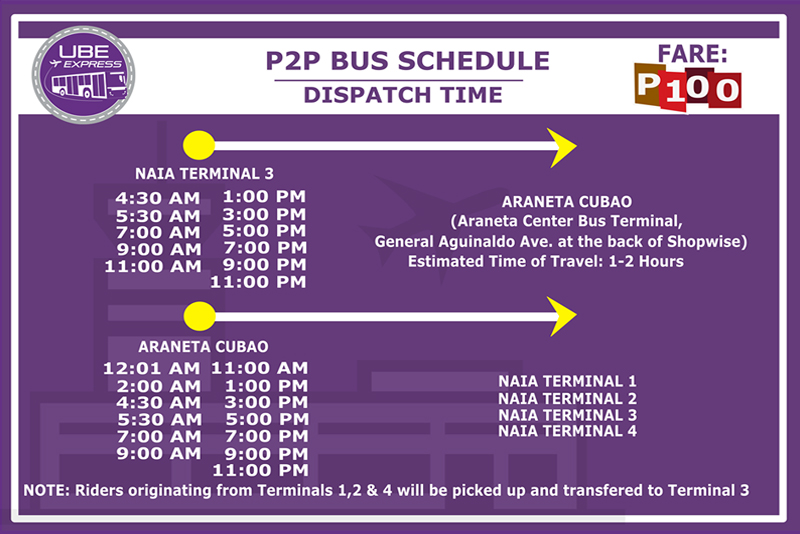 IMAGE UBE Express Facebook page
The first trip from NAIA which leaves at 4:30 a.m. while in Araneta, buses leave at 12:01 a.m. The UBE Express Bus can be found on the Araneta Bus Terminal where other buses that travel to Central Luzon, Southern Tagalog, and the Bicol Region.
Trip Schedules
Now that you know where the UBE Express stops, it's time to talk about the schedules. Traffic in Manila isn't something you can easily plan or make a schedule for, but the people running UBE Express have made this schedule for you to keep tabs on their buses.
Here's a rundown of the operating schedules for UBE Express:
Entertainment City: 8 am to 11 pm TO and FROM NAIA, with trips made every 30 minutes.
Robinsons: 6 am to 11 pm. TO and FROM NAIA, with trips made 2 hours.
Makati/Park Square: 10 am to 10 pm FROM NAIA, with trips made every 2 hours.
Mall of Asia Route: 12 nn to 10 pm FROM NAIA, trips made every hour.
Grand Prix: 24 hours, with trips made every hour
Aside from their existing routes, UBE Express also has buses that run from the NAIA Terminals to Starmall Alabang (Php 110), Robinsons Galleria (Php 70), Solenad 2 Nuvali and Robinsons Tagapo (Php 190). They also have a route that stops at Alabang Town Center and  Ayala South Park (Php 110).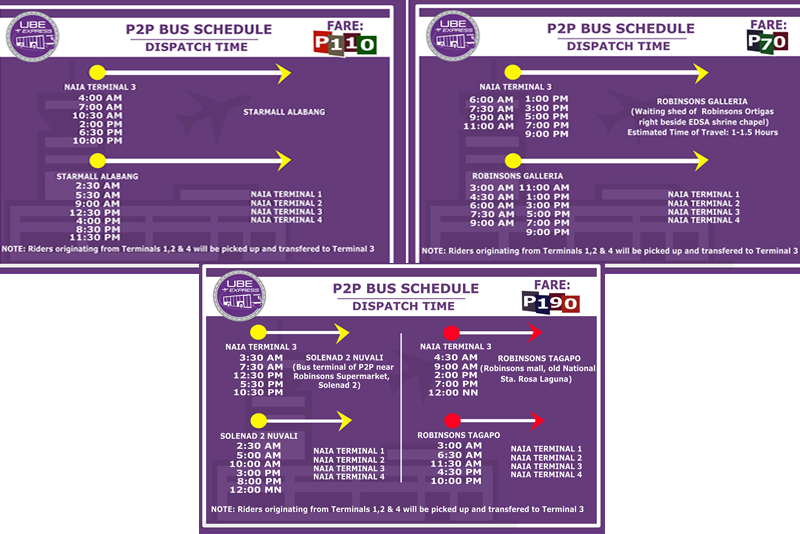 IMAGE UBE Express Facebook page
UBE Express tries to stick to the trip times as much as possible, but don't fret. They dispatch buses every 20-30 minutes, so you don't need to wait for one or two hours just to get a ride.
Getting tickets for UBE Express
There are two ways to get tickets for the UBE Express:
Pay by cash/walk in. It's an outright step: all you need to do is line up at any of the following pick-up points, pay the fee (take note that fees vary depending on the origin and destination), and get on the bus:

Main Arrival Area at NAIA Terminal 1
Bay 17 at NAIA Terminal 2
Bay 14 at NAIA Terminal 3
Mall of Asia
Entrance at the Pedro Gil Wing of Robinsons Manila
Park Square Terminal (in front/beside of Dusit Thani Manila)
Valero Grand Suites Makati
Victory Liner Pasay Bus Terminal

Online reservation. Visit booking.ubeexpress.com to get a guaranteed ride. They accept payments via credit card, PayPal, or Dragonpay, a local online payment service provider that has tie-ups with local banks like BDO.
For more information visit http://www.ubeexpress.com/.
---
Written by Andronico Del Rosario
Source: ubeexpress.com, UBE Express on Facebook