List: Rainy Season Essentials in the Philippines
List: Rainy Season Essentials in the Philippines
There are only a few weeks, maybe a few days, if PAGASA suddenly declares that summer is over. It's a welcome reprieve from all that heat, sweat, and a "do-not-eat-too-much-lest-you-lose-your-summer-bod" level of self-control.
The start of the rainy season, however, does bring with it a different set of things to prepare for: floods (if you're in a flood-prone area), a different set of diseases, and water – lots and lots of water that might prove to be daunting for those not used to it.
Luckily, we've compiled a list of things you should not be without during the rainy season. Here's Philippine Primer's list of rainy season essentials:
Umbrella
We understand you don't want to bring a big umbrella with you as you go around the metro, but it is the most essential item you should have with you. It doesn't have to be that big – even a small folding umbrella that can keep most of your body dry when it does rain will do wonders.
RAIN OR SHINE. Umbrellas are so adaptable./IMAGE Pixabay
Rain boots/shoe cover/overshoes and raincoat/rainproof windbreaker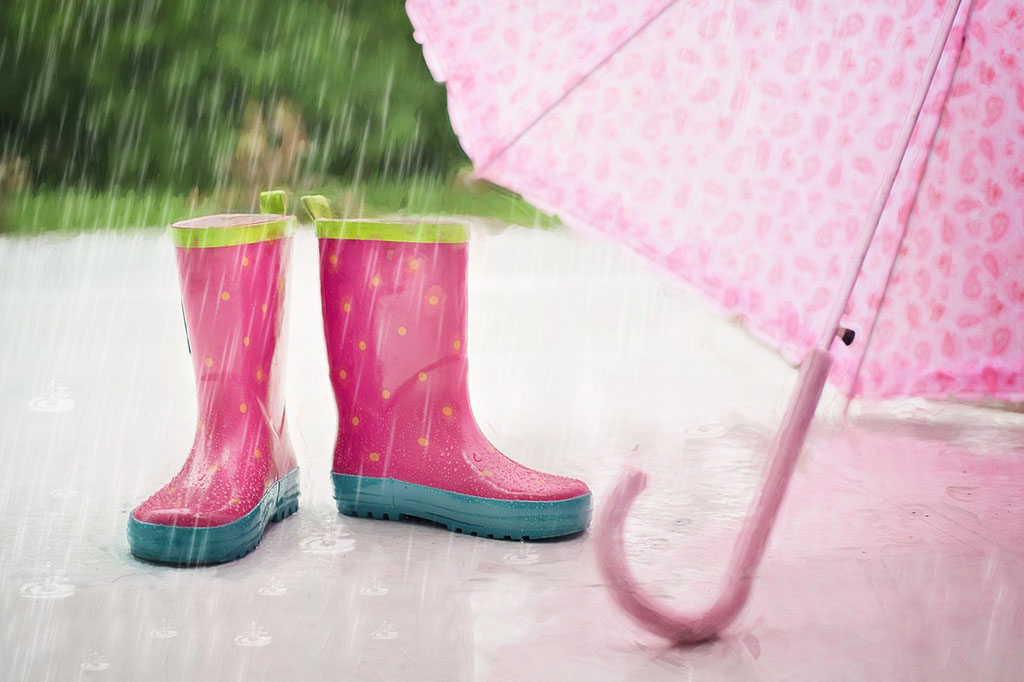 A boots-and-coat combo is a must during the rainy season, especially when you're in Manila. The weather will not be as manageable as it was during the summer, so these are about as essential as your umbrella. Floods are inevitable, so you might as well have boots and a raincoat ready.
If you can't bring either, it would be best to get a shoe cover, overshoes, or windbreaker (if you don't mind your feet getting wet) that's rainproof.
WINDBREAKER. Most people will settle for this, especially if they're fine with getting their feet wet./IMAGE Wikimedia Commons
Extra clothes
Since we're on the subject of you getting wet, it's not that hard to imagine the prospect of getting wet. This is where a fresh change of clothes and sli will come in. All we ask is you do not bring your closet with you (unless you have a place to keep it in).
Extra footwear is also essential. Since you're in a tropical country, you shouldn't be averse to using flip-flops. They're more than just a summer staple; they also help a lot during the rainy season.
Ziplock bags
Rainy days mean you (and anything you have on you) risk getting wet, even if you have a bag that's waterproof. Save yourself the trouble of having to dry out important documents, IDs, etc. by putting originals AND photocopies in watertight zip lock bags.
You can also use the same type of bag to store extra money or even an emergency phone in case you get stranded while you're out and about.
WATERPROOF CASE. For those times when you're short on cash and have no other means to protect your smartphone or other essentials./IMAGE Rex Hammock via flickr
Powerbank
Speaking of an emergency phone, if you're not used to bringing a candy bar feature phone (sometimes called a "dumbphone"), it's best if you have a fully-charged, high capacity power bank. It should carry enough juice to charge your smartphone to full at least twice.
This way, you won't need to worry about being disconnected from your friends and loved ones… as well as making it easier to ask them to pick you up.
IMAGE Pixabay
Light snacks and water
If you find yourself stranded during a heavy downpour, chances are you won't be near a place to eat. You don't want to be stranded for hours (hey, it happens) without food and water. It's common nowadays to see someone with a water bottle, but it never hurts to remind people to bring water with them wherever they go.
The same goes for food. No, we're not talking about something you need to cook. Just bring light snacks – crackers, nuts, trail mix, anything that doesn't require you to do anything more than open it up and pop one into your mouth.
TRAIL MIX. We prefer trail mix as it's healthier, but you can go with any light snack./IMAGE Pixabay
First-aid kit
A small first-aid kit isn't exactly the first thing you'd think of, but if you want to be absolutely sure you're prepared for anything when it rains, it helps to have one. You can be as covered and as "rainproof" as you can, but one small cut could lead to an infection, especially with how fast floodwaters can rise in Metro Manila.
IMAGE Pexels
Other tips
Since the rainy season in the Philippines may be different from what you experience back home (i.e. your home country), here are a few more things to keep in mind:
Surge pricing. We assume you're familiar with Uber and Grab and how popular they are in the country. We're also assuming you're aware of the term "surge pricing." Make sure you're prepared for this when it rains since people will be booking more than usual.
Exodus. Speaking of surges, the rainy season seems to have a secondary effect: people in the Philippines, especially Metro Manila, seem to double (or triple) whenever it rains, making it EVEN HARDER to commute.
Traffic. As mentioned before, the number of people seem to increase exponentially during the rainy season. Apart from clogging up public transportation, it also means clogged-up roads, though that's more to do with the combination of floodwaters, a high volume of rain, and the sudden desire to not get wet.
Updates. The best way to figure out what you have to bring or do for the rest of the day is to stay updated. We suggest checking up on these agencies and accounts to make sure you're thoroughly prepared for the rainy season:
PAGASA. The Philippine Atmospheric, Geophysical and Astronomical Services Agency (PAGASA) is the country's go-to source for weather forecasts and advisories. Make sure you visit their website or follow them on Facebook and Twitter to remain up to date.
MMDA. The Metropolitan Manila Development Authority (MMDA) is the agency responsible for keeping Metro Manila shipshape, and are the primary source of traffic news for Metro Manila. Make sure you follow them on Twitter for the latest in traffic.
NLEX, SLEX, CAVITEX, SCTEX, . @NLEXexpressways on Twitter is your source for traffic information related to the North Luzon Expressway (NLEX) and the Subic-Clark-Tarlac Expressway (SCTEX). @SkywaySOMCO is your go-to account for everything related to the South Luzon Expressway. @CaviteXpressway is your best bet for news about the Cavite Expressway.
#WALANGPASOK. This hashtag is often used during the rainy season and is essential if you want to know whether or not you should send your kids to school. It's best to search for this on Twitter or Facebook with the name of your city or school.
Pro-tip: Look for posts from official government accounts, TV, and radio stations instead of relying on people posting about it. You don't want to mistakenly tell your kid not to go to school when they really should have.
Got anything else in mind that we may have missed? Hit us up in the comments section below!
---
Written by Andronico Del Rosario