Your Guide to Owning Pets in Manila
Your Guide to Owning Pets in Manila
Looking for the best place where you can take your friends for grooming and other services? Check out this special feature to find pet shops in Manila and get some tips on how to keep your pets healthy.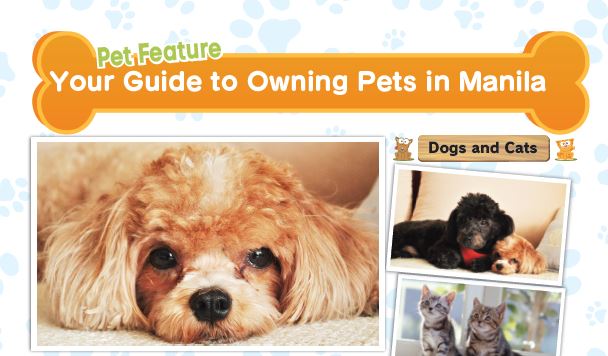 Where to Find Pets in Manila
Cartimar Pet Center
Cartimar Market is a local market found in Pasay City where about sixty pet shops are located.  Here, you can choose among different domestic animals to keep as pets, such as dogs, cats, birds and fishes. Pet owners can also buy necessary items for their pets, like pet carriers, pet crates, and fish tanks.
Cat Café Manila
Cat Café Manila is a themed café where cat lovers can interact with cats and, at the same time, enjoy food and drinks available. The café has an occupancy limit of 22-24 persons per hour to maintain the cozy environment for cats. Cat Café Manila is in partnership with CARA Welfare Philippines (Compassion and Responsibility for Animals) to provide a home for cats who will be up for adoption!
Dog Training & Grooming Centers
Pup Culture
This center offers dog training so that dogs can learn communication and social skills. They have three courses: Six-week basic course, Six-week higher level course, and a course especially designed for aggressive dogs.
Better Dog
This dog salon was established by a couple who studied pet grooming and training in America. It has a salon, a training center, and a behavior counseling program. Its spacious salon is stress-free for your dog as the staff, who learned grooming directly from their owner, will attend to the needs of your pet.
Animal Hospital
Makati Dog and Cat Hospital
This pet hospital offers grooming and overnight stay for your pet. Take your pet to Makati Dog and Cat Hospital when your pet is ill or when you are on a vacation because the hospital offers accommodation for pets, too.
Pet Vaccinations
DHPPi
DHPPi is a 5-in-1 vaccination that provides protection against Canine Distemper, Hepatitis, Leptospirosis, Parvo virus and Para-influenza virus. It is given to six-week old, nine-week old, twelve-week old, fifteen-week old dogs, as well as adult dogs once a year.
Rabies
With a nearly 100 percent mortality rate when you develop rabies, this is a very important to get your dog vaccinated before it gets infected.
Leptospira
Leptospira is a a common cause of acute febrile illness.  The main source of infection is mice, but other sources are also possible.  In the Philippines, this vaccination is recommended since Leptospira is common in subtropical areas.
Read Also: Expat Guide: Bringing your pet to the Philippines