Expats' Guide to the Feast of the Black Nazarene
Expats' Guide to the Feast of the Black Nazarene
During the 9th of January every year, millions –some say – of devotees would go to the streets of Quiapo in Manila to take part in the country's biggest religious event: the Feast of the Black Nazarene. As one big community of believers, they would take part in various events during this day, not only to lift up their prayers, but to also show gratitude for the grace they have received from the Black Nazarene, who, for four centuries now, have become a symbol of the passion, struggle, and faith of the Filipino Catholics. (See more: Feast of the Black Nazarene)
Image grabbed from Interkasyon. 
The most anticipated event during this day would be the Traslacion or the procession of the life-sized statue of the Black Nazarene from the Quirino Grandstand in Rizal Park back to its home in Quiapo Church. Devotees, often barefoot and in maroon shirts, do their best to get as close to the Black Nazarene as possible, to either touch a part of the float or to have the Hijos del Nazareno (people who stand next to the statue) wipe their towels in the belief that this will grant them of their prayers. However, there are also some who would rather stay back and be content as soon as they get the glimpse of the parade. It is also believed that the streets where the Traslacion passes through receives blessings throughout the years.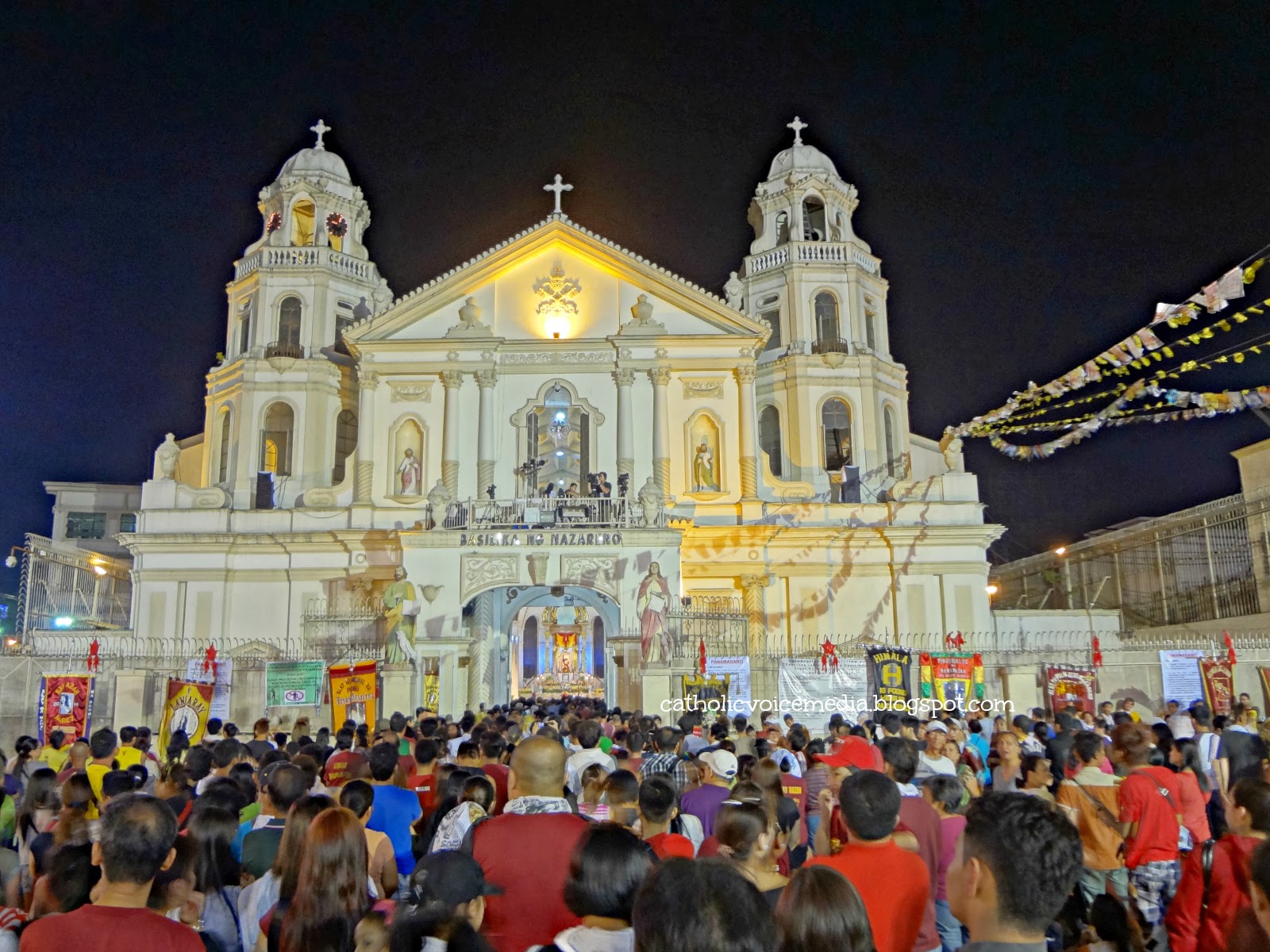 Image taken by  from Catholic Voice Media. 
The celebration, though, does not only start and end with the Traslacion. Quiapo Church also holds hourly masses to accommodate the people who would rather stay in the Church and wait for the coming home of the Black Nazarene. As the procession nears the church, the crowd gets thicker and thicker in anticipation of His coming.
Various events would also be held in the streets and barangays surrounding the area. There would be parades of Black Nazarene replicas in some streets, and there would also be marching bands in some barangays, as this the way that some devotees use to show their thanks for the blessings that the Black Nazarene had given them.
Image grabbed from Interaksyon. 
For those who would like to experience the Feast for the first time, it is best to go to the area as early as they could to see the most of what the day has to offer. There wouldn't be any boring moments as there's always something going on in the city– may it be a parade, a marching band performance, the mass, or the random moments you witness from the devotees.
It is also best if they would be dressed in their simplest, most comfortable clothes, and to not bring money, gadgets, or anything very attractive which would catch the attention of the evil eye. Although there would be many people (many policemen, at that) in the area, it still can't be assured that they will be able to keep everyone (and everything) safe during that day.
Happy feast day!
Sources: Philippine Country, Catholic News Agency