Expats' Guide to Philippine Dialects
Expats' Guide to Philippine Dialects
With 7,641 islands in the Philippines, grouped into three major islands—Luzon, Visayas & Mindanao, different dialects flourished in specific regions and was used and spoken by Filipinos. To give you an overview of the languages used in the Philippines aside from Tagalog and English, check out this brief background to Philippine Dialects:
In a study entitled "Many Voices, One Nation: The Philippine Languages and Dialects" published by the Philippine Statistics Authority, the dialects generally spoken in the Philippines next to Tagalog are: Cebuano, Ilocano, Hiligaynon, Bikol, Waray, Kapampangan, Pangasinan, Maguindano, Tausug, Maranao, Karay-a, Kankanai, Akeanon, Capizeño, Surigaonon, Masbateño, Zamboangeño-Chavacano,Ibanag, and Manobo.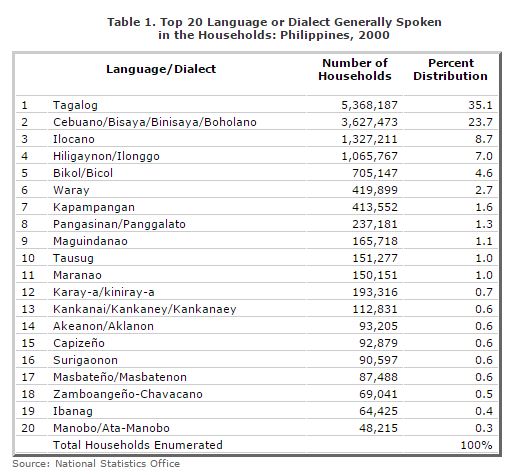 Image grabbed from nap.psa.gov.ph
The California State University Northridge also published "Major Languages in the Philippines" and listed down Bikol, Cebuano, Hiligaynon, Ilocano, Kapamkampangan, Pangasinan, Tagalog, and Waray.
Image grabbed from csun.edu
In Luzon, the dialects generally spoken are Tagalog, Ilocano, and Bikol based on the data from nap.psa.gov.ph.  In Visayas, Hiligaynon, Ilonggo, Cebuano, and Waray are the most used dialects, while in Mindanao, the people commonly speak Bisaya, Cebuano, Hiligaynon, and Ilonggo.
Source: Philippine Statistics Authority, California State University Northridge