Get to Know Filipino 'Merienda' Food
Get to Know Filipino 'Merienda' Food
In the Philippines, taking a short break at work in the afternoon is just as important as any other breaks in a day. Filipino students and workers are given a 15- to 30-minute break between 3:00 pm and 4:00 pm to eat or take a quick nap.
Filipinos usually spend this short break by having a snack, commonly referred to as a merienda. Here are some common food that Filipinos enjoy during merienda:
1. Halo-halo

Halo-halo, which literally means 'mix-mix', is a very popular dessert in the Philippines. It is a mix of shaved ice, evaporated milk, and an assortment of ingredients such as sweet beans, strips of coconut meat, jelly, tubers, and fresh fruits. It is usually served with ice cream, ube jam, and leche flan on top. Halo-halo is usually sold for P20-P50 per cup depending on size.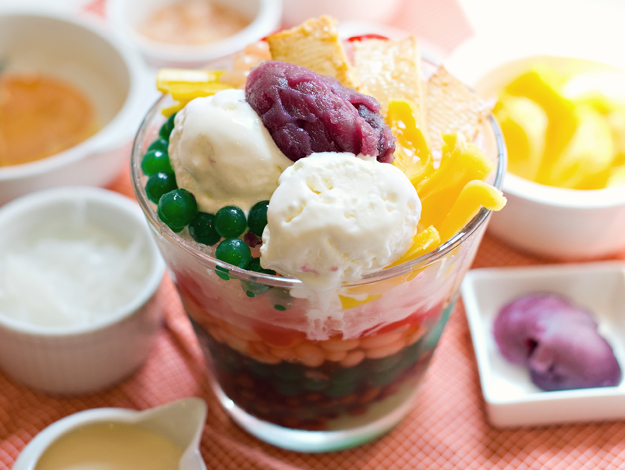 Image grabbed from losangeles.cbslocal.com
2. Banana cue

This is probably the first thing you'd notice in any merienda food cart in the Philippines. Banana cue is a deep fried saba or cardava banana coated in melted brown sugar that's served on bamboo skewers. A bamboo stick with two bananas is usually sold for P10 or P15.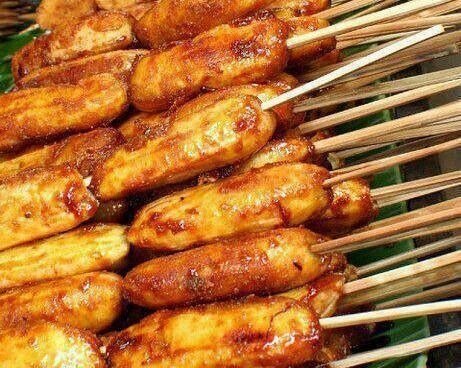 Image grabbed from pinterest.com
3. Suman (Sticky Rice Cake)

Another popular food in a Filipino merienda cart is suman: glutinous rice cooked in coconut milk that's wrapped in banana or palm leaves before being steamed. It is usually served with sugar or coconut caramel. Suman is also very popular as pasalubong or souvenir in most Philippine provinces.
Image grabbed from mytummyisfull.com
4. Tusok-tusok

You can't stroll anywhere in Manila and not see a cart of tusok-tusok (finger food): there's almost one in every corner of its streets. Tusok-tusok carts usually have fish balls, kikiam, squid balls, chicken balls, kwek-kwek (quail eggs), tofu, and hotdogs. Wonder why it's called tusok-tusok? It is because all you need to do is pick up a fork or bamboo stick and skewer what you want to eat directly from the frying pan, then dip it into a sweet, spicy, or sour (read: vinegar) dip.
Image grabbed from hdimagelib.com
5. Pancit Palabok

Another Filipino merienda favorite is Pancit Palabok: a thin noodle dish with shrimp sauce. It is topped with several ingredients such as cooked shrimp, boiled pork, crushed chicharon (pork rind), hard boiled egg, tinapa (dried fish) flakes, fried tofu, scallions, and toasted garlic.
Image grabbed from angsarap.net
6. Turon

Turon or deep-fried cardava banana wrapped in rice paper is a typical Filipino merienda and dessert. This can usually be seen on the streets being peddled with banana cue. In Makati, several jolly jeeps (food stalls along the road; formerly jeepneys that serve lunch) sell turon along with other merienda items during the afternoon.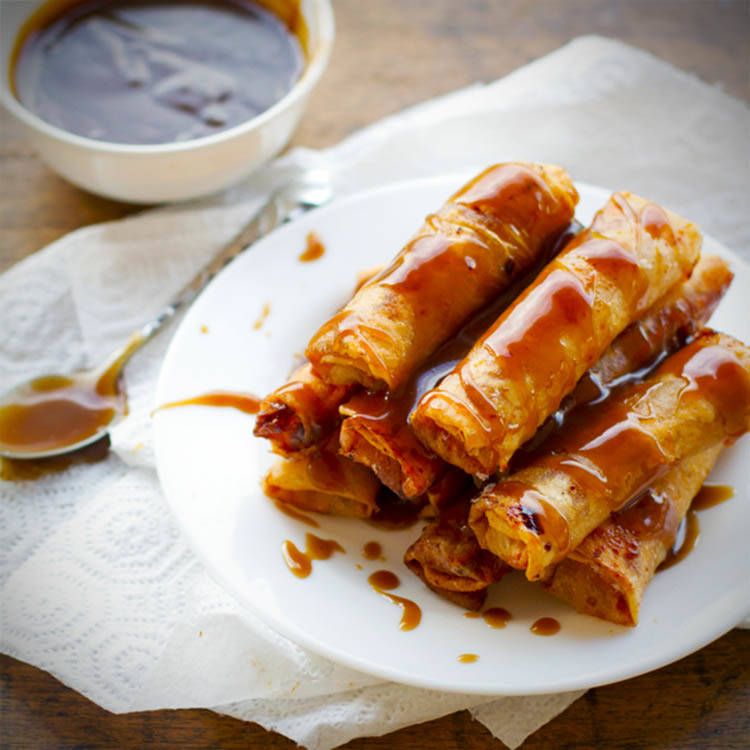 Image grabbed from recipenijuan.com
7. Ginataang Bilo-Bilo
Ginataang Bilo-bilo is a Filipino meryenda dish composed of bilo-bilo (glutinous rice balls), coconut cream, sugar, sago pearls, and ripe jackfruit.
Image grabbed from junbelen.com
8. Empanada

Empanada, a baked or fried pastry stuffed with chicken, beef, or pork and mixed vegetables, is a well-loved merienda food by the Filipinos. This snack is very popular in Vigan, Ilocos Sur.
Image grabbed from chowhound.com
9. Carioca

Carioca are sweet and chewy ball-shaped treats that can be enjoyed as a dessert or snack. These are made from sweet rice flour or glutinous rice flour and served with sweetened shredded coconuts.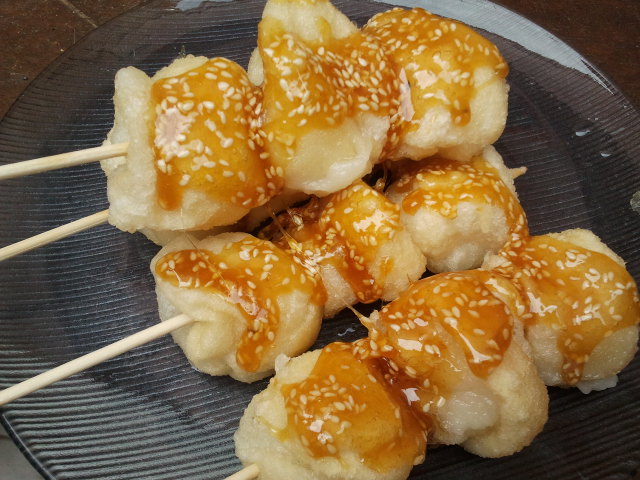 Image grabbed from melyskitchen
10. Ihaw-ihaw

Ihaw, Filipino for grilled, is probably the most popular way of cooking street food in the Philippines. Like the tusok-tusok, ihaw-ihaw is usually cooked and sold along the streets of Manila. You can buy isaw (grilled chicken or pig intestine), adidas (chicken feet), Betamax (chicken blood shaped like a really small Betamax tape), helmet (chicken head), and pig's ear for only P10-P20 per stick. There's also hotdogs and smaller sticks of barbecued pork for around the same price.
Image grabbed from dennisgalvez.wordpress.com
Taking a short break from work is necessary as it boosts our creativity and increases productivity. Give yourself some time to rest by savoring these Filipino merienda favorites.