10 things you can only find in the Philippines
10 things you can only find in the Philippines
The Philippines has a lot to offer for anyone who's willing to brave the roads: fantastic sunsets, stunning beaches, and some of the happiest and most hospitable people on the planet.
There are, however, certain things you can only find in the Philippines. Here's a list of 10 things you can only find in the Philippines:
Soda (or any other drink) in a plastic bag
YOU WON'T SEE THIS ANYWHERE ELSE. (Photo by Nick Pahati, grabbed from Pinterest)
You've seen plastic bottles, glass bottles, mugs, glasses… but have you seen drinks served in a plastic bag?
Balut eggs
A DELICACY IN THE PHILIPPINES. (Photo by Shankar S., grabbed from flickr)
The essential challenge for all expats/foreigners: eat a balut egg (fertilized duck egg with an almost developed embryo).
Dinuguan
BEST WITH PUTONG PUTI. (Photo by Shubert Clencia, grabbed from flickr)
It's black, but it's made with blood… pig's blood, to be exact.
Sizzling Sisig (though it's now seen in Filipino restaurants outside the country)
SIZZLING GOODNESS. (Photo by Ron Diggity, grabbed from flickr)
The world only got to know about sisig recently, but Filipinos have always been eating this wonderful delicacy.
Tumbang Preso
TRADITIONAL GAME. (Photo by TeardropTC, grabbed from DeviantArt)
Never underestimate the creativity of Filipino children… especially when it comes to games. This is played with a tin can and a bunch of your friends.
Pun-tastic business names
FACEBOOL. Get it? (Image grabbed from Kapuso Mo, Jessica Soho Facebook page)
One of the best things about the Philippines? We. Like. Having. Puns.
The Cebu Dancing Inmates
STOMP THE YARD AIN'T GOT NOTHING ON THEM. (Photo by LeylanR, grabbed from flickr)
Detention centers may not be the best places to find people having fun… until you get to the Cebu Provincial Detention and Rehabilitation Center (CPDRC). These inmates may just be having the time of their lives whenever they dance.
The Jeepney
KING OF PHILIPPINE ROADS. (Photo by Jeff Jacinto, grabbed from flickr)
Western countries have their trucks. Japan has its very efficient railway system. The Philippines has the artistic and iconic jeepney, a re-purposed military jeep from World War II.
Halo-halo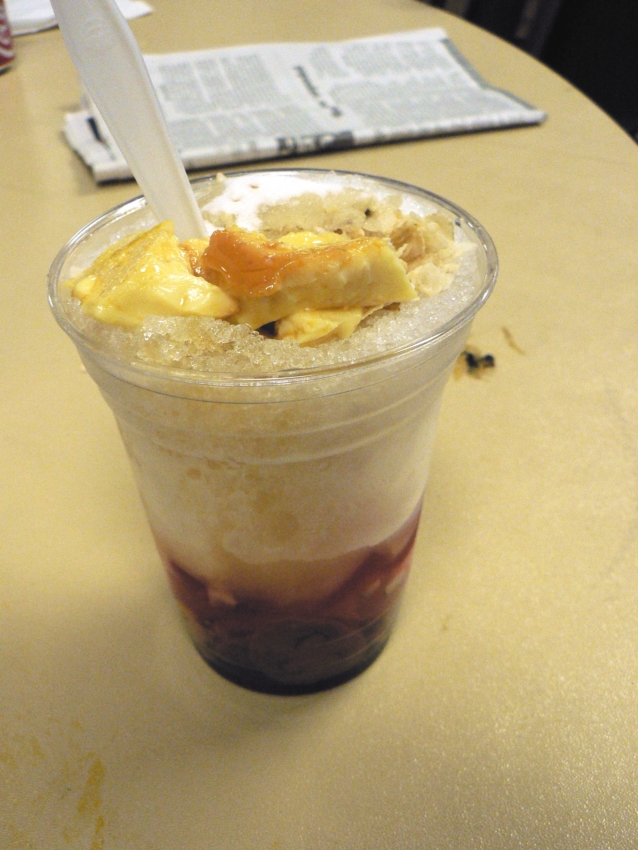 YOU MAY LIKE YOURS IN A BOWL, BUT IT'S BETTER THIS WAY. (Photo by Stuart Spivack, grabbed from flickr)
You've seen Anthony Bourdain chow down a cup of this at the Jollibee in Los Angeles, but you've never tasted the original (and the many varieties it has) in the Philippines.
Taho
A SWEET DESERT. Or breakfast, lunch, or dinner. (Photo by Ian C., grabbed from flickr)
Filipinos enjoy this treat morning, noon, and night. It's sweet, warm, gooey, and oh so good.
Source: Filipiknow, BuzzFeed, Atchuup!, HyperTomb, The Tokyo Times