Expats' Guide: Philippine Universities
Expats' Guide: Philippine Universities
More and more foreigners come to the Philippines not just for a vacation but also for work and school. Living in this country is undoubtedly cheaper compared to other countries, which is why the Philippines is a good choice to get education that is not only of quality standard, but is also affordable. With the surge of foreign students in the last five years, it may be time for you to consider studying here.
Let Primer guide you to a list of universities and their corresponding fields of excellence here in the Philippines:
1. University of the Philippines (UP) at Diliman, Quezon City

(Photo grabbed from hoppler.com.ph)
Currently the university which holds the highest rank among other Philippine schools in Asia in the Quacquarelli Symonds (QS) World University Rankings in the 70th spot, UP is known for its various fields of excellence and is considered as the country's top university. It has 7 constituent universities all over the Philippines, all of which having their own focus areas.
Courses they are known for:
Engineering, Home Economics, Film, Natural Sciences, Law – UP Diliman (Quezon City)
Medicine and Health Sciences – UP Manila (Ermita, Metro Manila)
Agriculture – UP Los Baños (Los Baños, Laguna)
Aquaculture, Fisheries, and Marine Sciences – UP Visayas (Miag-ao, Iloilo)
Ethnicity and Cultural Studies – UP Baguio (Baguio City, Cordillera)
Mindanao Studies and Computer Sciences – UP Mindanao (Davao)
2. Ateneo de Manila University (ADMU) at Katipunan Ave., Quezon City

Photo grabbed from admu.edu.ph
ADMU is a known Jesuit-run private university in the Philippines. The university offers elementary, high school (both exclusive to male students), and college education with Catholic-rooted curriculum. Recently, it belonged to the top 100 schools in Asia along with UP, as it ranked 99th in the QS World University Rankings. Ateneo has research centers and auxiliary units in the Philippines.
Academic offerings:
Law- Ateneo Law School
Ateneo School of Government
Medicine and Health Sciences – Ateneo School of Medicine and Public Health
Business – Ateneo Graduate School of Business
Finance and Accounting – John Gokongwei School of Management
Languages, Interdisciplinary Studies, and Theology- School of Humanities
Science, Math, and Physics – School of Science and Engineering
Political Science and European, Chinese, Japanese, and Development Studies- School of Social Sciences
3. De La Salle University (DLSU) at Taft, Malate, Manila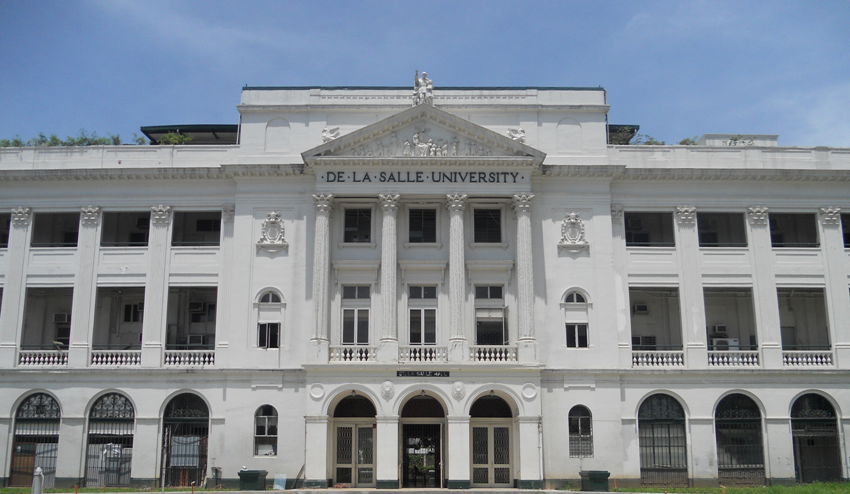 (Photo grabbed from en.wikipedia.org)
DLSU is a private university run by the De La Salle Brothers. This Catholic institution is the first of the only two institutions granted the highest level accreditation by the Philippine Accrediting Association of Schools, Colleges, and Universities. DLSU is ranked 143rd in the recent QS World Rankings, and is also one of the Manila schools where there is a high number of foreign student enrollees.
Courses they are known for:
Business, Economics, and Management – DLSU Manila (Taft)
Computer Science, Electronics, and Engineering – DLSU-Science and Technology Complex (Biñan, Laguna)
Health Sciences – De La Salle Health Sciences Institute (Dasmariñas, Cavite)
Deaf Education, Design, Hotel and Restaurant, Fashion, Photography, Music Production – De La Salle College of Saint Benilde (Taft)
4. University of Santo Tomas (UST) at España, Manila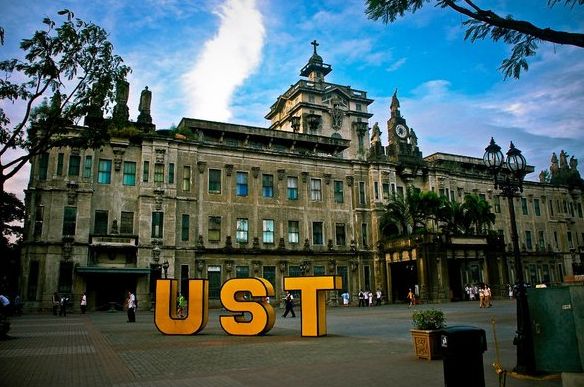 (Photo grabbed from philnews.ph)
One of the oldest universities in the Philippines, The Royal and Pontifical University of Santo Tomas in España, Manila is home to notable alumni such as saints, national heroes, presidents, and religious figures in the Philippines. UST is also one of the world's largest Catholic universities and was declared as a National Historical Landmark by the National Historical Commission of the Philippines.
Courses they are known for:
Computer Science
Civil Law
Architecture
Pharmacy, Medicine, and Rehabilitation Science
Accountancy
Conservatory of Music
5. PATTS College of Aeronautics at Sucat, Paranaque

(Photo grabbed from philstar.com)
The Philippine Air Transport and Training Services (PATTS) is an aeronautical school in Parañaque City, Metro Manila. It is the country's number one Aeronautical college which offers degrees related to engineering and aviation technology.
Courses they are known for:
Aeronautical Engineering
Airline Business Administration
Air Transportation
Avionics Technology
Aircraft Maintenance Technology
6. Enderun Colleges at BGC, Taguig

(Photo grabbed from enderuncolleges.com)
Enderun Colleges is a private nonsectarian college that was established in 2005, and is now permanently located at the Bonifacio Global City in Taguig. It is also a popular school among foreigners and expats, with a percentage of their enrollees being international students. They offer undergraduate degree, short courses, and postgraduate studies in their academics.
Courses they are known for:
International Hospitality Management
Business Administration
Entrepreneurship
7. The Academy for International Culinary Arts (AICA) in Makati and Cebu

(Photo grabbed from adventurouslei.blogspot.com)
AICA is a known culinary school in the Philippines that provides education in the field of culinary arts. The school has a wide array of programs tailor fit for the needs of their students, as they also give 100% hands-on training, diploma courses, and recreational courses for its students. It has a Manila campus located in Makati City and one in Cebu.
Courses they are known for:
Diploma in International Culinary Arts
Diploma in Baking and Pastry Arts
Diploma in Advanced Culinary Arts and Professional Kitchen Management
8. La Salle College International (LCI) at Legazpi, Makati

La Salle College International (not to be confused with De La Salle University) is the first and only international fashion school in the Philippines. It has campuses in Southeast Asia, America, Europe, and Middle East and is a popular school for students who want to enter the fashion industry. It is located in Makati City, and offers various fashion programs.
Courses they are known for:
International Diploma in Fashion Design and Fashion Marketing
International Certificate Fashion Stylist
International Certificate in Basic Fashion Design and Basic Garment Production
These are just some of the universities that are known for their respective fields of excellence. Do you want to get the best and affordable education here in the Philippines? Get your student visas ready and inquire now!
Source: Inquirer; Canadian Inquirer; Rappler