Top 10 Fruits You'd Find in the Philippines
Top 10 Fruits You'd Find in the Philippines
Aside from the tourist destinations, the Philippines is known for its vast culinary scene that makes it a must-visit for foodies all around the world. For its odd street food, viands, local beverages and up to its fruit crops, there are lots of reasons to visit and discover what the country has for you. Here, we list the top fruits in the Philippines and be amazed at how tasty they all are!
1. Mango
(Photo grabbed from thecitemblog.wordpress.com)
They say that the best mangoes come from the Philippines. Well, as the national fruit of the country, mango (mangga) is one of the most significant fruit crop in the country. This sweet and succulent fruit is definitely a favorite, especially its common varieties such as carabao and champagne mango which are top fruit exports. These deliciously sweet mangoes are mostly found in Guimaras province.
2. Rambutan
(Photo grabbed from thelongestwayhome.com)
Known as the "Exotic fruit of Southeast Asia," Rambutan is one of the tasty fruits that also bring good health benefits to the country. This red fruit that looks like the skin of a hedgehog on the outside has a fruit flesh that is of very pale pink color that gives a sweet taste.
3. Lanzones
(Photo grabbed from interaksyon.com)
The lanzones fruit which originates from western Southeast Asia is also grown in Paete, Laguna. These fruits which look like small potatoes grow in clusters like grapes. The flesh tastes sweet and sometimes sour, and is known to be rich in Vitamin A. They are sole from P40 to P80 per half kilo. This fruit has its own festival being celebrated in the province of Camiguin.
4. Sugar-apple
(Photo grabbed from tamil.boldsky.com)
Also known as sugarsop, custard apple, or atis in the Philippines, this fruit is mostly grown in tropical regions like the Philippines. This round, green knobby fruit with a creamy white flesh has a custard-like flavor which is why it's also called as custard apple. These fruits ripen in summer and are eaten fresh. It also has a sweet flavor which makes it tastier.
5. Chico
(Photo grabbed from trips2philippines.com)
If you're a fan of sweet fruits, you'll love chico. This brown round fruit is mostly grown in the tropics as well. This fruits is rich in Vitamins A and B and is also tagged as an energy fruit due to its sweetness as it contains much sugar. Chico is also known as Sapodilla or Chickoo in other countries. Due to its sweet taste, it is usually served with sherbet, in an ice cream, or it can also be served as fresh. This is one of the fruits in the Philippines that kids love to eat.
6. Santol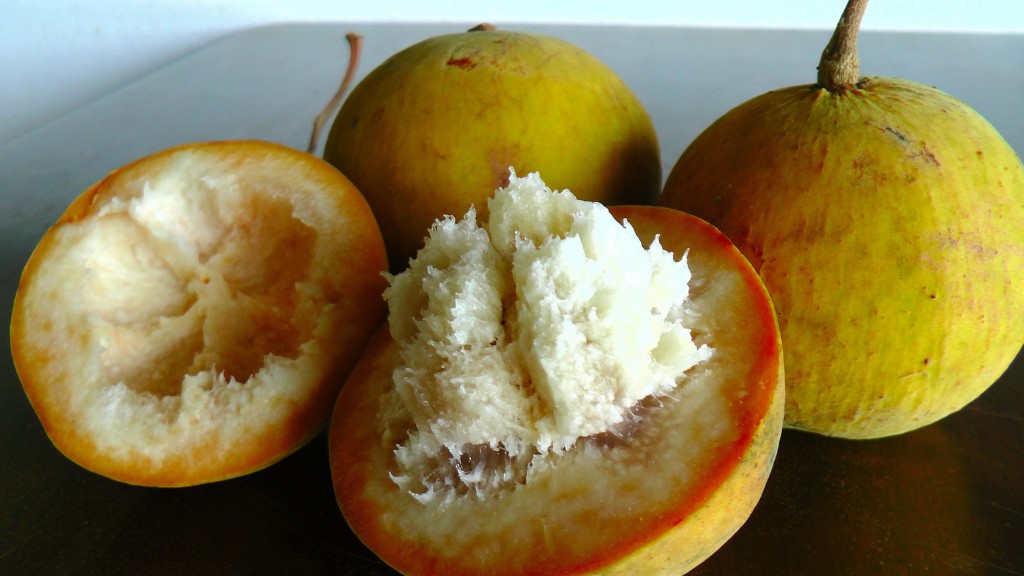 (Photo grabbed from i1os.com)
Santol, or also known as the cottonfruit is also a favorite fruit in the Philippines. It has two varieties which are either yellow or red, which somehow resembles peaches. Its flesh is white which has a similar peachy taste and texture of apples. This juicy fruit has many uses such as in fighting diseases because it is rich with vitamins. It can also be used in cooking.
7. Durian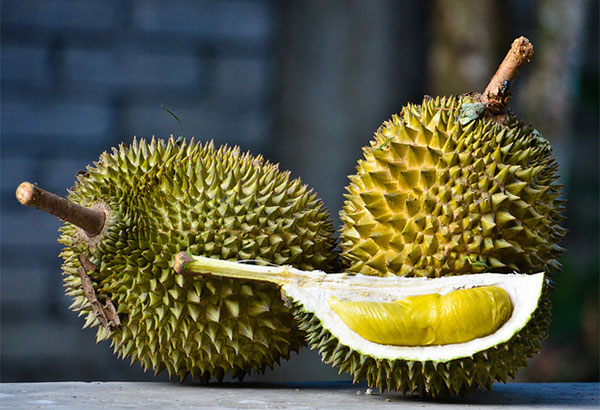 (Photo grabbed from philstar.com)
"Smells like hell and tastes like heaven" would probably be an accurate description of what durian is. Very popular for its odor, Durian is also known to be one of the most popular fruits in the Philippines making Southern Mindanao known for producing such. Its soft creamy and pulpy taste is so flavorful and sweet. Its seeds can also be eaten and cooked. It's also known to be expensive making it more worth the try.
8. Aratiles
(Photo grabbed from tastylandscape.com)
If there was a fruit that would remind you of most Filipinos' childhood, it would be Aratiles. It is known in other countries as Jamaican or Singapore cherry. These small red cherry-like fruits resembling American cranberries have a sweet and juicy taste which is so easily eaten as it is found in neighborhood trees around the provinces. It grows with little to no care at all and one can just pick it up from a tree and eat it immediately.
9. Soursop
(Photo grabbed from healthfeed.org)
Soursop is also a known fruit in the Philippines that has many uses. It is called guyabano, a green fruit with barks that has a white fruit flesh with a sour and creamy flavor, like a combination of strawberry-coconut-banana. Its flesh can be used in making fruit shakes, tea, and flavorings. Guyabano leaves are sometimes being used in tenderizing meat.
10. Star fruit
(Photo grabbed from kalusugan.ph)
Star fruit is most commonly known in the Philippines as balimbing. Its distinctive ridges resemble a star thus the name. The entire fruit can be eaten and its flesh is crunchy and juicy. According to some it somehow tastes like apples but it has a unique flavor making it a must-try. Ripe ones can also be used for cooking. Here in the Philippines, unripe balimbing can be dipped in rocksalt.
Are you hungry yet? Grab your grocery bags now and head on to the local supermarkets to see what fruits you may want to try here in the Philippines!