The Mother of All Philippine Festivals: Ati-Atihan
The Mother of All Philippine Festivals: Ati-Atihan
Yes, you read that right. The Ati-Atihan Festival, held in Kalibo, Aklan every third Sunday after Three Kings, is the only festival to be legally called "The Mother of All Philippine Festivals".
COLOURFUL IS AN UNDERSTATEMENT. Dancers dressed in traditional-inspired costumes at last year's Ati-Atihan Festival.
Easily one of the most recognizable festivals in the country, the Ati-Atihan Festival dates its origins to a 13th century struggle between the local Negritos of Aklan and the Maraynons from Borneo. The Negritos were a proud people, not wanting foreigners invading their land. They got into frequent bloody encounters with the Maraynons.
Wanting to end the bloodshed, the Maraynons engaged the Negritos in talks that eventually led to peace. The event was celebrated with a feast, with the Maraynons daubing their faces with soot to show they want to live in harmony with the locals more than anything else.
SOOT-COVERED. This is how participants honor the local Ati tribe of Panay.
Nowadays, people celebrate the Ati-Atihan in honour of Sr. Sto. Niño de Kalibo due to the Spanish colonization. People cover their bodies in soot, imitating the Ati tribe of Panay, and dace to the beat of drums, cans, and tom-toms, shouting "Viva kay Senyor Santo Niño!" and "Hala Bira! Pwera Pasma!" at the top of their lungs.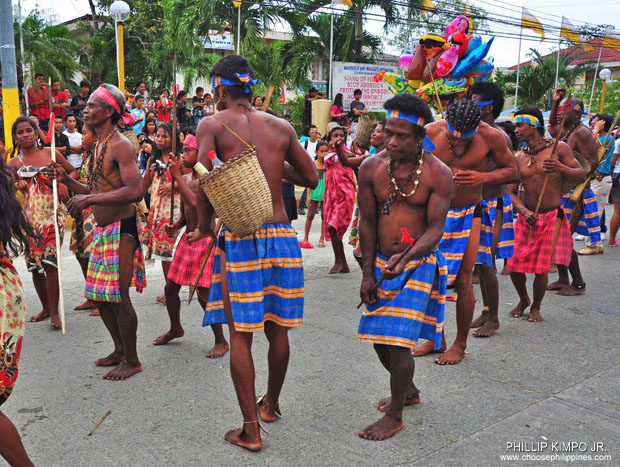 REPRESENT. One of the many local tribes joins the festivities at Ati-Atihan 2015.
The annual event culminates on a Sunday with the Sadsad Ati-Atihan, a street dancing competition joined by at least 20 tribes and groups. Participants who join the parade come in all shapes, sizes, and colours, wearing anything from traditional to space-age.
This year's festivities started on January 8 with a beauty pageant. The event culminates today, January 17, with the Sadsad Ati-Atihan going through the major streets of Kalibo on its way to the Cathedral Parish of St. John the Baptist.
For more information on all the festivities, visit http://www.kaliboatiatihan.ph/. You can also follow them on Facebook.

All photos courtesy of ChoosePhilippines.com