Sinulog Festival
Sinulog Festival
Santo Niño is arguably the most recognizable religious icon we have in the Philippines. The Sinulog Festival, on the other hand, is one of the most recognizable feasts about Santo Niño anywhere in the Philippines.
SMILE FOR THE CAMERA. One of the groups from Sinulog 2015.
Photo courtesy of Reyne N. Villena.
Sinulog is both the name of the festival and the ritual dance done in honor of the image of the Santo Niño. Sinulog means current in Cebuano, and the dance itself resembles the current of what was then known as the Pahina River in Cebu. It is celebrated on the third Saturday of January every year since the time of the Spanish colonization, but the Sinulog we all know and love today only started in 1981.
RIVER FLOATS IN YOU. Last year's 3rd place photo in the Grand Prize category.
Photo courtesy of Oligario Cortes.
Sinulog as we know it today was conceived by then Regional Director of the Ministry of Sports and Youth Development David S. Odilao Jr as a street dance parade for schools within Cebu City. Over the years it has grown bigger and better, adding new contests such as the search for the Festival Queen (Sinulog lead dancer), a photo contest, and the Sinulog Short Film Festival.
KAWAII! If you're familiar with this, then you'll get the reference.
Photo courtesy of Restie C. Derigay
The parade draws in crowds not just for its grandiose scale, but also for its sheer color and vibrancy. Participants in the parade come from all over the country, with last year's dancing contingent drawing 44 teams, nine coming from places as far from Cebu as Masbate.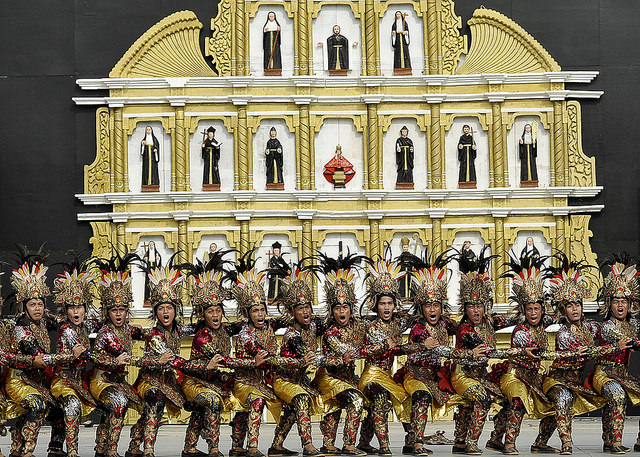 AND THE WINNER IS. Last year's winner showcased both the history and innovation of Sinulog. Photo courtesy of Catherine Angeles.
For this year's edition, festivities started on January 8 with the Sinulog 2016 Kick Off, which included the Sinulog Trade Fair at SM City Cebu, a launching parade, and street party bands playing well into the night. The Sinulog Grand Parade Carousel was spectacular as always, which started bright and early in the morning and ended just as the sun set on January 17.
In case you missed it, you can follow Cebu's Sinulog Festival on Facebook, Twitter, and Instagram for all the happenings from the 16-day celebration. You can also check them out on flickr for their photo contest entries.

All photos grabbed from Cebu Sinulog Festival's flickr page.