Common Filipino New Year Challenges
Common Filipino New Year Challenges
Now that the festivities have settled down, it's time to look into some New Year challenges that Filipinos commonly promise to take after the Holidays. Activities such as the ones listed below are meant to instill a beneficial habit, so if you decide to take up a challenge, keep up with it diligently for the rest of the year. Good luck!
1. The 52-week Money Challenge
This is a fairly common New Year challenge, but it has gone viral locally 2 years ago. In essence, this requires one to save money in increasing increments every week. For example, if you save PHP 20.00 during the first week, PHP 40.00 for next week, and so on, you would be able to save PHP 27,560 in a year!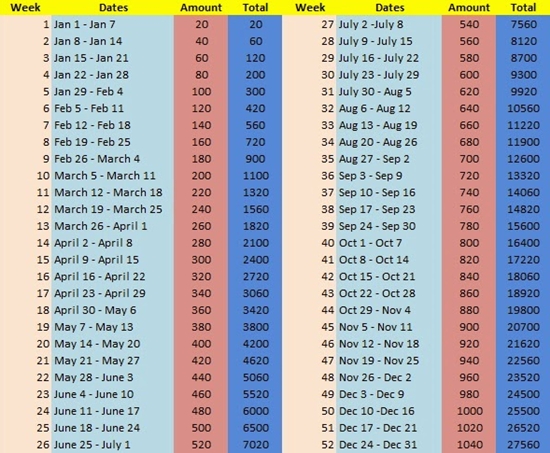 The real challenge is keeping up the habit during the latter weeks of the year, when the savings required is much steeper.
2. Beach Body Challenge
A lot of Filipinos flock the gym and parks after the Holidays for the #BalikAlindogProgram ("Balik Alindog" roughly translates to "Bring Back the Allure"). While there are a lot of fitness challenges online, a relevant one would be the Beach Body Challenge, since having a summer-ready figure is a huge motivation for some.
It is a must to complement any fitness challenge with proper diet, enough rest, and right mindset—remember that the end goal always should be a healthy body.
3. Reading Challenge
Bookworms also pledge to complete annual reading challenges, like this one:
Other book lists that you can consider include Mark Zuckerberg's A Year of Books, Bill Gates's personal recommendations, TIME Magazine's , 35 Books Everyone Should Read in Their Lifetime, or set your personal goal on Goodreads (where more than 500,000 users already did for 2016!).

Article by Mina Loyola
Photos from Kuripot Pinay, 30-day Fitness Challenges, Modern Mrs. Darcy, and Wikipedia Commons