How the Chinese New Year is Celebrated in the Philippines
How the Chinese New Year is Celebrated in the Philippines
Gong Xi Fa Cai! In the Philippines, almost 18-27% of the population is Filipino-Chinese. The local Chinatown is considered to encompass almost two districts in Manila City namely Binondo and Quiapo. The Chinese New Year (CNY) is even proclaimed a Special Non-Working Holiday in the country by Benigno Aquino.
The Chinese have contributed a lot in terms of culture and traditions across the country. A good example is our observance of the Chinese New Year especially in Lucky Chinatown in Binondo, Manila.
Also read: Chinese New Year Traditions in the Philippines
Giving money inside Chinese red envelopes is a tradition for married couples and elders to gift to younger family members/IMAGE taken from Flickr
Filipinos could celebrate the CNY by joining the festivities in China Towns all over the country, the oldest of which is Lucky Chinatown along Ongpin Street which runs through Binondo and Sta. Cruz in Manila. There are parades, dragon dances, lion dances, feasts of Chinese foods and tikoy.
Businesses around the country also celebrate CNY by having countdowns, parties, street parades, unlimited Chinese dishes in hotels, or discounts. There are also Chinese experts that will be offering their services in advising on how to properly prepare to meet the new year.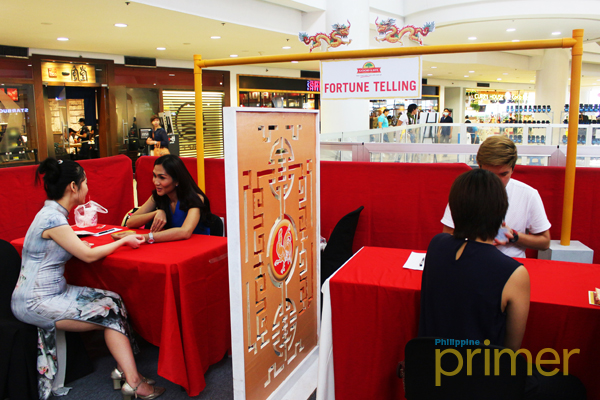 Consulting an expert to guide you through the year as well as arranging your interiors to match auspicious Feng Shui are popular traditions in the Filipino-Chinese communities
Chinese culture follows their own zodiac represented by 12 animals representing the years. In order, they are the rat, ox, tiger, rabbit, dragon, snake, horse, goat, monkey, rooster, dog, and pig. 
Mall events are popular around the country during this time and would often offer horoscope reading for your Chinese zodiac. 
There is also the tradition of preparing various circular fruits on the table to attract prosperity, peace, and harmony in the home. These are also said to symbolize and magnetize the energy of good luck. Some older traditions include sealing 12 grapes in plastic and placing them above doors around the house.
To start preparing for the Chinese New Year in a Filipino-Chinese style, ornament your house with red lanterns and five red scrolls, clean the house thoroughly before the eve of CNY, and settle debts.
Also read: Good Life honors traditions during 'Flavors of Fortune' CNY food fest