The Archery Academy: Learn How To Hit the Bull's-eye!
Want to learn how to properly shoot those arrows and hit the bull's eye like Hawkeye of the now-showing The Avengers: Age of Ultron (though he is deemed to have a bad archer form, but we'll get to that later) or Katniss Everdeen of The Hunger Games? Up-and-coming The Archery Academy in Greenhills, San Juan is Primer's recommended place where you can unleash your inner archer!
…
Teaching the art of archery to tens of kids and adults alike per class for over a year now, The Archery Academy is led by a group of people who are truly passionate for the practice: Rica Tai, Gio Endaya and Rachelle Sison. In Primer's brief interview with Rica, she said that since they tried archery that one time four or five years ago, they haven't stopped doing it. "We got into the sport and it became a hobby," she shared. "The sport is expensive to maintain, so we got our own space and shared it with others."
They shared their love for archery – and built a community along with it. TAA first held classes inside CrossFit San Juan and just a month ago, they transferred to their own larger space, just a floor above their previous location. Now, more people curious about archery can come and try the bow and arrow!
…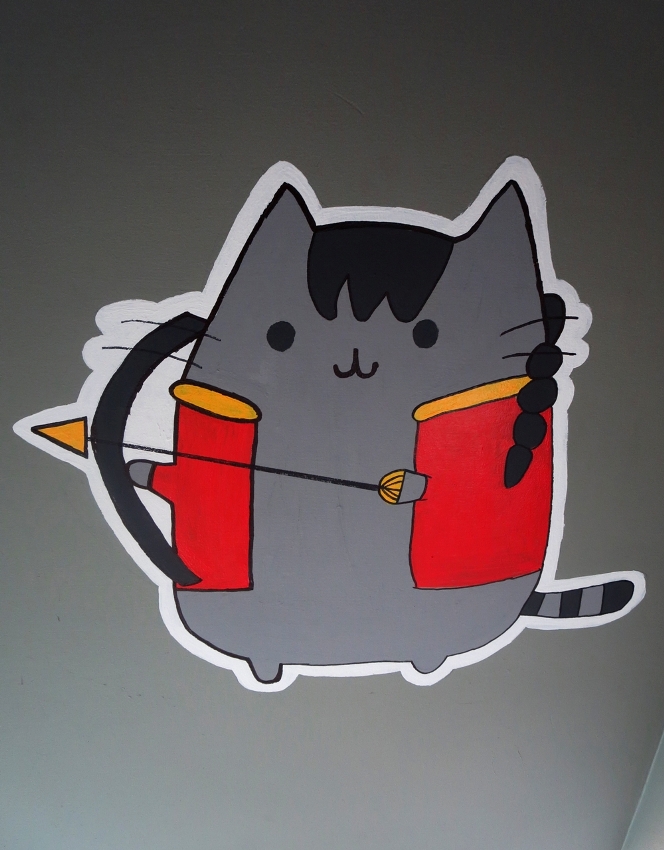 ARCHER'S ART. Murals and other artwork (like this cute Pusheen the cat) can be seen all over the place.
…
Surrounded by creatively hand-painted murals, TAA students begin their lessons with a warm-up to loosen up the muscles since flexibility and strength are needed in this sport. Coach Gio Endaya then briefly introduces the parts of the bow and arrow and the basics of archery (stance, form, and scoring) to the proper way of pulling the bows out from the target area.
…
WORKOUT IN DISGUISE. According to Rica, archery is exercise with a warm-up and cool-down An aspiring archer has to work out to be able to pull a strong bow.
…
Archery has certain requirements you have to meet in order to have higher chances of hitting a certain target, such as pulling the bow string up to a specific area of the mouth and the correct way of placing the arrow with the bow. Eventually, you will start getting those arrows to hit certain targets. For beginners, the target board is much nearer to you (around 10 meters away), but as you increase your skill, the target board becomes farther. You will also be changing the types of bows used as your overall archery skill improves.
…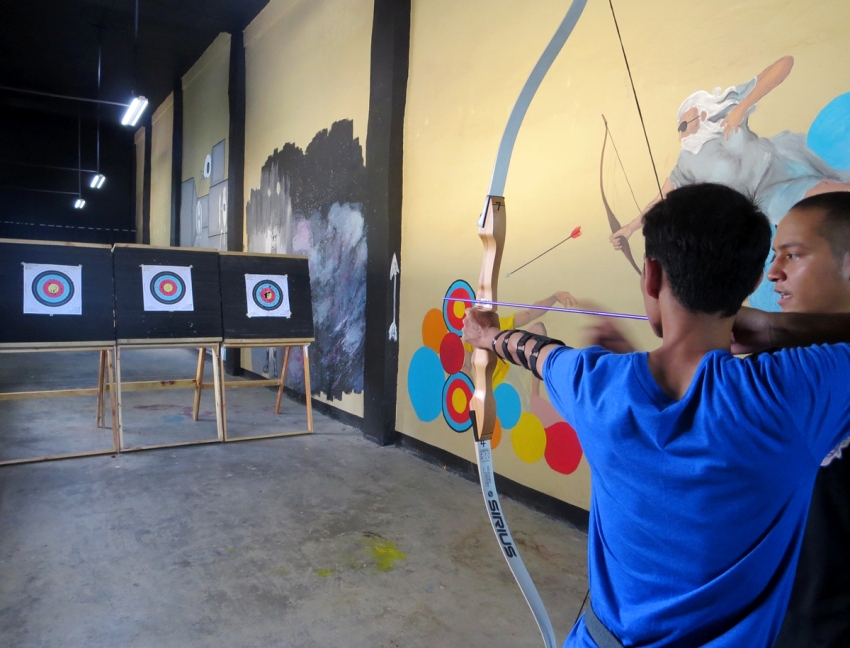 ARCHERY IS LIKE DANCING where you need focus, command of choreography and body coordination to hit that bull's-eye. (Now, for Hawkeye of The Avengers, he is said to have a bad archer's form because he does not follow the intricacies, while Katniss Everdeen is deemed to have one of the best forms. Hooray for Katniss fans out there!)
…
Indeed, archery is an interesting sport that challenges focus, patience and bodily coordination skills. One learning session could be enough for some, but for sure, many would find themselves wanting more after trying it out. Fortunately, The Archery Academy is offering a summer program this 2015 where you can reach great strides in archery within 8 meetings of 2 hours each. Rates are P8,500 for newbies (includes beginner's package, coaching fee, range fee and equipment rental) and P6,500 for the returning ones (coaching fee, equipment rental, and range fees). The first batch is about to wrap up, but you can still catch up and join the second and third batches! If you want to just dip your toes in the water, you can avail their current Groupon promo  where they are offering one-hour Introductory Archery single session classes at 50% off!
The Archery Academy and the summer season is a great combination to fully learn and appreciate the sport at a leisure time. With focused sessions and quality instructions from passionate coaches, students are surely to hit that bull's-eye eventually. 
…
TARGET HIT. 'Nuff said.
…
ADDRESS:
5th floor, Intrawest Center, #33 Annapolis St., Greenhills, San Juan
TEL.NO.:
(0917) 803 7422
For more information about their classes, visit their website or their Facebook page.
…
****
Photos and article by John Derick Flores