Weekend Events Guide (December 17-18)
If you're looking for the place to go to this weekend – may it be for shopping or for simple quality time with family and/or friends – then Primer PH has got you covered!
Here are the events which will be happening around the metro this weekend:
DECEMBER 17

Witness Resorts World Manila transform into a City of Love with performances to enchant RW Manila's platinum members, 7pm at the Manila Ballroom of Marriott Hotel Manila.
Mall of Asia Grand Festival of Lights
Santa and Friends are here all the way from the North Pole to spread Holiday cheer as we celebrate the GRAND FESTIVAL OF LIGHTS PARADE, now on its 8th year! If you happen to miss the 3rd night of the festival, worry not, because this festive event will also happen on Christmas day.
This musical, which is based on E.L. James' Fifty Shades trilogy, will surely deliver a roller coaster ride of entertainment as it relives the story of Anastasia Steele and Christian Grey through song and dance numbers.
DECEMBER 18

Ultimate Christmas Flea Market
This shopping event features a wide array of brand new and pre-loved goods – from fashionable items to unique home decors and furniture – for anyone who likes to keep an eye on one-of-a-kind pieces.
Experience Christmas in Italy with Venice Grand Canal mall's Grand Venetia Christmas Parade. Dubbed as Parata di Natale, the event will feature Venetian sights and sounds as performers go around the mall in Venetian-inspired costumes.
Known to be the biggest gathering of KPOP enthusiasts in the country, everyone gets a  chance to watch awesome performances, buy merchandise, and spazz with fellow fans to their heart's content at the Philippine Trade and Training Center in Pasay City.
DECEMBER 17-18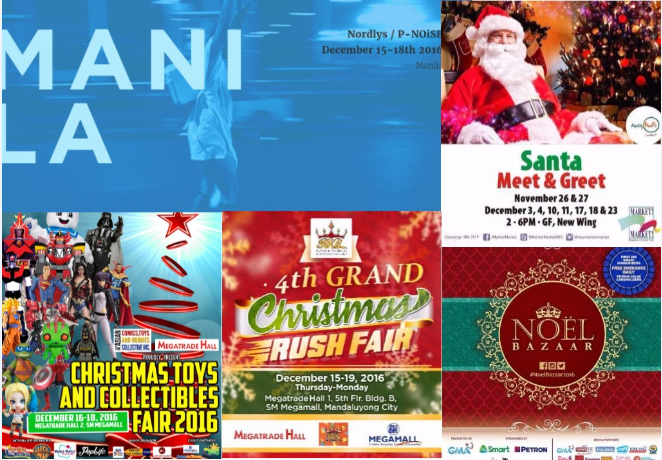 P-NOiSE / NORDLYS Manila Dance Edition
Celebrate the contemporary dances of both the Filipinos and Nordics as this event will be featuring performances from the two art collectives. This event aims to be a great cultural exchange platform where Filipinos can expect a performance which is a fusion of the two cultures.
Perfect for the kids and the kids at heart, get your cameras ready as Santa Claus will be coming to various malls for a meet and greet.
The Hi-5 group is backed in Manila to bring a theatrical show full of adventures and fairytales stories. Perfect for the kids, this show will also educate them through the colourful and easy-to-follow music, dance, and play.
Noel Bazaar, happening at the SMX Convention Center will be featuring an array of stores for their patrons – from fashion and beauty items to food products. It will also be holding workshops, fashion and variety shows from known GMA Personalities.
Now on its fourth year, this shopping event features a variation of stores that offer unique finds to those who are on a budget. From fashion items to gadgets – this bazaar makes sure that shoppers would get everything they need in one place.
Christmas Toys and Collectible Fair
In its 11th year, the Christmas Toys and Collectibles Fair will be back to give gift ideas for the kids and the kids at heart. Just like every year, this event will be displaying stores that sell official and unofficial merchandise, toys, and memorabilia that you won't find anywhere else.