More Garden Restaurants in Metro Manila
It's summer time! The weather is warmer, the days are longer, sunshine is stronger, and all over Metro Manila, countless shops have set up sidewalk tables, patio umbrellas, and wooden benches to allow diners to frolic in the summer heat. While these changes are nice, nothing beats the feeling of dining out in a restaurant set in a lush and beautiful garden. Don't worry, you don't have to go to Tagaytay or Rizal to experience this as we've picked out some of best garden restaurants in Metro Manila that will take you to the playground of the gods.
Gubat
IMAGES from GUBAT QC Facebook page
Located along Mayaman Street in Diliman, Quezon City, Gubat is a rustic garden restaurant that will literally make you feel inside a forest with its lush garden, wooden furniture, and earthy aesthetics. Though utensils can be requested, diners are encouraged to eat its delish Filipino offerings such as tapa flakes and halabos na hipon rice meals Kamayan style (with bare hands) for the full experience.
GENERAL INFORMATION
Address: 43 Mayaman Street, Diliman, Quezon City
Contact number: 0966-6271-522
Facebook: gubatquezoncity
Instagram: gubat_qc
The Wholesome Table
From the interiors to the menu, The Wholesome Table takes organic living to the next level. Feel the comfort of organic eats while being surrounded by verdant plants, small trees, and other nice little green things. If you're planning to throw an intimate party, we suggest you check out this garden restaurant in BGC.
IMAGES from The Wholesome Table Facebook page
GENERAL INFORMATION
Address: Central Square, 30th St Bonifacio High Street, Corner 7th Ave, Taguig
Contact number: 0917-5686-645
Website: merchant-portal.booky.ph/wholesome-table/fulfillment
Facebook: thewholesometable
Instagram: thewholesometable
NINYO Fusion Cuisine & Wine Lounge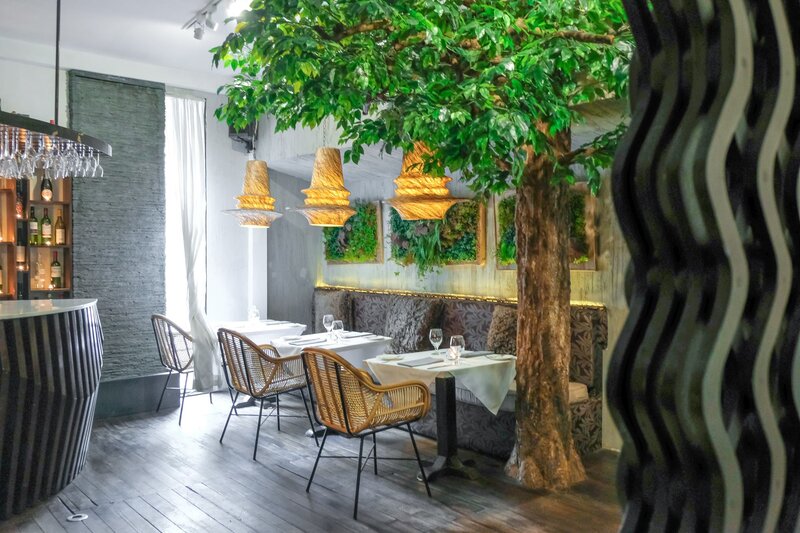 IMAGES from NINYO Fusion Cuisine & Wine Lounge Facebook page
NINYO is a romantic, rustic, garden restaurant nestled in bustling Katipunan, Quezon City that serves fusion cuisine paired with good wine. Its delightful offerings and relaxing environment will surely by enjoyed by couples out for romantic dinners.
GENERAL INFORMATION
Address: 66 Esteban Abada Street, Loyola Heights, Quezon City
Contact number: 0939-9215-881
Facebook: NinyoFusion
Instagram: ninyofusion
Greg & Sally Tree Garden Cafe
IMAGES from Greg & Sally Tree Garden Cafe Facebook page
Greg & Sally Tree Garden Cafe in Marikina is the perfect alternative for people who want to enjoy eating al fresco in a sprawling garden without breaking the bank. Bask in the restaurant's cozy and rustic atmosphere as you dine on freshly cooked, homely meals such as crispy pata and sweet barbeque ribs. Pair them up with the in-house calamansi tea for the complete experience.
GENERAL INFORMATION
Address: 145 Ipil St cor Champaca, Marikina Heights, Marikina City
Contact number: 0915-8926-158
Facebook: GregandSally
Instagram: gregandsallyp
Rustic Mornings by Isabelo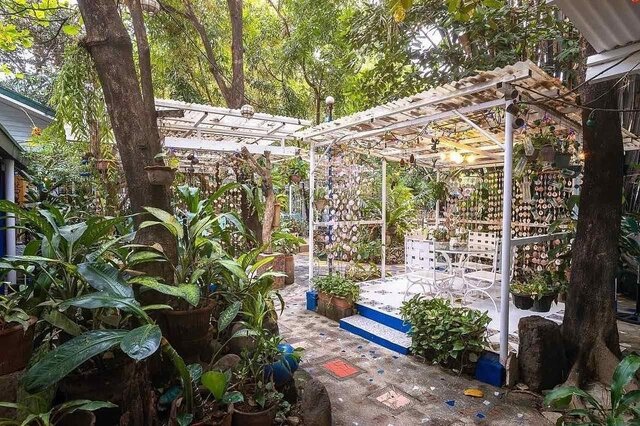 IMAGES from Rustic Mornings by Isabelo Facebook page
True to its name, Rustic Mornings by Isabelo is a garden restaurant in Marikina known for its IG-worthy dining areas and warm ambiance. It boasts a robust menu featuring western staples such as pancakes, omelets, and salads as well as Filipino favorites like pork tocino, beef tapa, and crispy dilis.
GENERAL INFORMATION
Address:#11 Isabelo Mendoza St. San Roque, Marikina City
Contact number:0995-2493-732
Website: rusticmornings.com
Facebook: RusticMornings
Instagram: rusticmornings
Have you checked out these lovely garden restaurants? Tell us your dining experience in the comment section below!
Also read: 6 Charming Garden Restaurants in Metro Manila