The World's First & Largest NFT-backed Waterpark is now in the Philippines!
OctoHedz, an NFT Collection built on the Ethereum Blockchain, has finally entered the physical world in the form of an inflatable playground located in Subic, bridging the digital world with real life experience.
IMAGE from Inflatable Island PH
A 4,500 sqm of inflatable fun with over 50 obstacles for the ultimate experience! Climb, jump, and slide on a massive inflatable playground! Loaded with fun obstacles such as classic playground elements with a watery twist: swings, monkey bars, giant slides, wiggle bridges, fun walkway ladders, and crazy ramps!
Inflatable Island access starts at 7 a.m. and ends at 6 p.m. You can choose your Inflatable Play Pass access! One-hour (Php 499), Two-hour (Php 699), Half-day pass (Php 799) is from 8 a.m. – 12 p.m. (morning) or 2 p.m. – 6 p.m. (afternoon), and whole day unlimited inflatable play (Php 899).
All play passes have whole day access to the beach and the B&W Bali Lounge!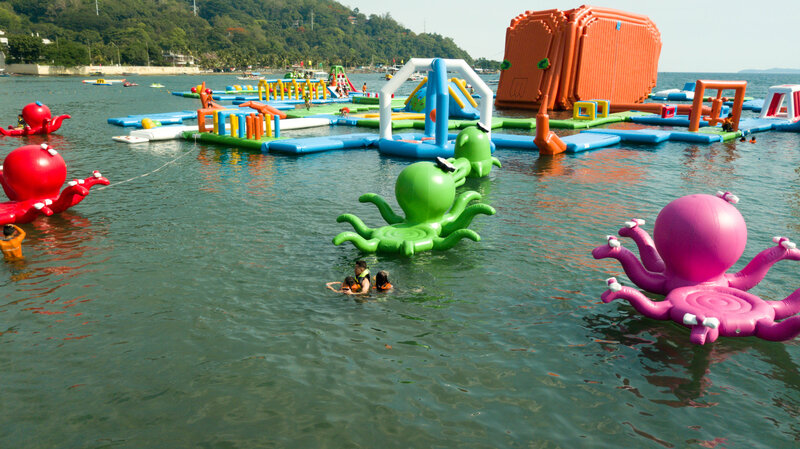 IMAGE from Inflatable Island PH
Visitors must arrive 30 minutes before their scheduled time to make room for signing in process, safety instructions, and life vest fitting.
Advance reservation is highly recommended so book your slots here now.
Who can enjoy the inflatable island?
The young and the young at heart can all come together for a fun and unforgettable experience with their family, friends, and even strangers! This park is suitable for kids and adults! Of course, safety is the number one priority! Lifeguards are on duty, and everyone must wear a life jacket (No worries! Life vests are supplied!)
What to wear
IMAGE from Inflatable Island PH
For the best bouncing experience, it is recommended to wear rash guards and swim leggings/shorts. This is a wipeout workout – you will slip and slide so better have the best outfit to match it!
Bringing your very own bikinis and/or board shorts is highly encouraged so you can achieve your Instagram Feed Goals at the I'M IN Lounge before going into the fluffy playground!
OctoHedz NFT Holders will enjoy 50% DISCOUNT at Inflatable Island and FREE ACCESS to the Octoqueenz Lounge.