The World is Your Classroom: Ayala Malls Celebrates Easter and World Book Day
This April, Ayala Malls is reintroducing the fun of school as it hosts an activity-packed intramurals-type event called Easter Academy, followed by a series of literacy initiatives in celebration of World Book Day at the Ayala Malls Readers Camp.
The many benefits of playing and reading are accessible to those who open their minds and welcome the world as their own personal classroom. Education is not defined by four walls; rather, it thrives among curious souls with passion for the things and the people around them. Indeed, learning can be anywhere—and it can be in Ayala Malls.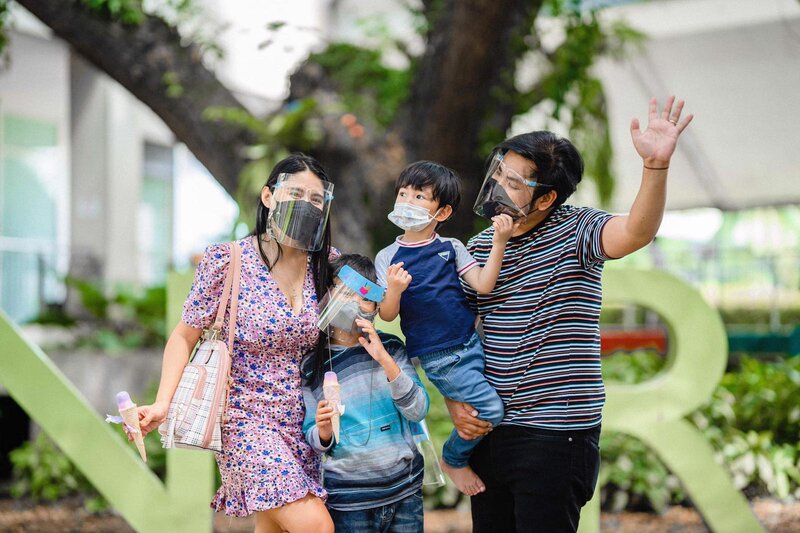 Celebrate Easter and World Book Day at Ayala Malls with the whole family/IMAGE from Ayala Malls
Let's Go Teamwork! – Run, play, and be a sport at Easter Academy
Missing the classroom, the campus, and the big open field might not have been be as popular as it is today, given the fact that kids and young teens have been studying from home for two years and running. Truth is, kids miss school!—and finally, with Alert Level 1 in place, Ayala Malls is calling all youngsters to put on their kicks and reunite with their best friends in a face-to-face setting with a fun and competitive twist on Easter Day, April 17.
Easter Academy fosters cooperative play and team spirit as it gathers kids in groups to complete challenges, including an obstacle course relay, in sports-competition mode. As the youngsters crowd the field, parents, guardians, and other non-competing children can also visit the School Fair area for their favorite snacks and nostalgic goodies. Alternately, visitors can take selfies with roaming Easter mascots, donate at toy drives, and bring furbabies to an exciting Hide & Treat activity at Barkyard.
Register children to join the Easter Academy featuring school intramurals themed games/IMAGE from Ayala Malls
Easter Academy is launching in the following malls: Abreeza, Alabang Town Center, Ayala Center Cebu, Ayala Malls Capitol Central, Ayala Malls Central Bloc, Ayala Malls Circuit, Ayala Malls Cloverleaf, Ayala Malls Feliz, Ayala Malls Manila Bay, Ayala Malls Marikina, ayala Malls Serin Ayala Malls Solenad, Ayala Malls The 30th, Centrio, Fairview Terraces, Glorietta, Harbor Point, Market Market, Marquee Mall, Pavilion Mall, Serendra,, The District Dasmarinas, The
District Imus, and U.P. Town Center.
The fun also extends online through exclusive discounts when shopping for toys and school supplies via Ayala Malls Neighborhood Assistant (A.N.A.). Grub on hearty meals at more affordable prices with GrabFood using the voucher code EasterRecess or discover foodpanda's group meal sets to enjoy with the whole family.
Reading is Achieving! – Discover the pleasure of reading at Ayala Malls Readers Camp
The spotlight now turns to reading, which serves not only as a means for learning but also as a form of entertainment, relaxation, and emotional support. In an effort to share the countless benefits of reading to men and women of all ages, Ayala Malls Readers Camp will be packed with book sales, book swaps, and reading spaces that will go on starting April 21. Kickstarting the celebration is the much-anticipated Book-Bonanza mall-wide event in various Ayala Malls. Happening in collaboration with Biblio, National Bookstore, OMF Lit, Book Sale, Chapters and Pages, Metro, and Basa Books, new and experienced readers are welcome to try new genres and authors while browsing through a plethora of paperbacks, hardbound books, e-book gadgets, and other reading materials and offerings.
Catch ​​exclusive discounts at select Ayala Malls shops and cafes/IMAGE from Ayala Malls
Meanwhile, the Reader's Circle is an outdoor camp-themed reading space near Book-Bonanza where visitors can finally flip the pages of their newly-acquired books, as well as listen to scheduled live reading events. Both Book Bonanza and the Reader's Circle are ongoing from April 21 to 30.
For those with a stack of books to give away or share, bibliophiles can participate in Ayala Malls Readers Camp's Grand Book Swap on April 22 to 24. The three-day event gathers people from various cities as a community of book lovers who can share, discuss, and reflect on their favorite stories with their newfound friends. The evet is made possible in partnership with Davao Readers Circle in Abreeza, Bacolod Book Exchange in Ayala Malls Capitol Central, as well as
BASAdor in Ayala Center Cebu and Ayala Malls Central Bloc.
Furthering the joy of reading are promos from merchants in select Ayala Malls, including Chatime, Arcana Coffee, and Starbucks. Catch exclusive discounts on select items from April 21 to 30 from 3 p.m. to 5 p.m.
MarQuee Mall/IMAGE from Ayala Malls
Meanwhile, shoppers can take advantage of free delivery fee or shopping fee when they shop at select bookstores through A.N.A. What's more, families can take part in Ayala Malls' social media contests to win special prizes. Lastly, patrons can also give away books to those in need through the malls' donation drive in partnership with World Vision and Pinagbuhatan HS at Ayala Malls The 30th; World Vision at U.P. Town Center; Aklatan ni Sir Tan at Market! Market!; Barangay Apas at Ayala Malls Central Bloc; and Calabrian Children's Foundation at Centrio Mall.
The world is your classroom. Nothing can limit the power of education—not even the pandemic! Keep discovering a new way of learning with Ayala Malls. For more information on ongoing promos, mall events, and safety measures, please visit Ayala Malls' website, or check them out on Facebook and Instagram.
---
This is a press release. Minor edits were made prior to publishing.