Bohol With Love: The Bellevue Resort Offers All-in Package With Free RT-PCR Test
Bohol is famous for its majestic view of Chocolate Hills during the summer and it's the home to the smallest primate in the world—the Tarsier. It is one of the most sought-after tourist destinations in terms of adventure and sightseeing in the country. With its undeniable breathtaking view of the hills, still, several places of Bohol remains preserved and untouched.
That is why the island of Bohol is the perfect spot to seek adventure and to enjoy the beaches.  And compared to other hotels and resorts, the island of Bohol is a safe-haven for all who seek peace and value their solitude. Good thing that the province of Bohol opened its doors to tourists last December 15, 2020.
Also read: BOHOL TRAVEL: Exciting Countryside and Island Hopping Tours Await on the Island
Today, The Bellevue Resort has taken a big leap by providing complimentary reverse transcription-polymerase chain reaction (RT-PCR) tests to their guests availing their ALL-IN Vacation Package.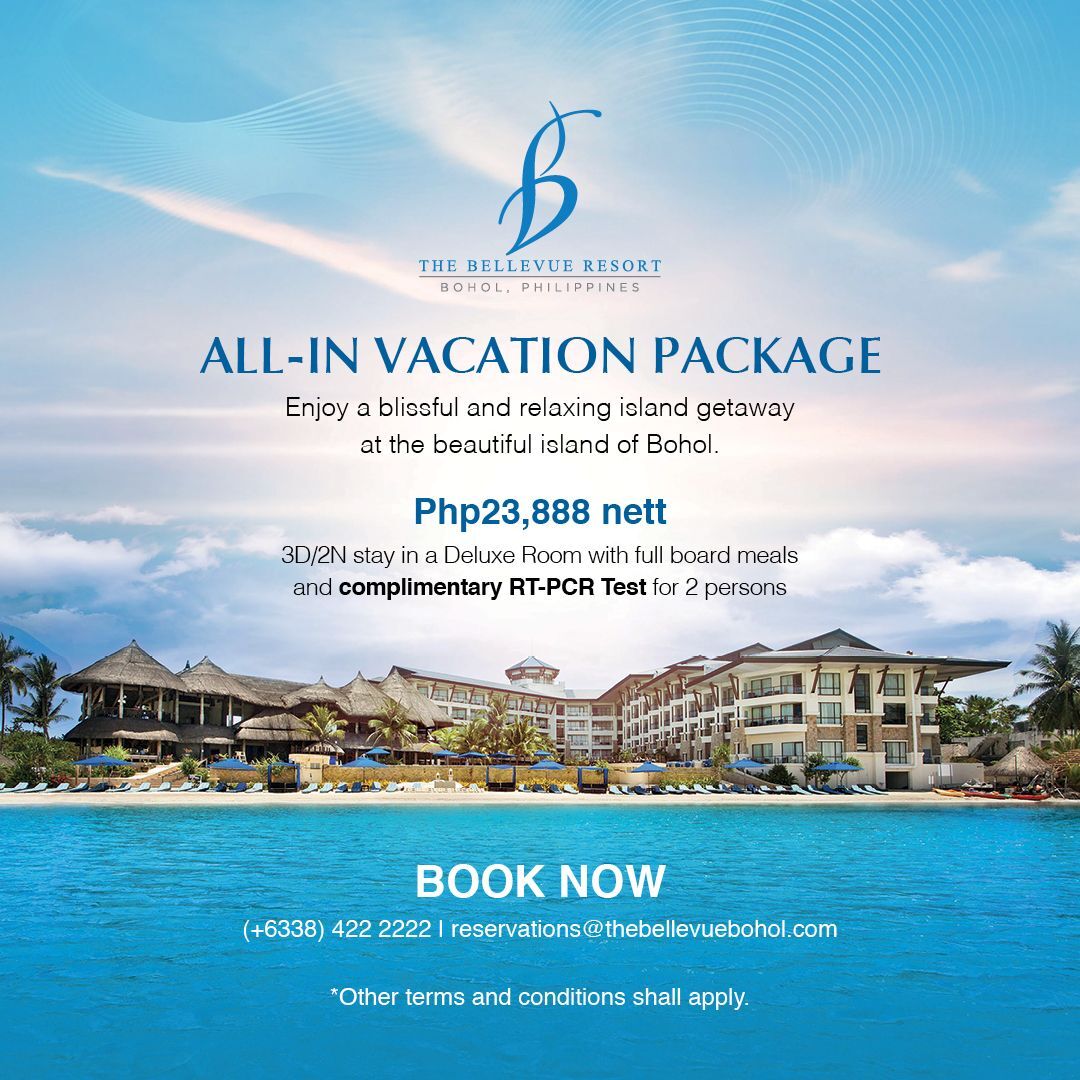 The resort's latest promo made it easy and in style despite the current situations. Only things you have to do are to book your airline ticket, The Bellevue Resort's All-in vacation package and you will be lounging by the beach in no time.
The package includes a three (3) days and two (2) nights blissful stay at the resort with round trip airport transfers, the full board set meals served at the restaurant, free use of all non-motorized aqua sports facilities, and a complimentary RT-PCR Test for 2 persons for only Php 23,888 net.
Also read: Bohol Island Hopping: A Guide To Diving Sites and Must-See Spots
For more information, visit www.thebellevuebohol.com, or call at (+6338) 422 2222 or email at reservations@thebellevohol.com.
Facebook: @TheBellevueResort
Instagram: @BellevueResort
---
This is a press release. Minor edits were made prior to publishing.