Megaworld Lifestyle Malls Lines-Up Online and On-Ground Activities from August to September
Megaworld Lifestyle Malls Lines-Up Online and On-Ground Activities from August to September
We are nearing the start of Ghost Month and what an exciting way to spend the rest of August until September than to indulge in a series of virtual and on-ground activities for family members and even pets presented by Megaworld Lifestyle Malls in a safe yet enjoyable style.
With that, here's the line-up of events Megaworld Lifestyle Malls has in store for you:
Celebrate Filipino heritage at Southwoods Mall's Lokal Juanders
Megaworld Lifestyle Malls, through Southwoods Mall, invites everyone to celebrate the rich Filipino heritage with local treats and finds at Lokal Juanders. The month-long celebration for Buwan ng Wika and National Heroes' Day will showcase Filipino talent and history.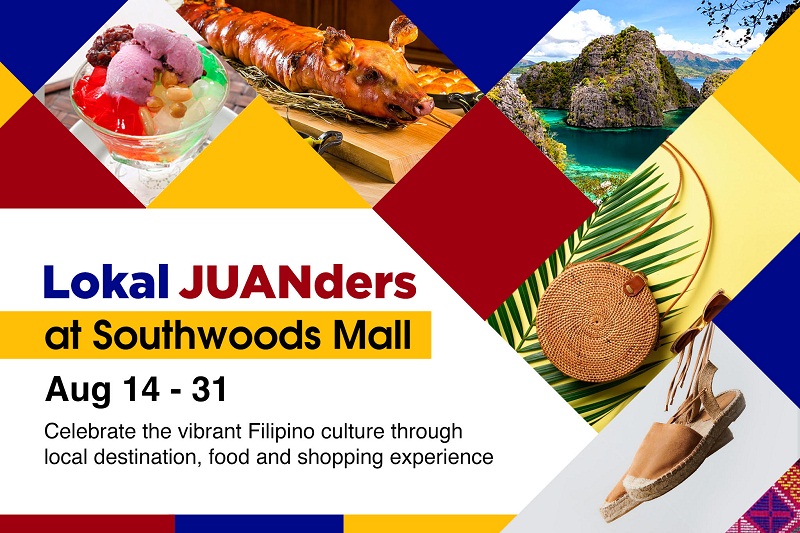 On August 29, local performers will take the stage and showcase the beauty of Filipino talent through online spoken poetry. Everyone is also invited to sing along with their favorite OPM songs at the Lokal Jam on August 29 and 30.
In line with the Pinas Muna Tayo campaign, it will also feature the best local destinations, food, and shopping experience from August 14 to 31. To support the local retail industry, Happy Juans Payday Weekend Sale features deals for local produce and must-haves. Shoppers could get exclusive discounts from selected establishments.
Lucky Chinatown celebrates best of Asian flicks and movies with annual Asian Fest
To quell the travel bug in you, Lucky Chinatown once again brings Asia to you with its annual Asian Fest 2020: Ready for Reel. This year's festivities will make you experience food, music, and craft straight from the crowd-favorite Asian flicks and series.
From August 21 to September 6, you can explore Asia at the heart of Binondo by savoring the flavor from Asian flicks at Reel Asian Food featuring dishes from different dining establishments that are inspired by famous Asian drama and films.
Mall-goers can also score pastel-colored kitchenware, dainty accessories, and everything cute at the All Things Asian retail tents.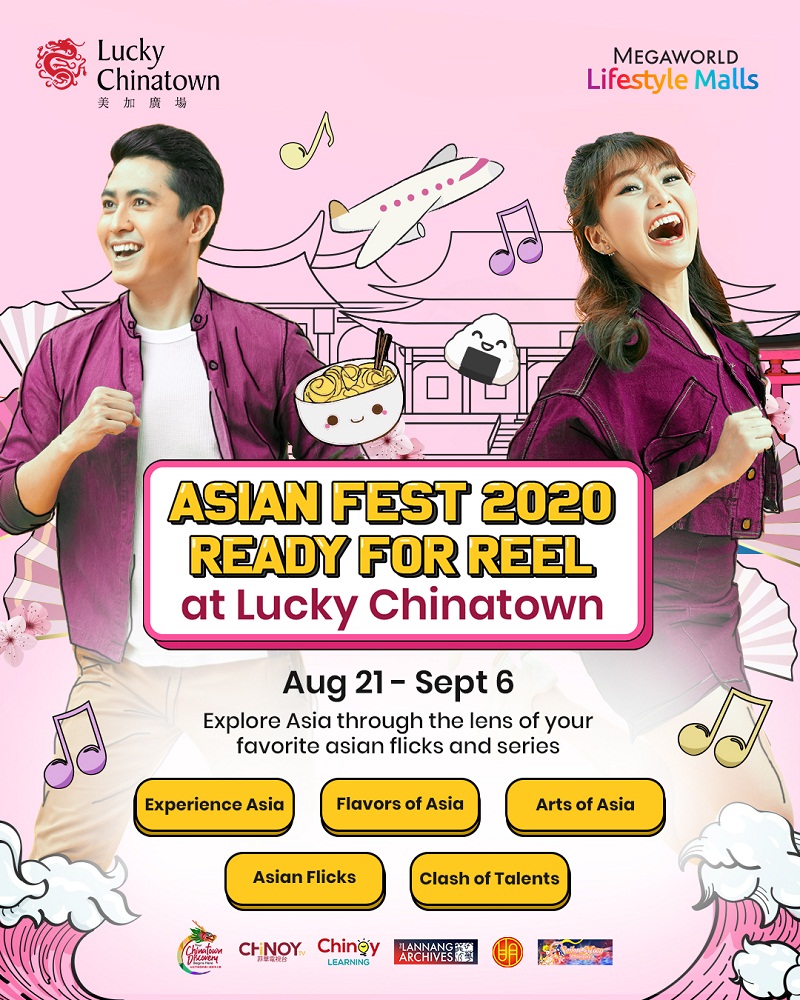 Likewise, a showcase of Asian arts and crafts are also featured at the festival. Browse through some snaps of glammed up Japanese dolls at All Dolled Up on August 31 or witness local artists perform top soundtracks from Asian flicks at OST-oke.
Sailor Moon fans should also watch out for Lucky Chinatown's online showcase of Sailor Moon collection and Pass the Brush challenge. On August 28, Cosplay Ready will help jumpstart your cosplay journey with some makeup tips and tricks.
Lucky Chinatown will also stream lessons on the basics of Korean, Chinese, and Japanese languages in Speak Asian.
Appreciate all doggos with Pawsome Palooza at Megaworld Lifestyle Malls
Megaworld Lifestyle Malls, a pioneer of truly pet-friendly malls and an advocate for responsible pet ownership, is celebrating all kinds of dogs for National Dog Day on August 26 with awesome perks and activities at Pawsome Palooza for the whole month of August.
Spoil your pet dogs with pawsome deals from select pet establishments at Puptastic Perks. DOGspert Talks also brings you pet talks and training sessions to help your pets adjust to changing times.
You can also dress your dogs to the nines and watch them pose online with Pupper on the Runway, an online pet fashion show. To join, send a 30-second to 1-minute home video skit of your dog dressed up in their cute costume.
Entries can be submitted to teacabado@megaworld-lifestyle.com until September 6 and winning pawshionistas will get special Pedigree loot bags.
Harvest to Goodness weekend market goes to Uptown Bonifacio
Shop for fresh and locally-grown produce while helping our farmers as the third leg of Harvest to Goodness is bound for Uptown Bonifacio on September 4 to 6.
Choose from an array of lowland and highland produce brought by farmers from the provinces of Benguet, Baguio City, Bulacan, and Region IV-A provinces, including Quezon and Batangas. The market also features fresh seafood picks, meat products, and dairy products.
Shop from a wide selection of fresh produce and farm-to-table food options from our farmers at the #HarvestToGoodness…
Meanwhile, Resto PH members will offer special menus featuring farm-to-table dishes made from locally-sourced ingredients. Participating restaurants include Mango Tree, Kureji, Brotzeit, Menya Kokoro, Icebergs, 102 Izakaya, Tokyo Milk Cheese, Monga by Vikings, Recovery Food, and Tepanyaki Brothers.
To ensure safety, the weekend market implements government-mandated health and safety protocols such as temperature checks, footwear and hand sanitation, wearing of face masks and face shields, and strict observance of social distancing. Cashless payment options powered by PayMaya and contactless transactions will also be available.
Shoppers could also conveniently order from their homes and have their products delivered with the help of personal shopping service app MyKuya and cashless personal deliveries for food purchases from participating restaurants can also be made via LalaFood and Mr. Speedy. Curbside pickup is also available for those who are driving.
The weekend market is staged by Megaworld Lifestyle Malls in partnership with the Department of Agriculture (DA), non-profit group Resto PH and DA's Kadiwa ni Ani at Kita (KADIWA) project to support Filipino farmers and food entrepreneurs who have been directly impacted by the global pandemic.
For more information on the latest happenings, visit megaworld-lifestylemalls.com or call the hotline at 02-8462-8888.
---
This is a press release. Edits were made prior to publishing.
Images courtesy of Megaworld Lifestyle Malls