Non-Essential Travel Now Allowed for Filipinos as IATF Lifts Ban
Last July 7, Presidential Spokesperson Harry Roque has announced that the Inter-Agency Task Force for the Management of Emerging Infectious Diseases (IATF-EID) lifted the ban on non-essential travel of Filipinos across the country and abroad.
IMAGE / PCOO official Twitter account
IATF has issued Resolution No. 52 on July 6, which states that suspension of non-essential travel by Filipinos as well as all travel restrictions relative to outbound travel of Filipinos pursuant to previous IATF Resolutions are lifted.
To be allowed to foreign travel, Filipinos have to fulfill the following conditions indicated in the resolution:
Submission of confirmed round-trip tickets for those traveling on tourist visas
Adequate travel and health insurance to cover rebooking and accommodation expenses if stranded, and hospitalization in case of infection, in such amount as may be determined by the Department of Tourism
Allowed entry by destination country in accordance with their travel, health, and quarantine restrictions
Execution of a Declaration acknowledging the risks involved in traveling, including risk of delay in their return trip, to be provided for in the check-in counters by the airlines
Upon return, Filipino travelers shall follow the Guidelines of Returning Overseas Filipinos of the National Task Force.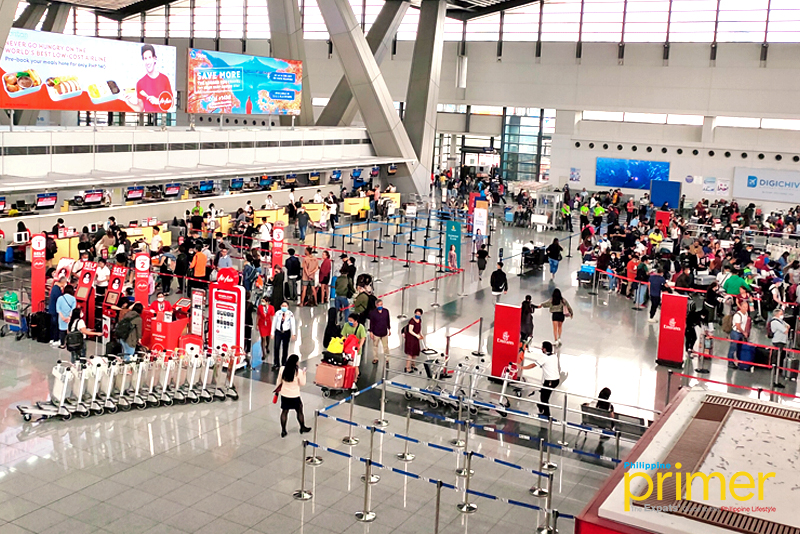 Before this, only Filipinos who are overseas workers, residents of the countries they wish to travel, or leaving the country for other reasons deemed as essential were allowed to travel abroad.
As of yesterday's Department of Health COVID-19 Case Bulletin (July 8), there is a total of 50,359 COVID-19 cases in the Philippines with 36,457 being active cases. The total number of recoveries stands at 12,588 while deaths amount to 1,314.
---
Source: officialgazette.gov.ph, pna.gov.ph
Featured image grabbed from PCOO's official Twitter account