LIST: Where to Shop for Clothes and Fashion Items Online
With the pandemic still out there, it may be difficult to do the traditional way of shopping at malls given the possible dangers of acquiring the virus. Luckily, there are other ways on how people can still shop their clothing and fashion necessities without going outside of their homes.
Clothing retailers and brands are now utilizing online and mobile platforms as a way to reach their customers. Here are some brands that have their own mobile applications where you can safely shop from home for fashion items to your heart's content:
LazMall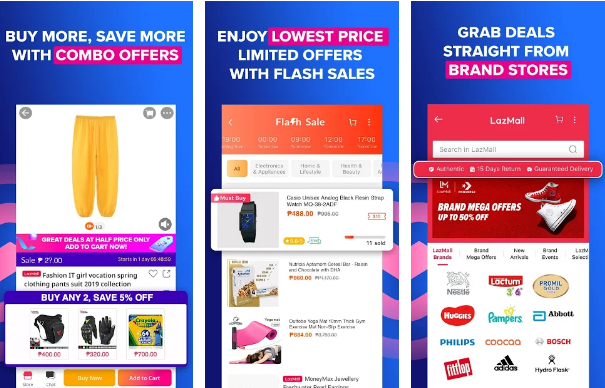 Lazada's LazMall has a catalog of flagship and official stores of local and international brands, especially in fashion. Some of them are Fashion 21, Bench, Penshoppe, OXGN, Converse, Vero Moda, CLN, and more.
Upon ordering, customers may pay through Lazada Wallet, Visa, Mastercard, JCB, American Express, and GCash. Areas in general community quarantine are already serviceable by Lazada delivery. However, delays may happen in areas where local government units implement respective quarantine controls.
Website: lazada.com.ph
Application: Available on Google Play Store and App Store
UNIQLO PH Online Store
Extending the reach of its brand to Filipino consumers, UNIQLO recently launched its own e-commerce platform that provides local customers a faster and easier way of purchasing the brand's range of LifeWear items online.
A new UNIQLO experience is coming your way. Can you guess what it is?#UNIQLOPH #LifeWear
UNIQLO's Online Store features the brand's wide collection of fashion apparel for women, men, and children. It also offers a weekly recommendations section where customers can see UNIQLO's recommended collections for the week, as well as styling suggestions.
Upon ordering online, customers can choose between having the purchased items delivered to their house or pick-up at any UNIQLO Philippines store through Click and Collect. They accept major credit cards in settling online purchases, including Pay In-Store method.
IMAGE UNIQLO Online Store website
Items ordered will be delivered in an estimate of 1 to 10 working days from the date of payment, depending on the delivery address. It can be tracked by logging in to respective UNIQLO account.
Website: uniqlo.com/ph
Application: Available on Google Play Store and App Store
Also read: UNIQLO To Open its Online Store in the PH
ZALORA Philippines
As Asia's leading online destination for fashion finds, ZALORA boasts an ever-expanding collection of well-known local and international brands suited for Filipino consumers. Its line-up of brands consists of a total of over 120,000 products, from shirts, dresses, and pants to sneakers, sportswear, and even beauty essentials.
Some of their featured brands include MANGO, Dorothy Perkins, Hollister California, NIKE, Under Armour, Topshop, adidas, Benefit Cosmetics, and more.
ZALORA usually delivers around Metro Manila and other major cities in an average of four to 12 working days, and provincial areas for six to 14 working days. Customers can also pick-up their orders via ZALORA's Click + Connect feature.
They also offer free shipping for purchased items over Php 1,295 and free returns. ZALORA accepts a host of payment methods like cash on delivery, credit and debit cards, PayPal, GCash, and GPay.
Website: zalora.com.ph
Application: Available on Google Play Store and App Store
Zilingo
Zilingo Shopping is a business-to-customer marketplace platform for fashion and lifestyle buyers and sellers. It hosts a vast digital catalog of items in categories such as fashion, lifestyle, health, and beauty at the most competitive prices from trusted sellers.
Zilingo's available payment methods are cash on delivery, major credit or debit cards, online payment via Dragonpay, Tendopay, and payment centers. Orders are expected to be received in three to five working days for those in Metro Manila and seven to 10 working days outside Metro Manila. However, there may be delays in shipping due to the pandemic.
Website: zilingoshopping.com/en-ph
Application: Available on Google Play Store and App Store
adidas
The adidas app features news and personally tailored content of exclusive products and seamless one-touch ordering. It provides curated content and personalized product recommendations for customers, from new products to pro-athlete tips, which are all tailored to personal preferences.
The app boasts a vast line up of adidas' apparel collection for men, women, and kids, from shoes, clothing, athleisure wear, and accessories. It also has a live chat that connects customers to the adidas' support team for easy guidance and assistance while shopping online.
Available payment options are cash on delivery, credit card (Visa and Mastercard), and PayPal. They also ship nationwide but due to shipping restrictions brought by the pandemic, new orders placed from June 1 onwards are expected to be delivered around six weeks.
Website: adidas.com.ph
Application: Available on Google Play Store and App Store
ZARA
ZARA's mobile app features a catalog of fashion finds from clothes, shoes, and bags for men, women, kids.  While some of their stores have already re-opened, customers can still shop online via their website or mobile app.
They accept Visa, Mastercard, China Union Pay, cash on delivery, and voucher cards for payment. Customers may either collect their ordered items at a ZARA store for free within five to eight working days or have it delivered at home for Php 150. They also offer free delivery for orders over Php 2,995.
Website: zara.com/ph
Application: Available on Google Play Store and App Store
Which of these online stores and mobile apps do you prefer using for clothes shopping?