MMDA Releases Chinese New Year 2020 Traffic Advisory
Metropolitan Manila Development Authority's (MMDA) Manila District Traffic Enforcement Unit released a traffic advisory for motorists who will travel to Manila City on January 24 and 25 for the Chinese New Year 2020 celebration.
[Admin PIO] LOOK: Manila District Traffic Enforcement Unit's Traffic Advisory for the celebration of Chinese New Year….

MMDAさんの投稿 2020年1月22日水曜日
On January 24, several roads in the city will be closed starting at 5 p.m. in light of the Chinese New Year concert celebration happening at Plaza San Lorenzo Ruiz. The roads affected by the closure are as follows:
Quintin Paredes from Dasmariñas to Plaza Ruiz
Reina Regente from Soler to Plaza Ruiz
Plaza Ruiz U-Turn slot
Juan Luna from Reina Regente to San Fernando
San Fernando from Elcano to Plaza Ruiz
Northbound lane of Jones Bridge from P. Burgos to Escolta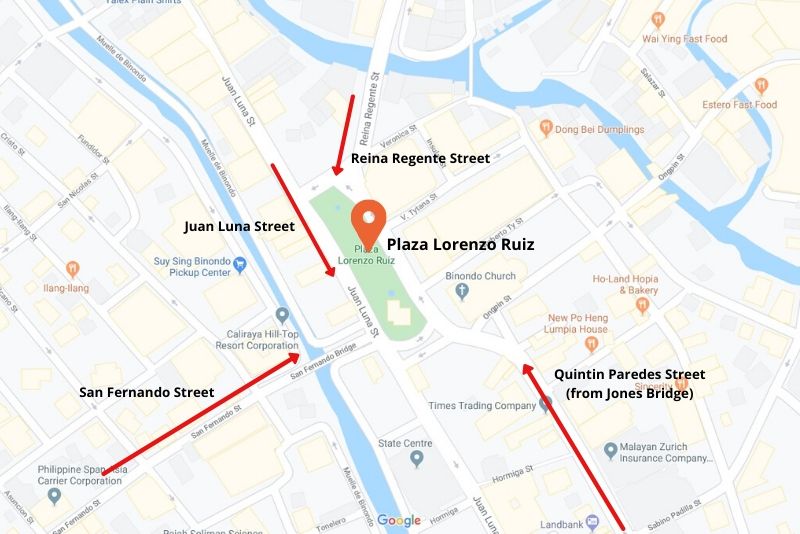 Closed roads (red arrows) bound to Plaza Lorenzo Ruiz
By 10:30 p.m., both lanes of Jones Bridge from Escolta to Magallanes Drive will be closed for the fireworks display show.
For motorists bound to Plaza San Lorenzo Ruiz, MMDA advised taking alternate routes instead such as Muelle dela Industria to McArthur Bridge. Vehicles can also utilize Reina Regente bound to CM Recto for those who will come from Soler St. and Jose Abad Santos.
Drivers from San Fernando can go around Elcano to Muelle dela Industria. All vehicles coming from P. Burgos going to the Binondo area shall use McArthur Bridge to their point of destination.
Further, a stop-and-go traffic scheme will be implemented on several roads in the city on January 25 at 1 p.m. for the grand parade.
The parade's route will start from the Post Office to Quintin Paredes St. via Jones Bridge. It will then continue onto Ongpin St. bound to Ronquillo St. before passing by Torres St. to Soler St and Reina Regente St. The parade will finally end at Lucky Chinatown Mall in Binondo.
Chinese New Year 2020 Grand Parade route from Manila Post Office to Lucky Chinatown Mall
All vehicles from P. Burgos going to Binondo shall, likewise, pass through McArthur Bridge.
For more information and route updates, visit MMDA's Facebook page.
---
Source: MMDA's Traffic Advisory