Metrobank Signs Strategic Partnership with Top South Korean Bank
Metropolitan Bank & Trust Co. (Metrobank) forms a strategic partnership with South Korea's Shinhan Bank, which aims to explore possible business opportunities within both countries using the networks of both companies.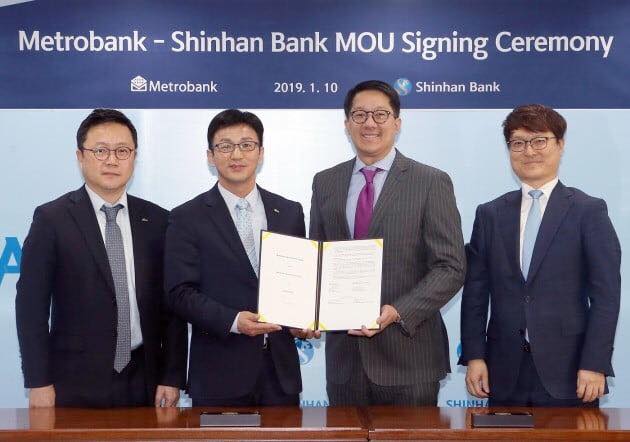 Metrobank Corporate Banking Group Head Antonio R. Ocampo, Jr. (3rd from left) executed the Agreement with Shinhan Bank Deputy CEO Ji-Ho Jeong (2nd from left). Also present during the signing ceremony are Metrobank Seoul Branch General Manager Andrew Lee (extreme right) and Shinhan Bank's Head of Global Business Division, YongHoon Roh (extreme left).
As the first and only MOU between Shinhan Bank and a Philippine bank, this agreement facilitates further collaboration on transaction banking and trade finance, improved risk management through information exchange, mutual liquidity support, and overseas remittances. 
Through this strategic partnership, opportunities to generate synergies between South Korea and the Philippines are expected to arise. Significantly this also marks the 70th anniversary of diplomatic relations between the two countries.
This allows Metrobank to extend its meaningful banking services to an extensive global network.
The Korea-based financial institution operates in the country through its branch office situated in Manila. Similarly, the Best Managed Bank in the Philippines has two fully licensed branches located in South Korea.
Also read:
Metrobank Launches Meaningful Banking Campaign
Metrobank Celebrates 57 Years of Meaningful Banking

---
This is a press release. Minor edits were made prior to publishing.
Image courtesy of Metrobank.