Nono's Adds New Comfort Food to Mom-Approved Menu
Do you know what's better than comfort food? Comfort food that you can share with closest friends and loved ones—and that's what Nono's promotes with their new offerings.
Nono's, with branches in Makati, Alabang, Ortigas, Quezon City, and Sta. Rosa, has long been loved by people for its comfort food offerings rooted in family traditions and tender childhood memories.
Surely, there is a lot to look forward to with any new set of menu by this cafe.
Nono's in Glorietta exudes a warm vibe with mom-approved comfort food!
This time, Nono's furthers the experience of comfort food with new dishes that are made for sharing in "the company of friends and fellow food lovers."
From appetizers and drinks to mains and desserts, there is something for everyone to feast on together. The Parmesan Truffle Fries (Php 255) and Chicken Lettuce Wrap (Php 295) are incredible starters that can kickstart a good conversation.
With no utensils needed, all hands can dive easily into these plates.
Parmesan Truffle Fries (Php 255) — fries coated in grated parmesan and truffle oil, served with paprika aioli dip.
Chicken Lettuce Wrap (Php 295) — chicken, tofu, water chestnuts, and shiitake mushrooms, cooked in an oriental sauce and served with romaine lettuce leaves.
For the mains, Nono's re-introduces an all-time best seller and presents more dishes that highlight a variety of meats and ingredients.
The hottest item, for us, is still the home-style fried chicken, a top seller that gets a fresh rendition in the newest Chicken and Waffles (Php 345). Said dish lets you choose between the original Nono's Homestyle and an equally delicious variation, the Honey Sriracha-Glazed.
The honey sriracha glaze gives the crispy boneless chicken fillet a nice thick and juicy coating and a combination of sweet and spicy flavors, which all give a good tickle to the palate. The waffles, crisp on the outside, also have a unique flaky texture similar to croissants.
Homestyle Chicken and Waffles (Php 345) — served with butter, honey dip, and gravy/ IMAGE Nono's
For family and group diners, we recommend getting the Big Plate version (Php 345), which gives you twice the Chicken and Waffles, so you can choose to have both flavors of the chicken. Their big plates are good for two to three persons.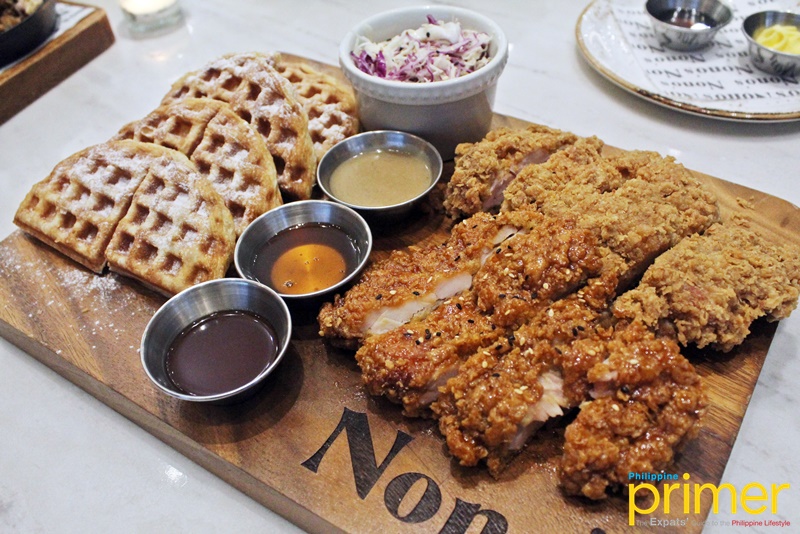 Homestyle and Honey Sriracha-Glazed Chicken and Waffles (Php 345) — served with three dip choices: honey, gravy, and sriracha
Meanwhile, Nono's Sisig (Php 295) strongly enkindles the Filipino sense of family, where rice is an integral part of meals. It is a serving of minced crispy pork belly topped with egg, and a bowl of garlic rice on the side.
The dish is meant to be a solo meal but is nonetheless good for sharing between two light eaters.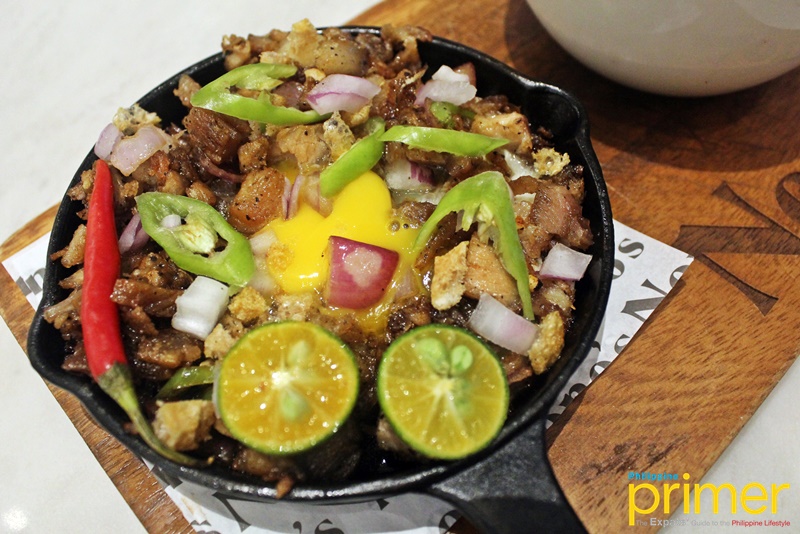 Nono's Sisig (Php 295)
For seafood lovers, a new must-try dish is the Shrimp El Diablo, made with pan-roasted shrimp with a relish of chili pepper flakes, garlic, onion, and red bell pepper tossed in olive oil and tomato-herb sauce.
A friendly word of caution: this pasta dish is delicious but might be a little too spicy for those with a sensitive palate.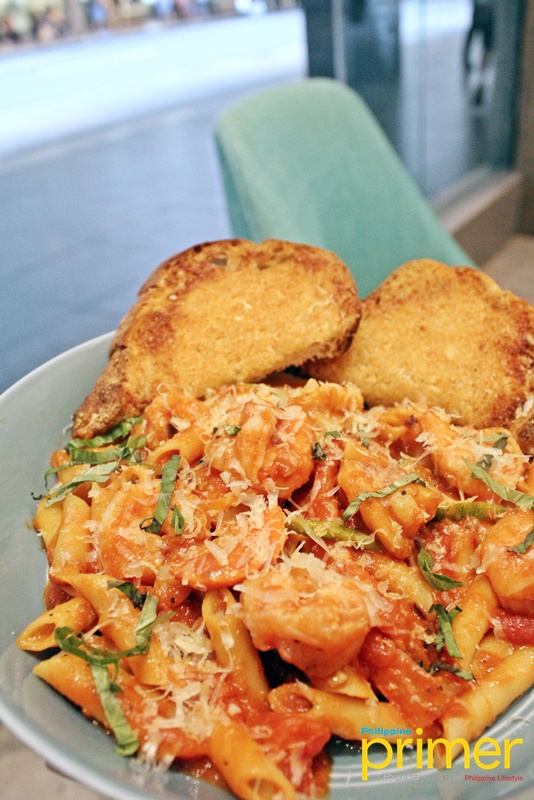 Shrimp El Diablo (Php 425)
For those not fond of spicy dishes, there's nothing to worry about as Nono's came up with Miso-glazed Salmon on top of a bed of red rice. With a tender salmon that surrenders in your mouth, the dish leaves a fresh sweetness balanced by the red rice.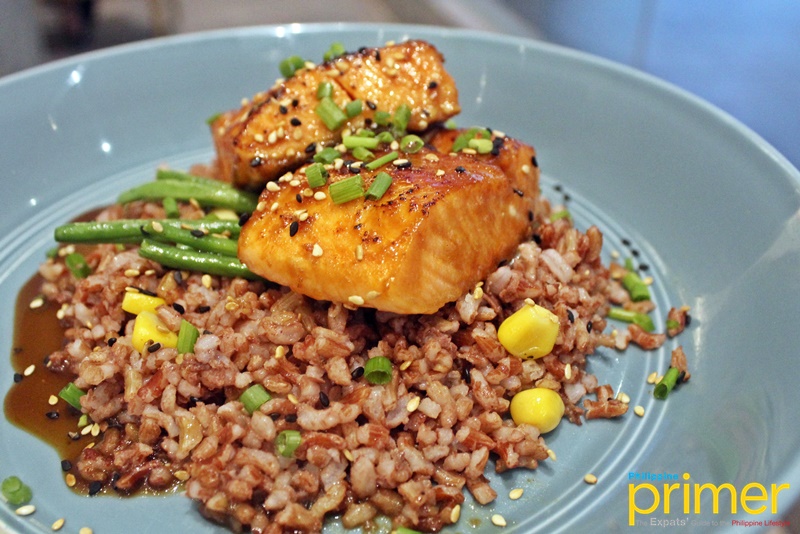 Miso-glazed Salmon with Red Rice (Php 525)
These dishes, along with your friendly conversations, are best complemented by a glass of sangria—or a good ol' cup of Joe. There are also new desserts to look forward to, such as the Chocolate Chocolate Cheesecake, a special treat for chocolate lovers made with layers of chocolate cheesecake, white chocolate cheesecake, and crushed Oreos crust.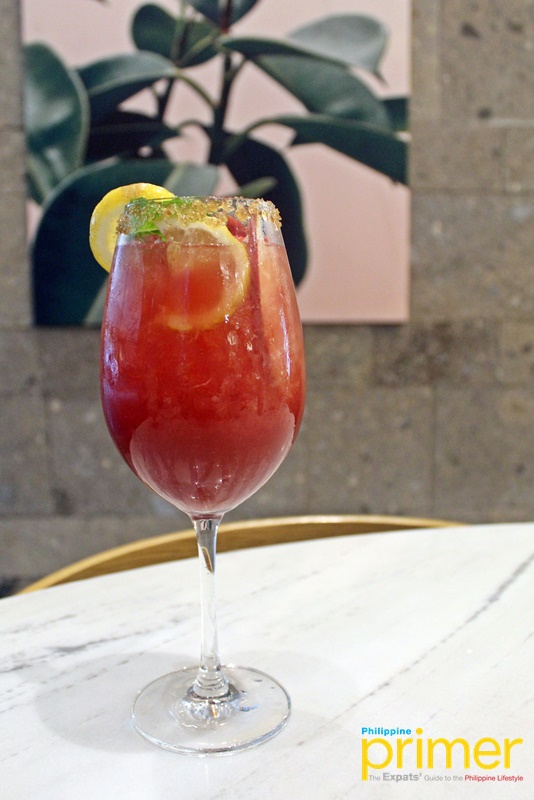 Red Sangria (Php 275)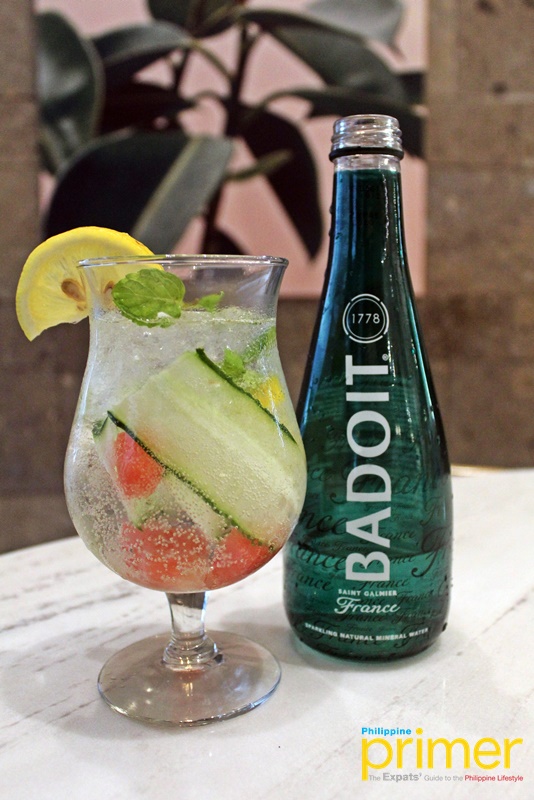 Sparkling Detox Aqua Fresca (Php 175)

Salted Caramel Macchiato (Php 185)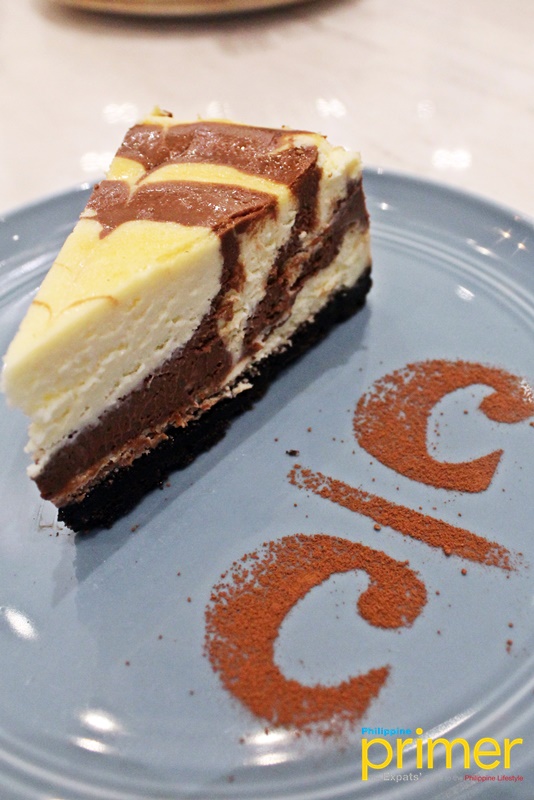 Chocolate Chocolate Cheesecake
To better accommodate cravings of much bigger groups, Nono's has also started providing party platters by request.
So for a taste of your childhood in every plate, choose Nono's and their bevy of comfort food done right!