Nippon Premium Bakery Presents Fuwa Fuwa Breads to PH
Updated as of January 17, 2020
With an aim to bring quality, authentic Japanese baked products in the Philippines, Nippon Premium Bakery Inc. (NPB) presents Fuwa Fuwa bread that is sure to give irresistible goodness to every discerning taste.
On June 26, 2019, the manufacturing company had an inauguration and blessing ceremony of the brand and the plant at First Philippine Industrial Park II in Sto. Tomas, Batangas.
It was attended by several distinguished guests from different firms in the country, including the partner companies such as Sojitz Corporation, Ryoyu Baking Co. Ltd, and JR&R Distributors, Inc.
Present during the celebration was NPB President and CEO Mr. Takao Okabe, who gave welcoming remarks. President and CEO of Sojitz Mr. Masayoshi Fujimoto and Minister for Economic Affairs of Embassy of Japan in the Philippines H.E. Makoto Iyori also graced the event to deliver their keynote speech.
Nippon Premium Bakery, Inc. President and CEO Mr. Takao Okabe
Moreover, NPB awarded a certificate of appreciation to Taisei Philippine Construction, Inc. in recognition of their contribution and outstanding support as one of the company's contractor. The Oshikiri Machinery Ltd., on the other hand, received the certificate in their contribution to the successful completion of machine installation.
To end the gathering, JR&R President Mr. Remigio V. Tan Jr. went up on stage to offer the ceremonial toast. He said that they are "very confident that Fuwa Fuwa will be a household name in the Philippines for the years to come".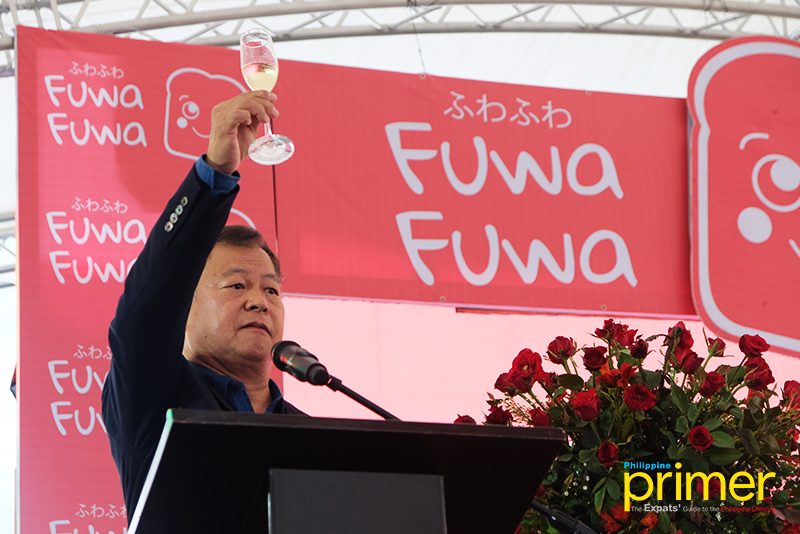 JR&R Distributors, Inc. President Mr. Remigio V. Tan Jr.
Started in 2017, Nippon Premium Bakery Inc. prides itself on showcasing the Japanese food culture and lifestyle by producing distinct products that everyone will savor in every bite.
NPB also assures every customer that the company follows the Japanese standard of manufacturing, guarantying the highest caliber possible. "With this, every product manufactured in the plant assures that safety, quality, cleanliness, and sanitation is observed and practiced," says the company.
And with the best-tasting variants of Fuwa Fuwa (meaning "fluffy")—from bread rolls and loaves to buns and delis—every foodie will surely experience a bright day enjoying baked goodies.
New Fuwa Fuwa products
Adding to their bread selections, Fuwa Fuwa is releasing a new range of products this 2020 that everyone should look out for in stores near them. These are the Fuwa Fuwa Deli Bread and Fuwa Fuwa Bun & Sandwich.
Two of their newest products under the Deli Bread are the Cheese Mayo Bread (Php 42) and Bacon and Cheese Bread (Php 42), which are now available at 7-Eleven convenience stores in NCR, Region 3, and Region 4A.
Introducing our NEW Fuwa Fuwa Cheese & Mayo Bread and Bacon & Cheese Bread creations!Now available exclusively in…

Fuwa Fuwaさんの投稿 2020年1月20日月曜日
Starting January 17 and 18, Fuwa Fuwa Bun & Sandwich collection's new products—namely Fuwa Fuwa Sweet Cream Cheese Bun (Php 38) and Strawberry Spread & Margarine Sandwich by Fuwa-chan (Php 30)—will be available at Landmark, Robinsons, and Waltermart Supermarkets in NCR.
Make your life sweeter with our new products! Indulge with a smooth and plentiful spread of strawberry combined with…

Fuwa Fuwaさんの投稿 2020年1月17日金曜日
What are you waiting for? Have a taste of Japan and experience its rich food fare with Fuwa Fuwa breads. It is currently available at select WalterMart, SM Supermarket, Robinsons Supermarket, and Landmark branches.
For more information, visit Fuwa Fuwa Philippines' official website. To get real-time updates, follow them on Facebook and Instagram.