Uniqlo Manila: A Sneak Peek Inside Its First Global Flagship Store in the Philippines
An upscale shopping experience awaits you at UNIQLO Manila.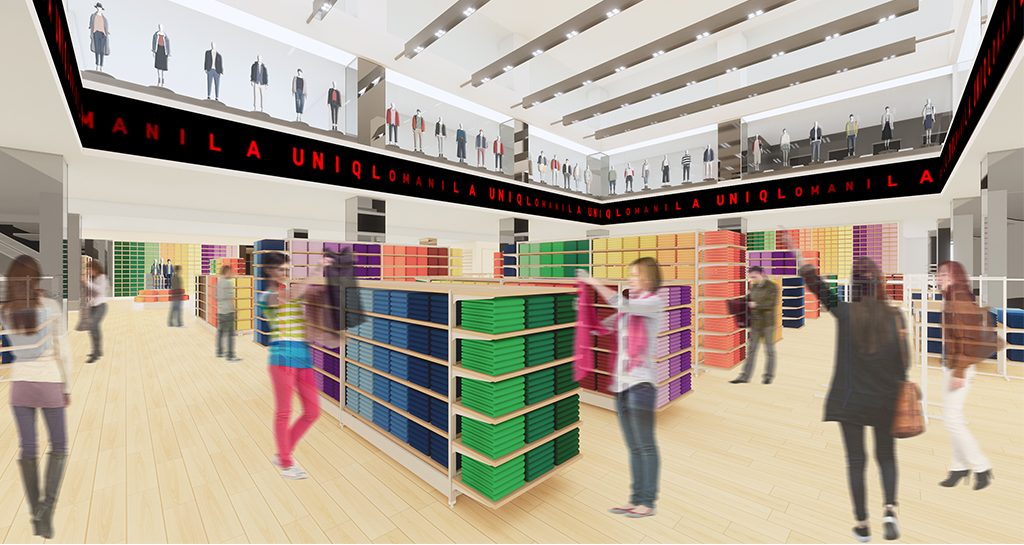 Artist's image showing the UNIQLO MANILA atrium, with iconic rotating mannequins and LED screens
On its sixth year in the Philippines, Japanese global apparel retailer, UNIQLO, is set to debut its first global flagship store in the country. Set to open its doors for the very first time on October 5 at Glorietta 5, UNIQLO Manila is the brand's largest retail store in Southeast Asia with the very best of UNIQLO LifeWear, service, visual merchandising, store operations, and creativity.
Also read: LOOK: UNIQLO's Spring/Summer 2018 Collection
"Our Global Flagship Stores are designed as showcases to the world, displaying the very best that UNIQLO has to offer," said Satoshi Hatase, CEO, UNIQLO Southeast Asia, and Oceania. "We see the opening of our Global Flagship Store in Manila as an important step toward UNIQLO growth in the region and globally."
Customers will surely be fascinated with UNIQLO's newly customized in-store experience, thoroughly crafted to fully meet everyone's needs. Spanning two levels and covering 4,100 square meters sales floor area, the store space brings together local and global flavor, continuously presenting Filipino ingenuity and creativity with the brand's global and innovative retail expertise.
To deliver the most ideal shopping experience, UNIQLO Manila presents a couple of reasons to be here.
Latest Seasonal Apparel Line-up 
Technology Section – Customers will surely find their best innerwear all year round to suit warm, cold, and even transitional weather at the Technology Section located on the first floor. It is a section dedicated to UNIQLO's proprietary technology products, AIRism and HEATTECH.
Also read: UNIQLO Releases New Addition to 'AIRism' Collection
Kids and Baby Section – Also located on the first floor, the Kids and Baby section will be the biggest in the country. It will feature the brand's lineup of innovative and versatile children's wear.
Complete Fall and Winter Collection Line-up – The complete lineup of Fall and Winter Collection will also be available and customers will be treated to a wealth of products ideal for the season. Key items include cashmere sweaters, Ultra Light Down, and Seamless Down parkas, among others.
Leading Edge Visual Merchandising 
A Dedicated UT and Collaboration Area – UT designs from the most popular collections including MAGIC FOR ALL, Hokusai, SPRZ NY, JUMP 50th, Minions, among others will be showcased at the UT corner on the second floor.
MAGIC FOR ALL, a collaboration between UNIQLO and The Walt Disney Company, aims to enchant people around the world by capturing the wonder of Disney in everyday fashion. MAGIC FOR ALL collections featured at UNIQLO MANILA include:
Mickey Blue. This collection is inspired by the rich blue of traditional Japanese indigo.
Mickey Art by Andy Warhol. The collection features the 20th-century pop art legend's take on the beloved icon Mickey Mouse.
LOVE & MICKEY MOUSE COLLECTION BY KATE MOROSS. The collection features the work of visual artist Kate Moross notably through her dynamic monochrome treatments of Mickey Mouse and Minnie Mouse drawings. The designs also incorporate playful lettering for a perfect street style look.
Aside from the widest UT selection in the country, there will be a special mannequin display, showcasing the collaborative design project with Japanese stylist Shun Watanabe and Filipino visual artist and UNIQLO Manila Future Hero, Leeroy New. The display will present Watanabe's on-trend styling with New's sustainable and eye-catching headpieces.
A Sneak Peek at BANDAI NAMCO Entertainment's Latest Game—JUMP FORCE
Promoting its latest collection of JUMP UT, UNIQLO Manila will have the exclusive experience of a yet-to-be-released game, JUMP FORCE by BANDAI NAMCO Entertainment, for all customers. This will be the first preview of the game in the Philippines and is only available at UNIQLO Manila. Customers can enjoy the gaming space until December 31, 2018, whereas the game's official release will be in 2019.
Art Pillars by Plus63 Design
With the store's opening campaign "Our Future Is Here," the first floor will feature artworks by members of the Plus63 Design group. Capturing the cultural zeitgeist of the country, the team worked with UNIQLO to create a series of murals depicting scenes of everyday life in the Philippines, taking inspiration from its vibrancy and diversity to tell the story of each Filipino's journey.
Iconic Atrium and Rotating Mannequins
Excitingly, the features of the iconic global flagship store are incorporated into UNIQLO Manila's design. Highlights include revolving mannequins in the store atrium display windows and stunning LED displays throughout.
Global Customer Service
Balcony and Community Area
UNIQLO MANILA will have a balcony for customers as a quiet respite from the busy store. Set up with lounge furniture by local designer Kenneth Cobonpue, the balcony acts as a community area where shoppers can rest, meet new people, and experience utmost satisfaction after a long day of shopping.
Special Opening Offers
Lastly, guests will be treated to several opening offers including:
UNIQLO MANILA Sensu Fan, UNIQLO MANILA Tote Bag, UNIQLO MANILA Tumbler
Limited Edition UNIQLO MANILA Sensu Fan for any purchase made from 10 a.m. to 12 p.m. on October 5.
Limited Edition UNIQLO MANILA Tote Bag for a minimum, single receipt purchase of PHP 3,000.00 from October 5 to October 7.
Limited Edition UNIQLO MANILA Tumbler for a minimum, single receipt purchase of PHP 5,000.00 from October 5 to October 7.
Free Parking for the first four hours for a minimum, single receipt purchase of PHP 1,500.00 on October 5.
Starbucks surprise treats will be made available for those early in line on October 5.
For more updates, customers may visit UNIQLO MANILA'S website at www.uniqlo.com/ph/manila and social media accounts, Facebook (facebook.com/uniqlo.ph), Twitter (twitter.com/uniqloph) and Instagram (Instagram.com/uniqlophofficial) 
Images from Uniqlo Philippines