National ID for PH Locals and Resident Aliens to Be Implemented in 2020
The Philippine Statistics Authority (PSA) will be ushering in the new Philippine Identification System or PhilSys with the first batch of registration on September 2019 and will roll out officially by 2020, according to Speaker Gloria Macapagal-Arroyo.
The PhilSys will act as a valid proof of identity geared towards easier government transactions and will be initiated in a million households in three regions, namely the National Capital Region (NCR), Region IV-A (CALABARZON), and the Cordillera Autonomous Region (CAR).
Also Read: Duterte Signs Free Centralized ID System for Filipinos and Expats into Law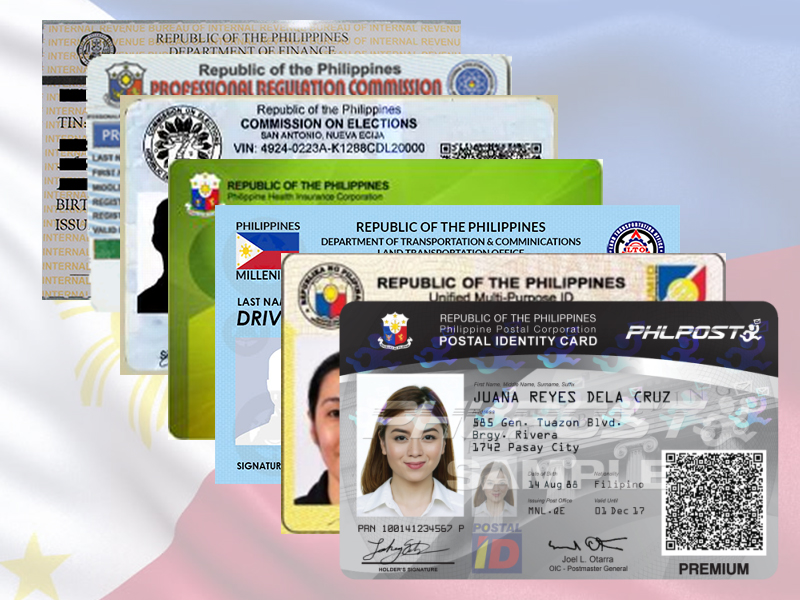 The current government-issued IDs include the Postal ID, PRC ID, Voter's ID, and Driver's License
Clarifications on the PhilSys and PhilID
In an earlier report, National Statistician and Civil Registrar General Lisa Grace S. Bersales, during the #AskNEDA Media Briefing, announced that the IDs will be available on December 2019 but has since been moved for a pilot testing now scheduled on September 2019.
Bersales also clarified a few misconceptions and emphasized some features of both the PhilSys and the PhilID. According to her, the PhilSys registry will not be a big storage of data, paving the way for data privacy concerns.
Instead, the PhilID will only include a citizen or a resident alien's demographic and biometric data only, which will then serve as a sole proof of one's identity. Moreover, the National Statistician also wanted to reiterate that the PhilID is entirely free upon first registration and will only cost an individual if the PhilID is lost and needs to be reproduced.
Also read: Expats Guide to Valid IDs in the Philippines
PhilSys will also ultimately include Overseas Filipino Workers (OFW) and the Filipinos living abroad.
Above is the proposed PhilID Card released by the PSA, as shared by Rowena Salvacion of DZBB 594KHZ on Twitter./IMAGE courtesy of Philippine Statistics Authority
Registration Centers
In her speech, Bersales also mentioned the registration centers, cited within the law. These centers include the PSA Regional and Provincial Offices, Local Civil Registry Offices, Government Service Insurance System (GSIS), Philippine Health Insurance Corporation (PhilHealth), Home Development Mutual Fund (Pag-Ibig), Commission on Elections (Comelec), Philippine Postal Corporation (PhilPost), which also conducts the registration for the Social Security System (SSS), and other assigned government agencies.
For OFWs and other Filipinos abroad, the PSA also partners with the Department of Foreign Affairs for registration on foreign posts.
Socioeconomic Planning Secretary Ernesto Pernia and newly appointed National Statistician Dennis Mapa announced on June 10 that first to be registered are indigents, people with disabilities (PWDs) and government workers in several key areas all over the country.
Filipinos and resident aliens that are at least five years old are eligible to register. Information to be gathered will include biometrics (thumbprint, iris and face scanning), the resident's full name, gender, date and place of birth, blood type, address and if one is a Filipino or a resident alien.
Current Status of PhilSys. and What to Expect
"There is no final design of the (PhilID Card) yet," says Bersales during the assembly, which is why workshops are conducted for the development of technical specifications for the PhilCard ID design, ongoing until September this year. Also, as a 3-month awareness campaign is required by the law for the promotion of the PhilSys, PSA delegated the month of September to November as the campaign period.
Finally, as PSA considers the advice of the National Privacy Commission (NPC), they will be conducting a Privacy Assessment from October to December "to check the implementation part" of the new ID system, this according to PSA's Bersales.
---
Source: National Economic and Development Authority's #AskNEDA Media Briefing, Asian Journal, Philstar Online
Featured Image courtesy of UN World Tourism Organization (UNWTO)