Recipe Corner: Hazelnut Praline Craquelin Cream Puff by Chef Annalyn Chua Go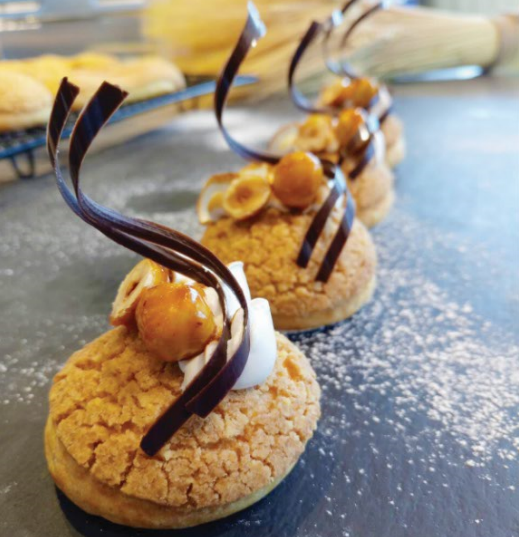 Fan of sweets? Chef Annalyn Go of Vikings Megamall will let us have a taste of her very own hazelnut praline craquelin cream puffs. This decadent dessert is  quite easy to prepare and they will make your next party extra special and sweet!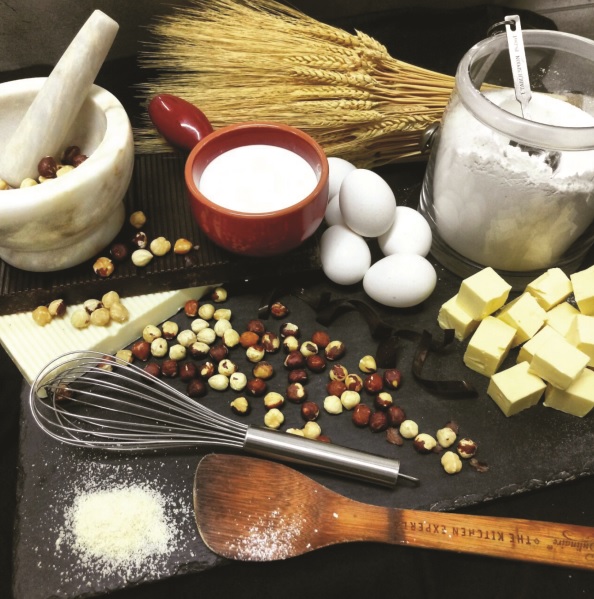 Ingredients:
For Hazelnut Praline Pastry Cream
¾ cup caramelized roasted and skinned hazelnuts

¾ cup fresh milk

2 cups heavy cream

¼ cup sugar, granulated

¼ cup cornstarch

6 pcs eggyolk

¼ cup butter

Praline paste
For garnish:
Meringue

Halved hazelnuts

Chocolate curls
For Craquelin (cookie crust)
1 cup brown sugar

1 cup all purpose flour

3 tbsp almond flour

1/3 cup butter, cold (cut into pieces)
For Pâte a Choux
1cup + 2 tbsp water

1/2cup butter, room temperature

1/4tsp salt, iodized

1cup all purpose flour

5pcs. Whole eggs
Procedure:
1. Crush hazelnuts, then add in milk. Whisk mixture, heavy cream, sugar, and cornstarch in a saucepan. Add the egg yolks. Heat mixture, then add the butter once it thickens.
2. (Craquelin) In low mixer speed, combine the dry ingredients. Add the butter and mix until blended. Roll out until 1/16 inch thick. Cut into small circle.
3. Melt the butter on heat, with water and salt. Let it simmer, then rapidly mix in flour, until dough is smooth. Remove from heat then add eggs. Transfer the choux to a pastry bag then chill for 20 minutes.
4. Pipe choux, then place the cookie on top. Bake for 30-35 minutes in an oven preheated to 350˚F. Lower heat to 325 ˚F then bake for 10 minutes.
5. Fill the puffs with pastry cream, then garnish.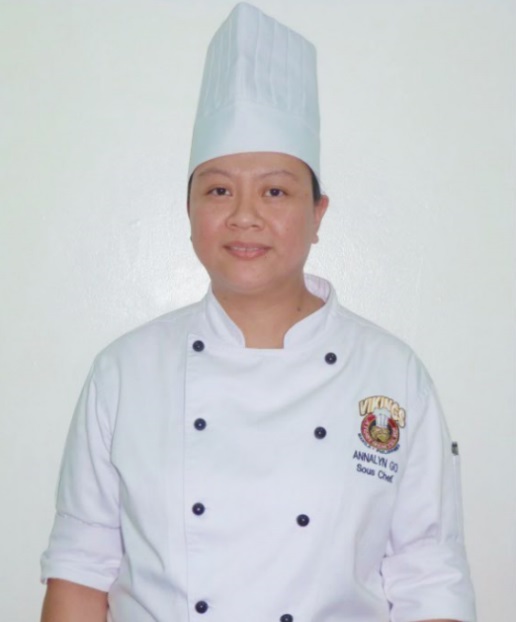 About the Chef
Born and raised in the south, Chef Anna has been around the kitchen since 2004, but it took her eight years, after completing a degree in computer programming, to finally pursue her true passion, and study culinary arts at Global Culinary and Hospitality Academy. Since then, her dedication for her craft has pushed her to work through the ranks, from a line cook to a corporate chef at a famous Italian restaurant chain in the Philippines. She also worked at other notable restaurants and hotels, like Tanabe Japanese Restaurant and Millies Microtel Suites and Inns by Windham. Chef Anna now works as an Executive Sous Chef at Vikings Luxury Buffet Megamall Branch where she crafts world-class masterpieces with raw passion and love for the art of cooking.
Details:
Address: Viking SM Megamall Mega D, L4 , SM Megamall, EDSA Corner J.Vargas Avenue , 1550 Mandaluyong
Contact number: 02-656-3888
---
Want your easy home-cooked recipe to be featured in Philippine Primer magazine? Send your recipe via email at information@primer.ph with the subject Feature my Recipe