A celebration of Mindanao culture through interactive art: Manāra at Ayala Museum
In a way to show the colorful Moro culture in the Philippines, an interactive art installation has been recently unveiled at the Ayala Museum Plaza, called the Manāra.
A ritual folkloric dance was performed at the opening of the Manāra exhibit
With the joint collaboration of internationally-acclaimed sculptors and visual artists Toym Imao and Lilianna Manahan, the Manāra was launched on May 3. A project of the Ayala Foundation, Manāra is an interactive art installation, named after the Arabic word for "minaret" (lighthouse). The installation features 23 minarets and lanterns, which seek to depict "shedding light to the richness of Moro culture and as a call for unity."
Ayala Foundation President Ruel Maranan with exhibitors Toym Imao and Lilianna Manahan
At the opening of the exhibit, Ayala Foundation President Ruel Maranan mentioned the significance of Manāra to the foundation. "We [Ayala Foundation] see this interactive exhibit as an opportunity to promote awareness and further educate people about the rich and inspiring culture of Mindanao communities and the significant role of Moro culture plays in our country's history and heritage," said Maranan.
Toym Imao, a renowned painter/sculptor (the son of national artist Abdulmari Asia Imao)
Lilianna Manahan, visual artist specializing in industrial design, interactive art, and installation art
According to Imao, the installation was made to "present concepts of unity amidst diversity in its purest sense, as a portal where further inquiry can be made." On the other hand, Manahan mentioned that this art installation serves as a different perspective of approaching the Moro culture.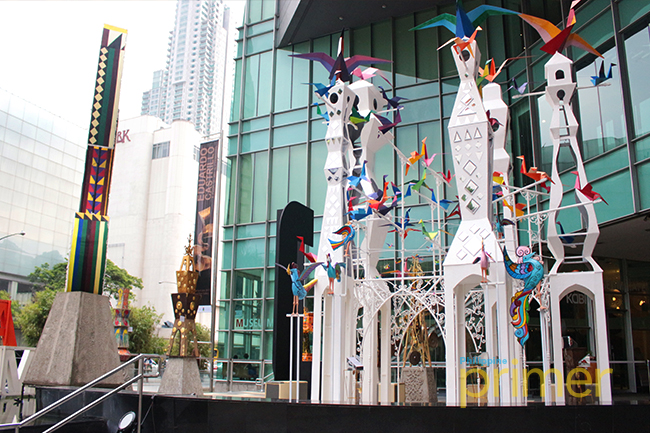 A glimpse of the Manāra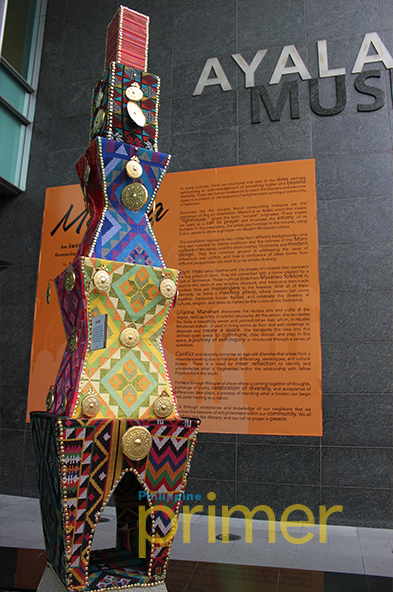 WEAVING. A popular type of artistry in Mindanao
SITTIE. A traditional decoration used for celebrations, inspired by Moro women
Toym Imao is an internationally-acclaimed sculptor and painter who received education from the University of the Philippines and the Rinehart School of Sculpture at the Maryland Institute College of Art in Maryland. Lilianna Manahan, also a graduate of UP, is a recognized visual artist specializing in industrial design who trained under the tutelage of renowned furniture designer Kenneth Cobonpue.
Ayala Foundation Co-Chairman Fernando Zobel de Ayala, Ayala Foundation President Ruel Maranan, exhibitors Toym Imao and Lilianna Manahan with Ayala Foundation officials
The opening of the exhibit was attended by several guests including President and COO of Ayala Corporation Fernando Zobel de Ayala. The exhibit will run until May 26 and guests are welcome to explore the Manāra. The installation will be brought to Visayas and Mindanao later this year.
---
Written by Jastine Valeriano