Secrets the Repeat –sweeter the second time around
Following the success of their first concert, Aia, Barbie, and Kitchie are back on stage to serenade the fans for the second time around.
On February 17, three most sought after names in the OPM industry, Kitchie Nadal, Aia De Leon, and Barbie Almalbis gave their best in a heart-warming sold out concert that night in Music Museum.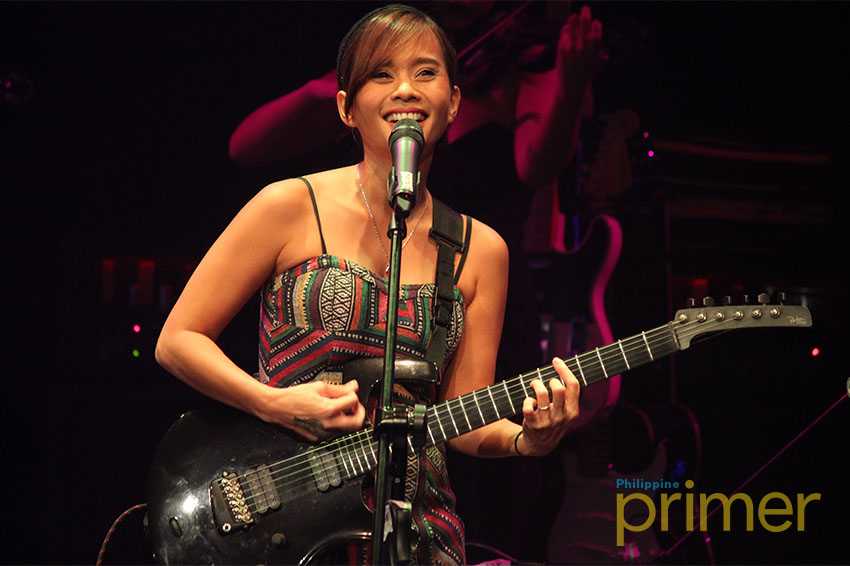 Kitchie Nadal, known for her classic hits used in various commercial projects 
Conquering the stage first is Kitchie Nadal, former lead vocals of Mojofly, who rose into fame with her chart-topping hits such as "Bulong" and "Huwag na Huwag Mong Sasabihin." Kitchie performed a series of songs from her past albums, still mesmerizing the audience with her soulful performance of her greatest hits. Kitchie's set then became sentimental when she performed "Same Ground" with her mother on the keyboard, a special jamming session which made the crowd sing along to an all-too familiar chorus.
Barbie Almalbis, showcasing her guitar skills
Ebe Dancel, singer/songwriter and former lead vocals of Sugarfree
After Kitchie's set, Barbie Almalbis wowed the audience with her sick guitar riffs as she sang "Dahilan," which is one of her most popular hits. Barbie's captivating charm endeared the audience more when she invited fellow singer/songwriter Ebe Dancel, to sing the latter's composition, the widely-known "Huwag Ka Nang Umiyak." As she was singing to her commercial hits, a video montage of her family life played in the background, revealing something so personal to the audience from hers truly.
Aia de Leon, former vocalist of Imago
Lastly, Aia de Leon wowed the crowd with her amazing vocal performance in songs such as "Taning," and her acoustic version of "Sundo." Serenading the audience with her soulful rendition of her self-penned songs, Aia once again proved that she is a force to be reckoned with.
After their solo performances, all three performed their own version of Coldplay's "Fix You," and Nadal's very own "Same Ground," a lovely finish to their wonderful performance sets.  For the second time around, Aia, Barbie, and Kitchie delivered an impressive act, something worth watching again and again. Aia, Barbie and Kitchie's repeat concert stands as a reflection of their growth in their respective music careers, all while giving the audience a night to remember as we sing along to OPM favorites we have truly missed.
*Philippine Primer was a media partner for this event