Gift Idea Series: Sweets for the Sweet
It's the last month of the year, and everyone knows what that means: Christmas is just around the corner! Merry Christmas, everyone!
Here in the Philippines, the holiday season comes with one very important tradition: gift giving. The significance of this custom in the Filipino culture can be seen in hustle and bustle of malls and bazaars as Christmas eve draws nearer and nearer and nearer…
…just like, well, right now. Feeling jolly yet? Perhaps not so, especially if you are haunted by this one question: have you finished your Christmas shopping yet?
Fret not, though, as Primer brings you a list of wonderful gift ideas twice a week for the holidays! These lists include products and services from local/artisan/quirky businesses and providers of great products and services all over the metro!
We recently released our magazine featuring the best cakes in the metro, so let's start the gift idea series with something sweet! Primer Magazine recommends:
1. D&H BAKESHOP
for egg tarts
Holiday bestseller: their tasty, custard-y egg tarts (P200 per dozen)
Perfect for: anybody – and we mean, anybody – in the family during a family reunion
As simple as it may seem, an egg tart has its way of wowing you, taking you to heaven and back in every bite. An egg tart is also quite difficult to perfect. Not to worry, though, as perfection is the name of the game for D&H Bakeshop. Baker Danielle Dawn Villapando describes her passion for baking as "intense" and vows that she aims for the perfect flavor for every goodie that she creates. The moment she received her very first oven, she has been whipping honest-to-goodness cupcakes, cheesecakes and, of course, egg tarts. Her take on these originally Portuguese pastries is perfection in every flaky cup.
for crinkles and cookies

Holiday bestsellers: their succulent red velvet crinkles with vanilla cream cheese filling and lip-smacking Oreo cheesecake cookies with Nutella filling (P50/4 pairs, P110/9 pairs, P145/12 pairs)
Perfect for: your arty best friend who is forever starving or your colleague who needs a pick-me-up every now and then
Just like its name, Bujin Sweets and Cupcakes went all creative with some of their best products. Amidst the red velvet cupcake mania, pastry chef Kat Sulit came up with something new, but not really; something different, but still familiar: crinkles and cookies with a twist! Her bite-sized creations are so appetizing that you'll be popping a morsel into your mouth one after the other! Kat's recipes are results of her tedious research and many experiments, so you are assured that every batch is completely and uniquely delicious. (P.S. Despite the tasty newcomer, though, Bujin's red velvet cupcake is also a knockout! Don't diss it 'til you've tried it!)
3. MRS. ELEANOR A. GUILLERMO
for bars, brownies, fruitcakes and Food for the Gods
Holiday bestsellers: her traditional fruitcake (P220 for 330 grams, P300 for 500 grams) and classic cashew-filled Food for the Gods (P240 for 20 pieces, P120 for 10 pieces)
Perfect for: your boss who "has it all" or your friend's parent whom you like very much
Looking for something that will remind you of home? Try Eleanor Guillermo's soft, moist (and definitely affordable) brownies! For the past ten years, she has been a provider of homemade baked goods to an array of clients, from relatives and friends to canteens in different private schools. She bakes amazing brownies, cupcakes of all sorts…and even chocolate roses! Eleanor was inspired by her children to start baking, and they are still her inspiration now. Her love for them is very evident in her baked goods.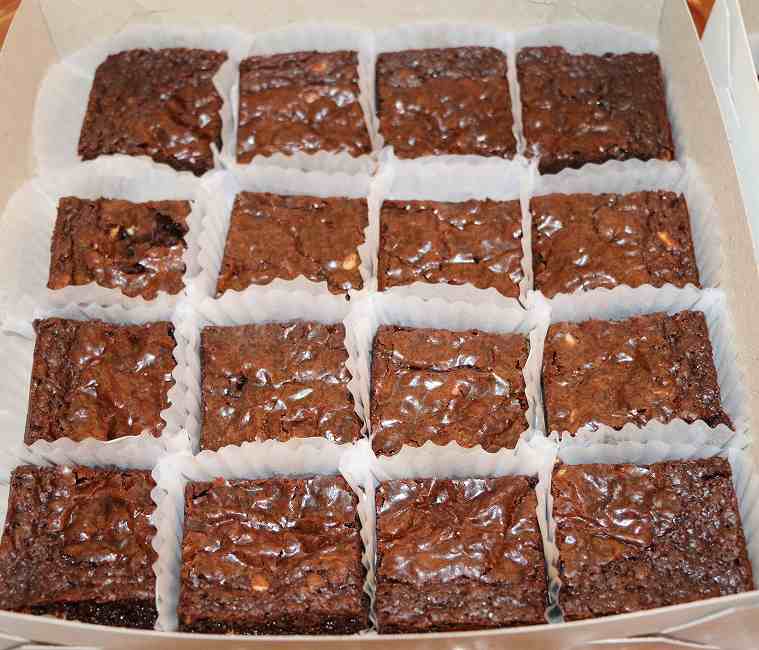 Interested in knowing more about these lovely ladies' other products? Contact them below:
D&H Bakeshop
Danielle Dawn Villapando
Los Banos, Laguna
0943 428 8431
Bujin Sweets & Cupcakes
Katrina C. Sulit
9 Perlas St. Pangilinan Compound, Quezon City
0906 488 6071 / 0925 325 2878 / 9294019
Mrs. Eleanor A. Guillermo
0917 256 0416/ 0917 558 6577

Written By: Madeline Castillo, contributor