Repertory Philippines Announces Roster of 82nd Season Shows for 2019
After recently concluding this year's season, Repertory Philippines (REP) has announced the exciting roster of their 82nd Season shows which is set to stage in 2019 staring on February. Expect an untold story of a Philippine hero, a hilarious reunion between a man and his estranged family, the loyalty of a dresser to his actor, and a fresh and original retelling of a Filipino epic. Are you ready to see all these stories unfold on the stage?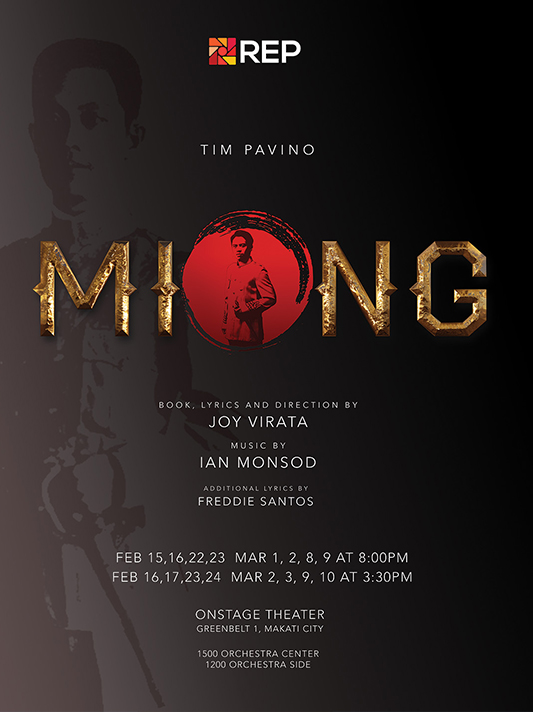 Miong
February 15, 16, 22, 23; Mar 1, 2, 8, 9, 2019 at 8:00 p.m.
February 16, 17, 23, 24; Mar 2, 3, 9, 10, 2019 at 3:30 p.m.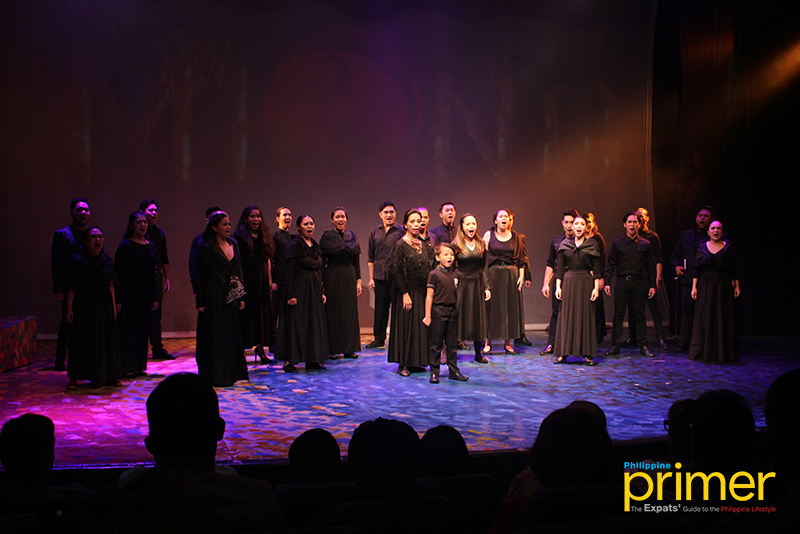 The ensemble of Miong perform a number of songs from the musical 
A REP-original, Miong, is a historical play about the first-ever president of the Philippines, Emilio Aguinaldo. The production will be staged during the 150th birth anniversary of the national figure. The musical follows Miong's life from his birth until the declaration of Philippine independence. Filled with inspiring songs, the musical is a tale of courage, patriotism, and how the most ordinary person can accomplish great things.
Script, lyrics and directed by REP-veteran Joy Virata, music by Ian Monsod, and starring rising actor-musician Tim Pavino as Emilio 'Miong' Aguinaldo.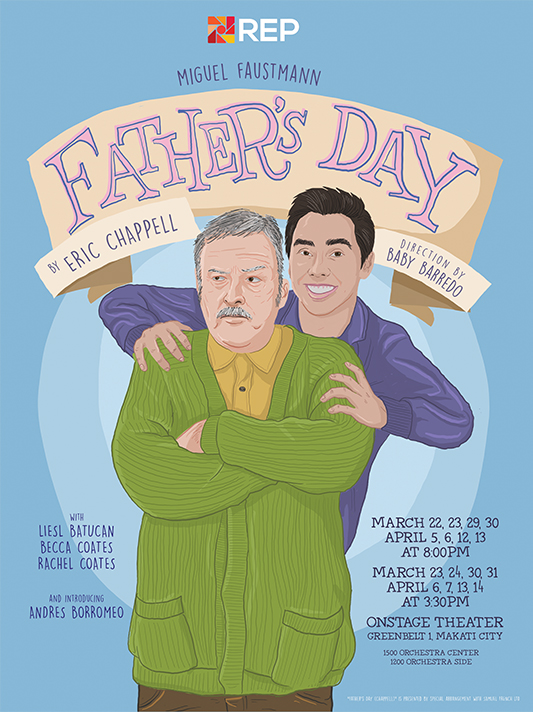 Father's Day
March 22, 23, 29, 30; April 5, 6, 12, 13, 2019 at 8:00 p.m.
March 23, 24, 30, 31; April 6, 7, 13, 14, 2019 at 3:30 p.m.
Miguel Faustmann and Andres Borromeo perform a scene from Father's Day
Eric Chappell's Father's Day follows Henry Willows, played by Miguel Faustmann, who is visited by his estranged son and his girlfriend. Brimming with comedic banter and razor-sharp turns-of-phrase, Father's Day unpacks themes with endless humor.
The production sees the return of the legendary Baby Barredo to the REP director's chair. Faustmann will be joined by Andres Borromeo, Liesl Batucan, Becca Coates, and Rachel Coates.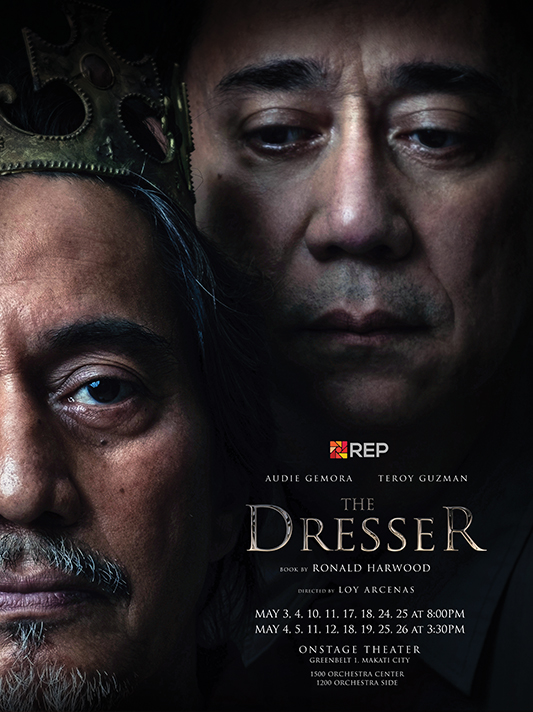 The Dresser
May 3, 4, 10, 11, 17, 18, 24, 25, 2019 at 8:00 p.m.
May 4, 5, 11, 12, 18, 19, 25, 26, 2019 at 3:30 p.m.
Audie Gemora and Teroy Guzman perform a few lines for the media during the launch preview.
Summer will be open with REP's production of the British drama The Dresser. Centered on the relationship between a tormented thespian and his loyal dresser, the production stars powerhouse duo: Teroy Guzman and Audie Gemora. Watch as the play takes on age, companionship and the persistence of art at hard times.
Also read: Beauty and the Beast (A Review): A Charming Musical by the Repertory Philippines
REP's The Dresser will be the first stage production directorial of Loy Arcenas, whose movie musical Ang Larawan won Best Picture at the 43rd Metro Manila Film Festival.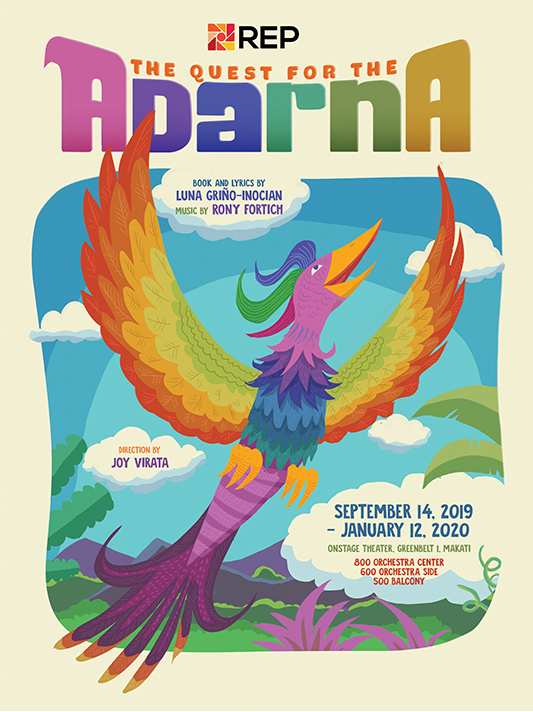 The Quest for the Adarna
Sept. 14, 2019 at 10:30 p.m.
Sept 21; Oct. 6, 27; Nov 9, 24; Dec 14, 2019 at 3:30 p.m.
Jan 12, 2020, at 3:30 p.m.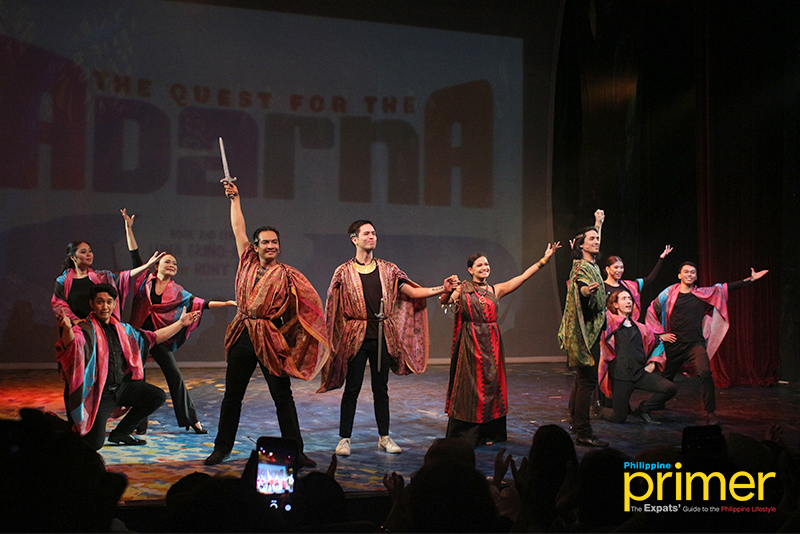 The cast for The Quest for the Adarna is still tentative but thanks to their preview performance, we can expect a colorful and lively musical version of Ibong Adarna next year!
REP Theater for Young Audiences will have a production English adaptation of the popular Filipino epic, The Quest for the Adarna. It is a REP-original written by Luna Inocian with music by Rony Fortich. To be directed once more by the multi-talented Joy Virata, the play is poised to be a colorful celebration of Philippine culture fit for the whole family.
Also read: REP's Silent Sky: A must-see for the dreamers of the 21st century
Repertory Philippines' 82nd season includes some captivating foreign plays as well as original productions penned by REP talents. With a star-studded stable of directors, writers, and cast members, the 2019 season is shaping up to be yet another promising year for REP.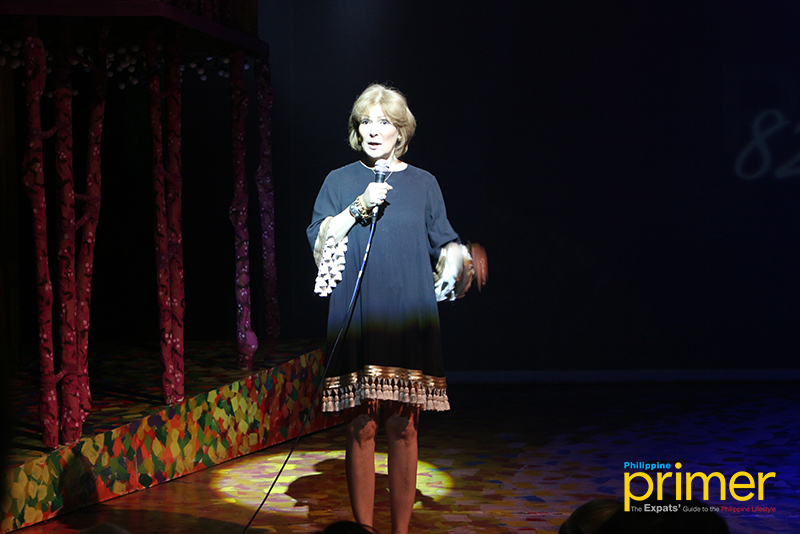 Repertory Philippines President and CEO, Mindy Perez-Rubio says that "this season incredibly special for a number of reasons." One is that this is the first time they will be producing two REP-originals in one season.
Make sure to purchase your season passes through REP at 02-451-1474 or 0966-905-4013, and Ticketworld at 02-891-9999 or log on to ticketworld.com.ph. Tickets are either GOLD: reserved seating on orchestra center, or SILVER: open seating on orchestra side.
Also read: Thought-provoking, witty, and definitely not for children: A review of Rep Philippines' The Vibrator Play
All productions will be held at the OnStage Theater at 2/F Greenbelt 1, Paseo de Roxas, Makati. As early as now, many will surely be looking forward to 2019 for REP's original musicals and productions of two well-known stage play.
Details:
What: 82nd Season of Repertory Philippines
When: February 2019 to January 2020
Where: OnStage Theater at 2/F Greenbelt 1, Paseo de Roxas, Makati City
Tickets:
Year Subscription (all 4 plays) Gold: Php 3,700; Silver: Php 3,000.
Season Subscription (all first 3 plays) Gold: Php 3,200; Silver: Php 2,500.
Miong, Father's Day, and The Dresser Single Ticket Gold: Php 1,500; Silver: Php 1,200.
The Quest for the Adarna Single Ticket Gold: Php 800; Silver: Php 600; Balcony: Php 500.