Isuzu QKR Light Truck Debuts at DOTr's PUV Expo
We may just see more Isuzus light trucks on the streets of Metro Manila as Isuzu Philippines Corp. (IPC) fielded three prototypes at the Public Transport Modernization Expo held last April 3, 2018 at the PICC Forum in Pasay City.
In line with the Department of Transportation's (DOTr) Public Utility Vehicle Modernization Program (PUVMP), Isuzu showed off the QKR platform on its three prototypes: the Isuzu-CENTRO Class II, Isuzu-ALMAZORA Class II, and the Isuzu-SANTAROSA Class III.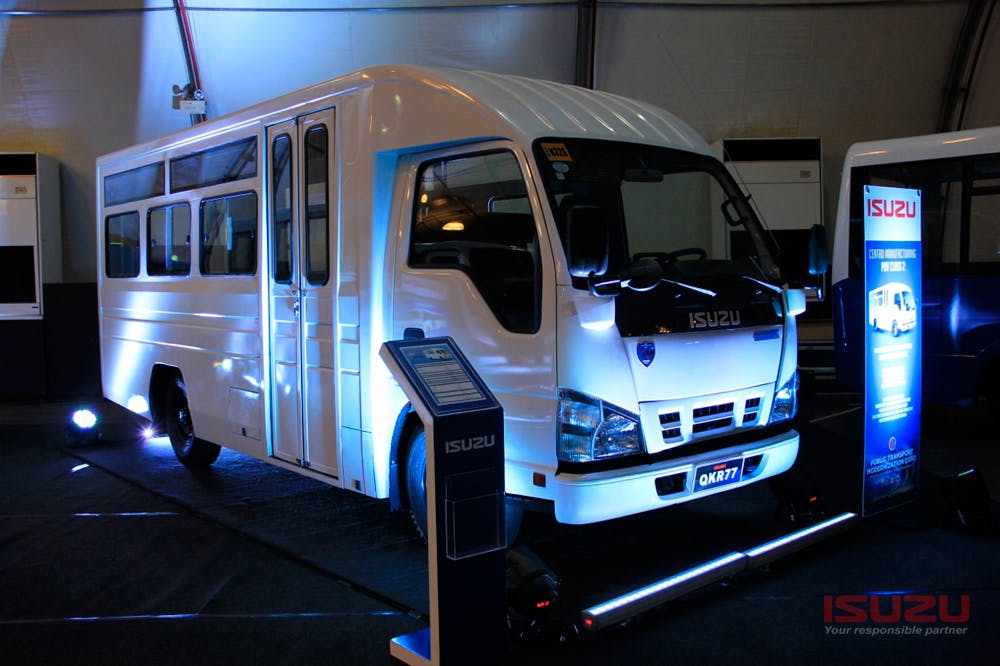 IMAGE Isuzu Philippines Corporation
The Isuzu-Centro Class II is a collaboration between the leading truck brand and Centro Manufacturing Corporation. It retains the classic side-facing, fixed foam seats seen in today's jeepneys, but with a bit more room for those who want to stand. The fully air-conditioned cabin can hold up to 23 passengers (seated and standing) and features sliding windows and an electric folding service door.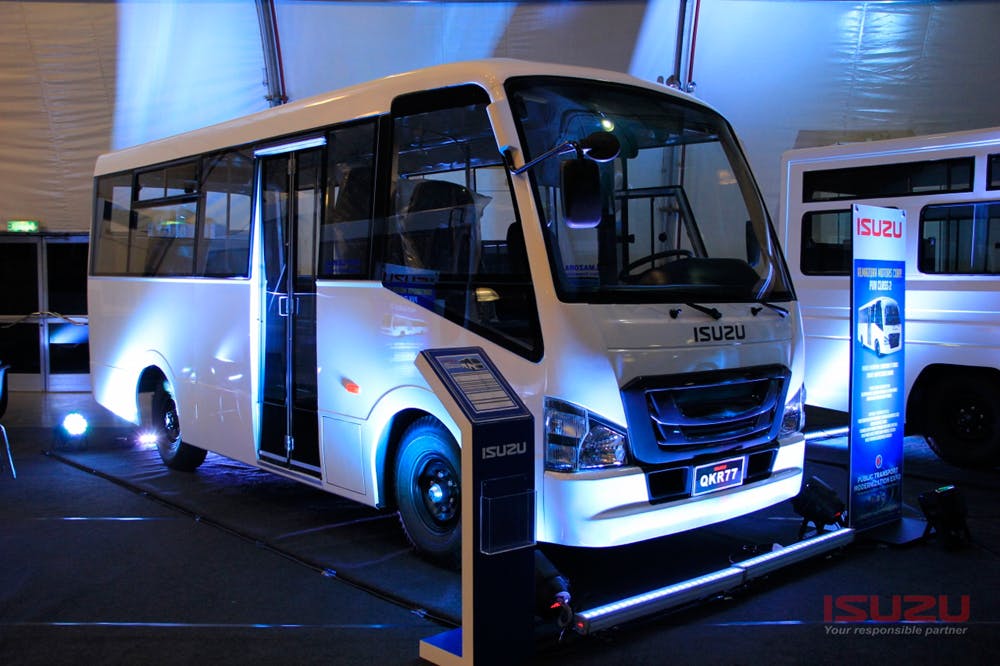 IMAGE Isuzu Philippines Corporation
For its part, the Almazora Motors Corporation-designed Isuzu-Almazora Class II has side-facing fiberglass seats with padded cushions, fiberglass and GI sheet combination body panels, panoramic glass windows, electric folding service doors, and a fully air-conditioned cabin.
IMAGE Department of Transportation – Philippines Facebook page
The Santarosa Motor Works-designed Isuzu-SANTAROSA Class III, on the other hand, can have up to 23 passengers inside the cabin with its front-facing seat layout. This PUV prototype will have  Galvannealed sheet body panels, a panoramic folding service door, panoramic tempered glass windows, and a fully air-conditioned cabin with continuous room lighting.
All three units make use of Isuzu's QKR platform, which runs on a EURO IV compliant 4JH1-TC diesel engine that is capable of giving up to 106 PS at 3,200 rpm and a maximum torque of 230 N-m from 1,400-3,200 rpm. The Centro and the Almazora Class II-s retain the look and feel of the Isuzu QKR, while the Santarosa Class III will look more like a minibus than an Isuzu QKR.
All the Isuzu prototypes conform with the PUV standard class specifications as released by the Department of Trade and Industry – Bureau of Product Standards (DTI-BPS). "Our latest PUV display is a result of the test and development process we had with our previous prototypes. We try to work with different local body manufacturers to give our transport groups more designs to choose from," said IPC President and CEO Hajime Koso. "Rest assured that we work closely with them to ensure the quality and safety of these new products," he added.
---
Source: Isuzu Philippines Corporation press release
Image sources: Isuzu Philippines Corporation press release, Department of Transportation – Philippines Facebook page