LOOK: Planetarium Exhibition Hall Reopens This Week
The National Planetarium Exhibition Hall is now open to the public on Thursday, July 1.
After the approval made by the Inter-Agency Task Force for the Management of Emerging Infectious Diseases (IATF-EID) and the Department of Tourism (DOT) last month to resume operation of all historical places and museums in NCR Plus, the National Museum of the Philippines immediately announced they're reopening through their SocMed account the same week.
IMAGE from National Museum of the Philippines
This month, the National Museum of the Philippines' Planetarium Exhibition Hall welcomes everyone to its reopening and walk-in visitors are welcome.
But wait, here's what you need to know.
When the #NationalMuseumPH announced their reopening last month, they released guidelines for visitors and clarified that no walk-ins will be allowed to enter the establishment and booking is necessary prior to visiting.
On the other hand, the Planetarium Exhibition Hall will be allowing walk-in visitors but will be limited to 20 persons per session only; each session takes about 30 minutes. Planetarium shows are temporarily not available.   
According to their Facebook post, visitors are highly encouraged to comply with the health and safety protocols at all times.
Also read: National Museum of the Philippines to Reopen on June 19
IMAGE from National Museum of the Philippines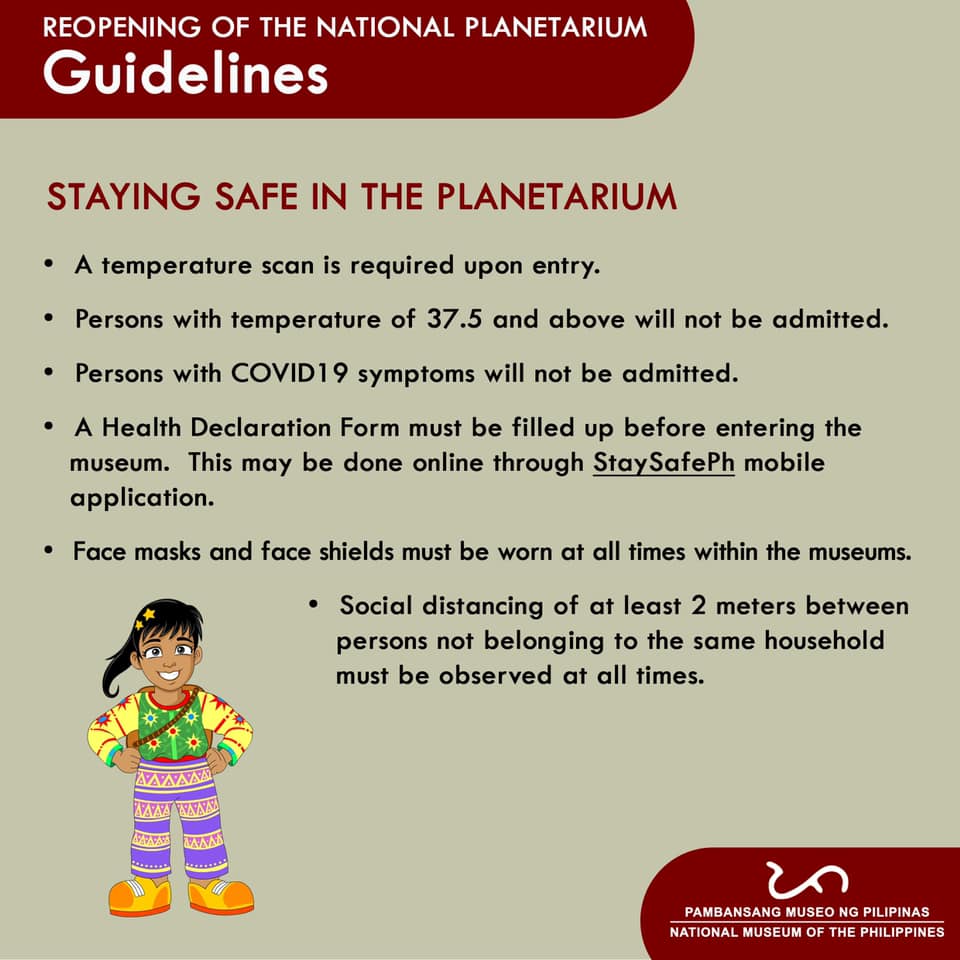 IMAGE from National Museum of the Philippines
Mail:inquiry@nationalmuseum.gov.ph