El Nido Island Hopping Tour A: Majestic Lagoons, Kayaks and Beaches
In an effort to keep the tourism industry sustainable and preserve the beauty and life in El Nido, The Department of Environment and Natural Resources has implemented controlled tourism in the town's top tourist attractions. As part of the regulation, island hopping tourists are not allowed to visit all of the "premium spots" in one visit, and the number of visitors per day is limited. That said, it is also required to book a tour prior to your visit.
The attractions in El Nido have been divided into four tours: Tour A, Tour B, Tour C, and Tour D. The list of islands/spots per tour category is fixed and combining with spots in other tours is not allowed.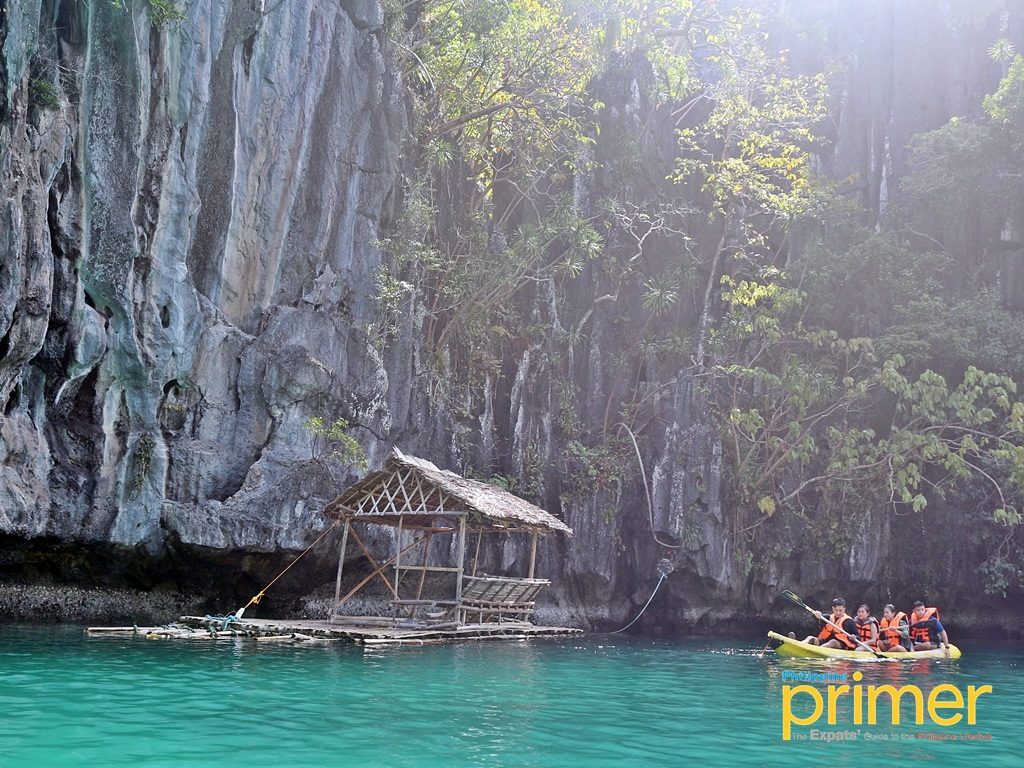 This guide will focus on Tour A, the most popular tour type as it covers some of the best features of El Nido—the lagoons and the towering limestone rock formations that conceal them. If you love rowing in a kayak and making discoveries amid beaches and lagoons, Tour A is for you.
The destinations in Tour A are: Big Lagoon, Secret Lagoon, Shimizu Island/Payong-Payong Beach, and Seven Commandos Beach/Papaya Beach
Big Lagoon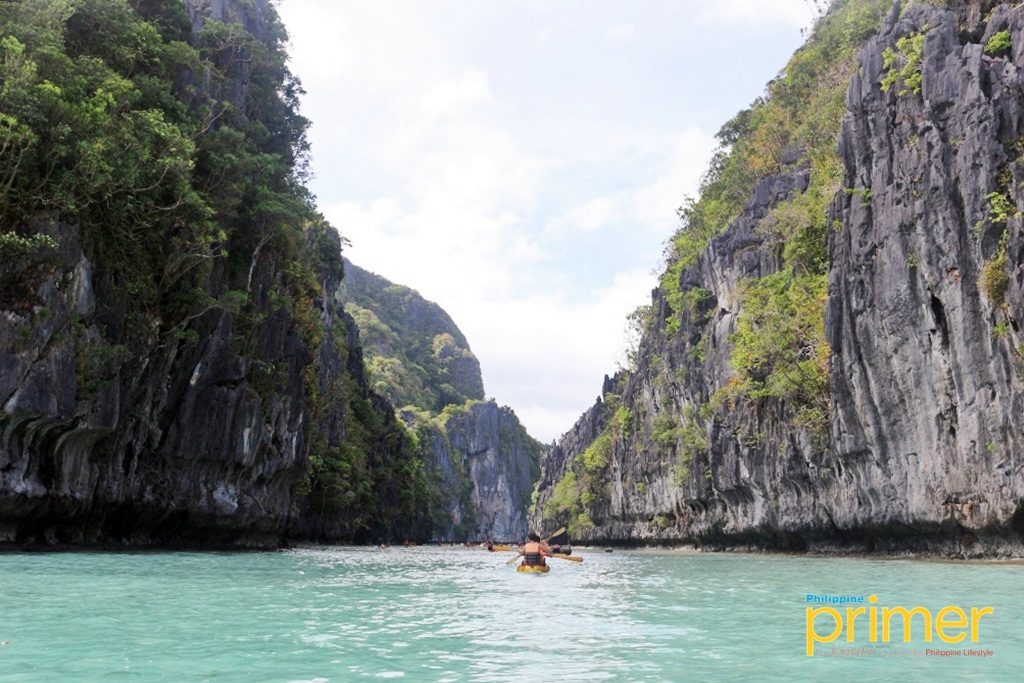 Big Lagoon is the premium stop in El Nido Tour A.
Perhaps one of the first things every visitor should experience in El Nido is the Big Lagoon. You will only find out how expansive this lagoon is once you ride your kayak and row between the limestone cliffs at the approach of the passage.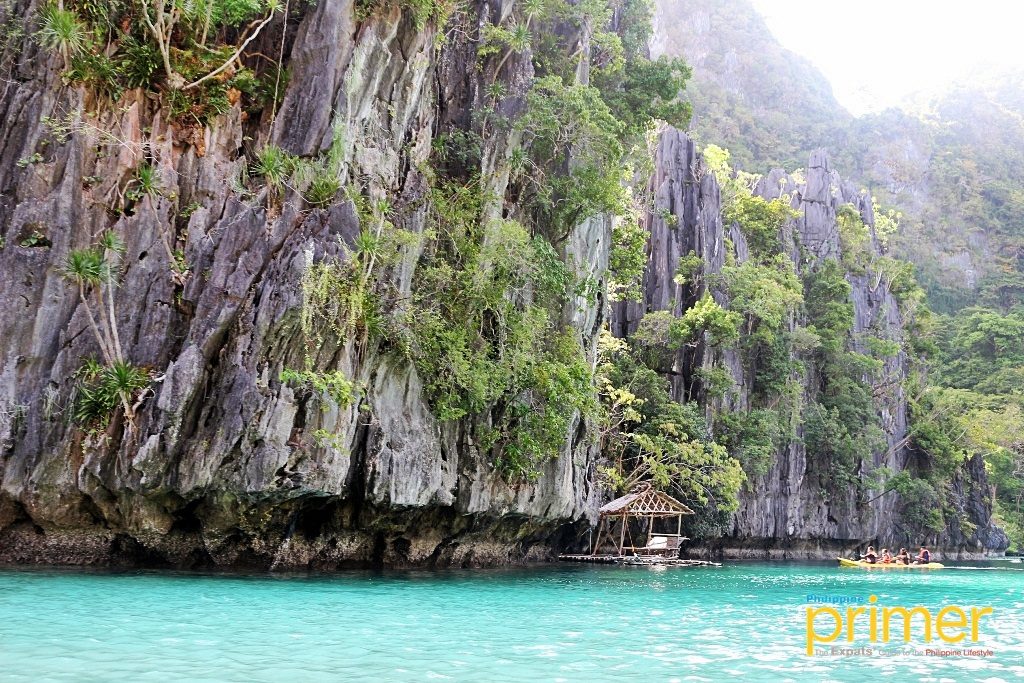 A cottage floats solely beneath the massive limestone cliffs in Big Lagoon.
There are kayaks for rent by the entrance of Big Lagoon, and you can rent one from Php 250 to Php 350 depending on the size of the kayak. The maximum capacity of a kayak is four people.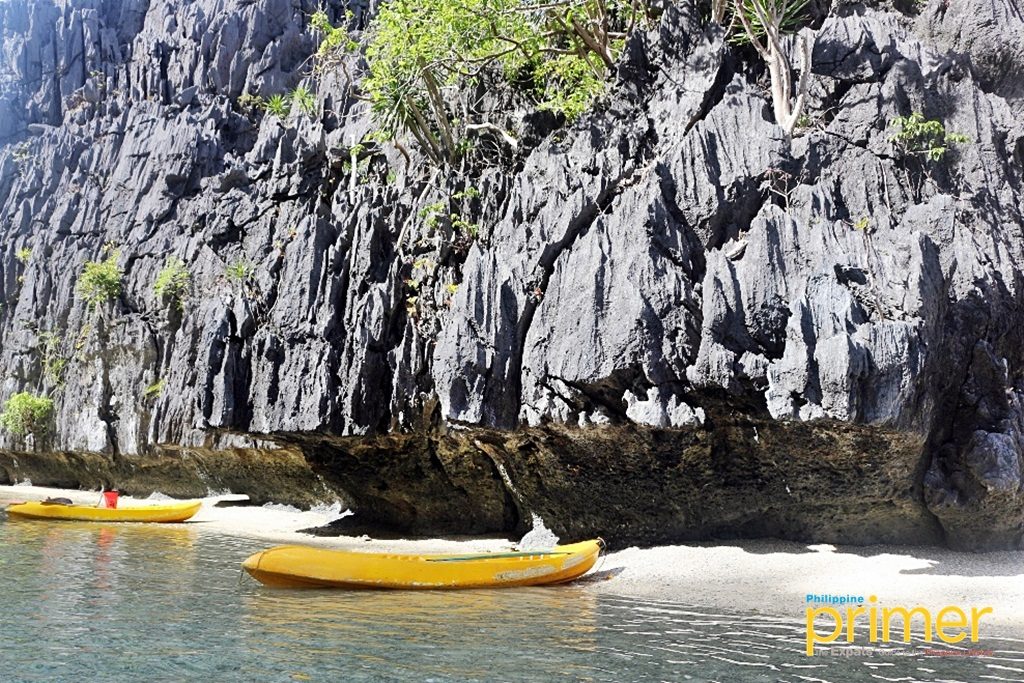 Kayaks are for rent at Big Lagoon.
You may also find some foreign tourists exploring the lagoon in their own way. Instead of kayaking, some choose to swim. Since the water inside the lagoon is calm, it is possible to swim. However, it is highly recommended to keep your life vest on.
Secret Lagoon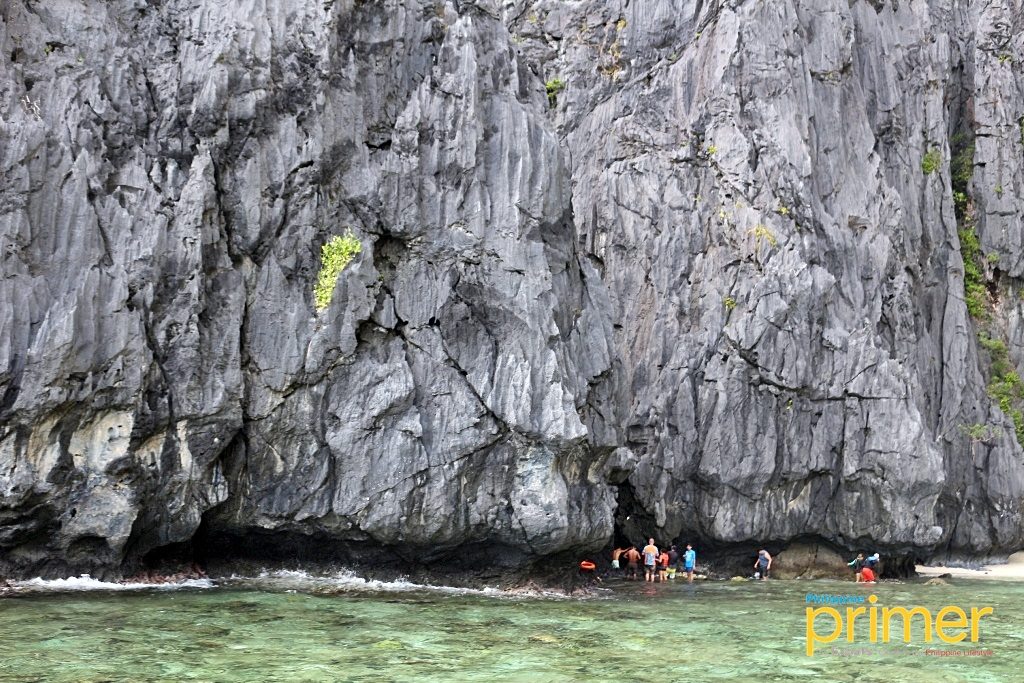 People flock outside the little entrance of Secret Lagoon.
Secret Lagoon is so much smaller compared to the Big Lagoon. It can only be accessed through a hole from the side of a small beach. During high tide, only the brave can be welcomed as you will have to swim through the hole to enter the lagoon.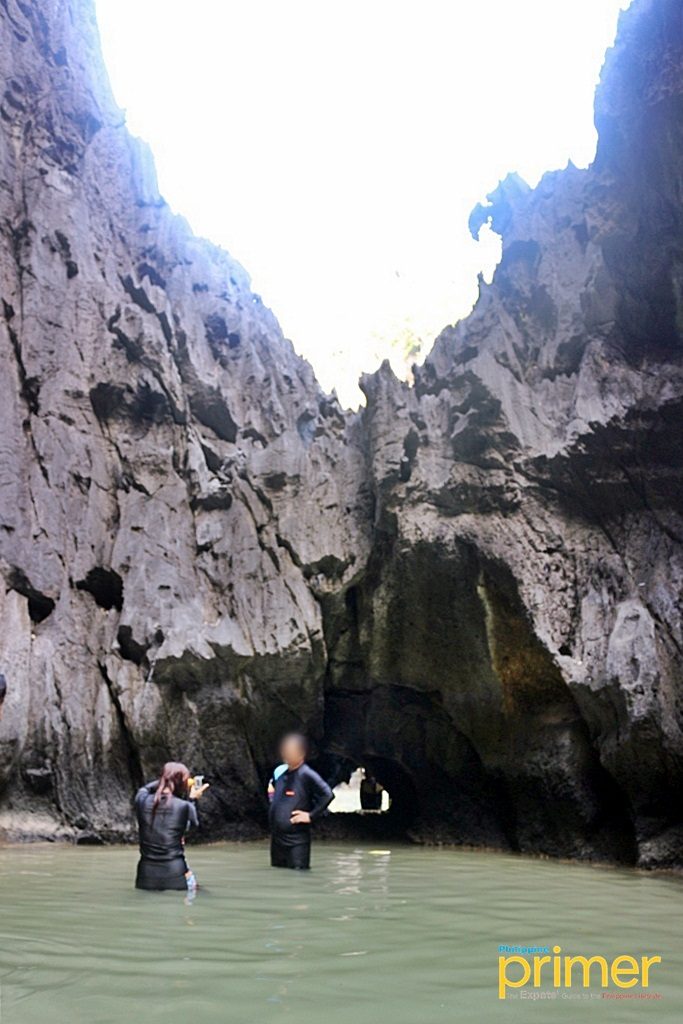 A tourist strikes a pose by the entry hole of Secret Lagoon.
Upon entering the hole, you will find what looks like a small pond enclosed by enormous limestone karsts.
Shimizu Island or Payong-Payong Beach
Shimizu Island and Seven Commandos Beach are beautiful places that have been named after Japanese figures. Firstly, Shimizu Island memorializes a Japanese diver who met his end while exploring an underwater tunnel on the island.
Shimizu Island is the usual stop for lunch, and, while waiting as your tour guides prepare your food, you can swim and snorkel nearby or just chill and enjoy the sun at the beach. The scenery consists of azure waters and limestone rock formations.
The white sand Payong-Payong Beach is an alternative to Shimizu Island.
Seven Commandos Beach or Papaya Beach
Just like Shimizu, Seven Commandos Beach is another spot with a Japanese tale. The name of the beach remembers the seven last Japanese commandos who stayed on the island during World War II.
Seven Commandos is the usual last stop, where tourists can just relax on its white sand beach. Sometimes, the tour guide may bring tourists to the neighboring Papaya Beach, east of Seven Commandos, as an alternative.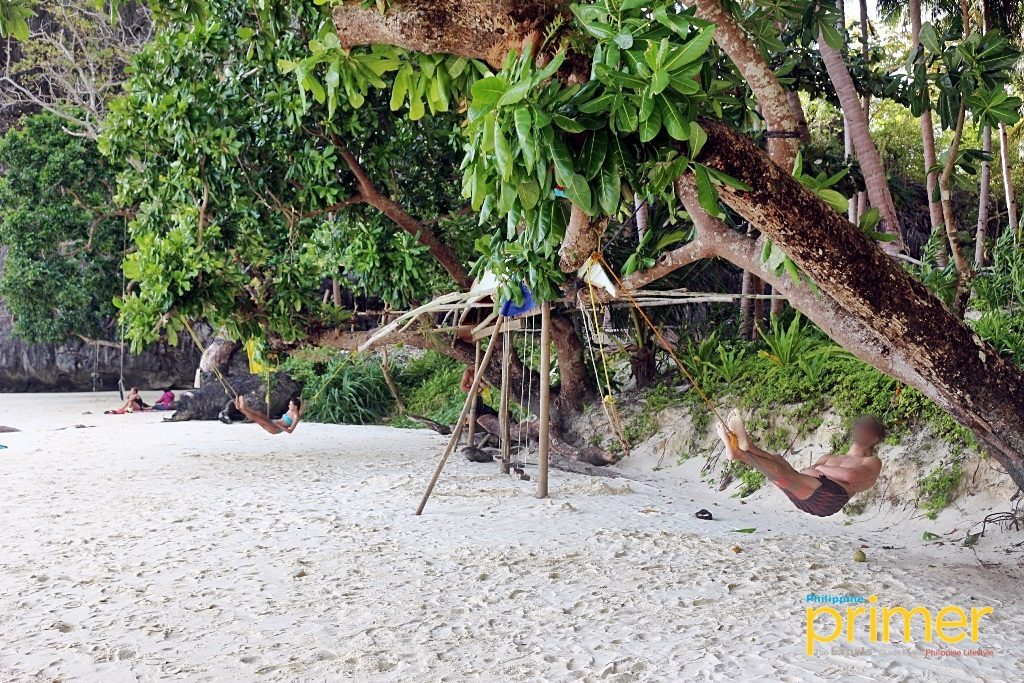 It's hammock-and-chill on Papaya Beach.
There is a nice snorkeling spot on Papaya Beach with a nice coral reef close to the shore. There are also hammocks and tire swings that give it a hippie vibe—they are also great spots for selfies and photo ops!
El Nido Tour Provider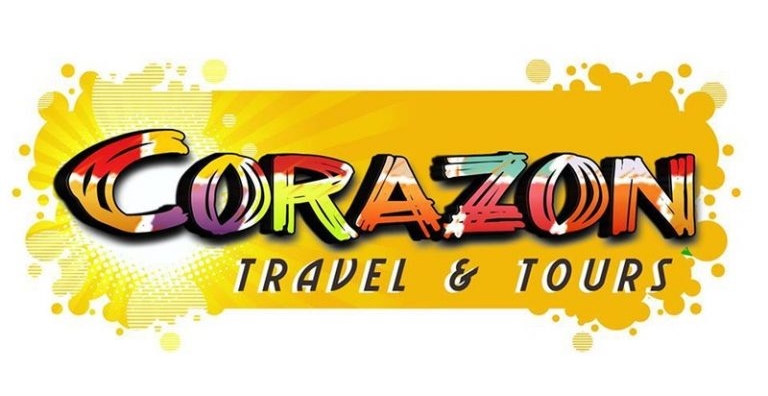 Corazon Travel and Tours offers a tour package for El Nido Island Hopping Tour A starting at Php 1,400/person for joiners. A private tour starts at Php 8,400 depending on the number of people.
The package includes hotel a tour guide, boat transfers, picnic lunch, entrance fees, and pick-up and drop-off at hotels within El Nido town proper and Corong-Corong area.
Corazon Travel and Tours is a duly-licensed travel and tour operator based in Puerto Princesa Palawan, providing an all-in-one complete package with accommodation, eco-tours, and full meals guaranteed to make your stay hassle-free.
They also offer private eco-tours or budget packages for solo or group travelers. All packages provide you with a local tour guide, driver, and tour coordinator to help you get the most out of your stay.
For tips on island hopping in El Nido, such as information on fees to pay, what to bring, and booking a tour, check out our separate blog A Guide to El Nido Island Hopping.
Corazon Travel and Tours Information
Address: G/F PC Arcade Bldg., Junction 1, Brgy. San Miguel, Puerto Princesa City, Palawan
Contact numbers: 0998-970-8790 (Smart) / 0977-843-3339 (Globe) / 0927-685-5534 (Globe) / (048) 433-0508 (PLDT)
Email: travelwithcorazon@gmail.com / corazontravelandtours@gmail.com / corazontravelandtours@yahoo.com
Website: corazontravelandtours.com
Facebook: Corazon Travel and Tours
---
This first appeared in Philippine Primer's Japanese and English Magazine March 2020 issue.
Written by Rei Leaño