A Guide to El Nido Island Hopping: Tours, Fees, and Everything in Between
With the many islands that make up the famed destination that is El Nido, Palawan, one can't simply visit everything in a span of a day—no matter how quick you stay in each of them (which will not allow you to fully enjoy them too!).
To create a systematic island hopping experience, the most prominent ones are grouped into four separate tours:   
Tour A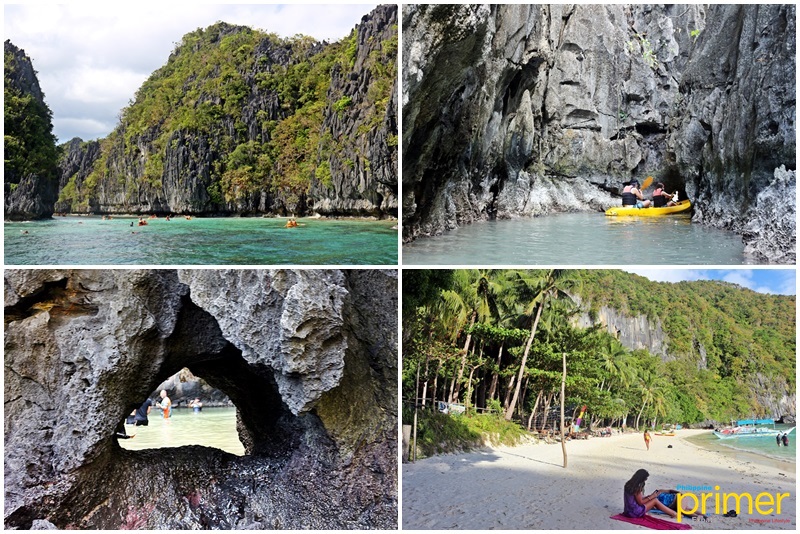 Big Lagoon (top photos); Secret Lagoon (bottom left photo); Papaya Beach (bottom right photo)
Spots:
• Big Lagoon 
• Secret Lagoon 
• Papaya Beach
• Shimizu Island
Other possible spots: Seven Commandos Beach in place of Papaya Beach, and Payong-Payong Beach in place of Shimizu Island 
Tour B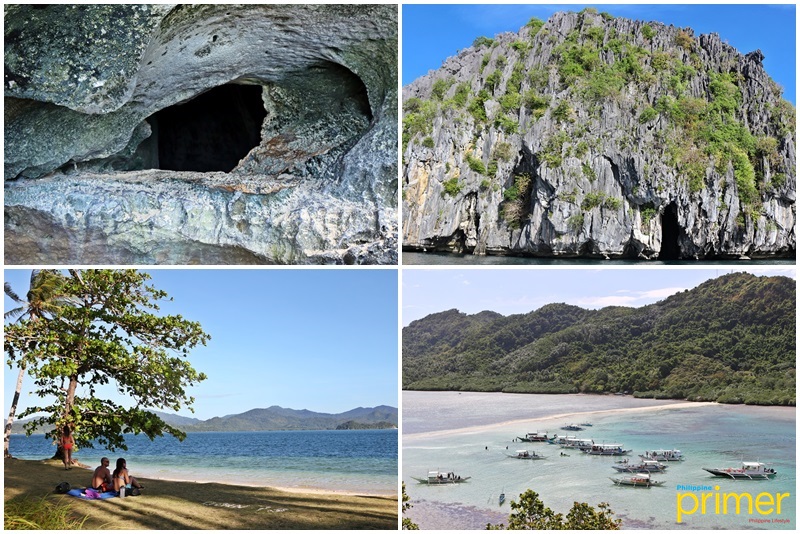 Cudugnon Cave (top left photo); Cathedral Cave (top right photo); Pinagbuyutan Island (bottom left photo); Snake Island (bottom right photo)
Spots:
• Cudugnon Cave
• Cathedral Cave
• Pinagbuyutan Island
• Snake Island (lunch spot)
• Entalula Island
• Popolkan Island
Tour C
Hidden Beach (top left photo); Helicopter Island (top right photo); Talisay Beach (bottom left and right photos)
Spots:
• Hidden Beach
• Helicopter Island
• Talisay Beach (lunch spot)
• Secret Beach
• Matinloc Shrine
• Star Beach
Tour D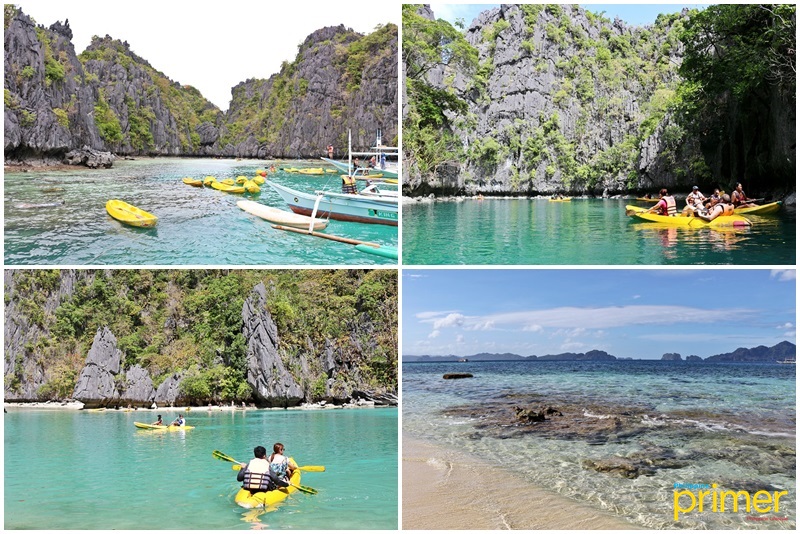 Small Lagoon (top left and right photos); Cadlao Lagoon (bottom left photo); Ipil Beach 2 (bottom right photo)
Spots:
• Small Lagoon
• Cadlao Lagoon
• Ipil Beach 2
• Nat-Nat Beach
• Pasandigan Beach
• Paradise Beach
• Bukal Beach
Years ago, tourists can do a combination tour per day such as Tours A and C and Tours B and D. However, in order to protect the islands amid the influx of tourists all over the world showering El Nido with appreciation, the Department of Environment and Natural Resources has implemented a policy banning the previously-applicable combination tours. 
This is particularly to limit the number of people visiting the Big Lagoon and Small Lagoon that are considered as premium spots (and soon, the Secret Beach too). Now, you may only embark on one tour per day.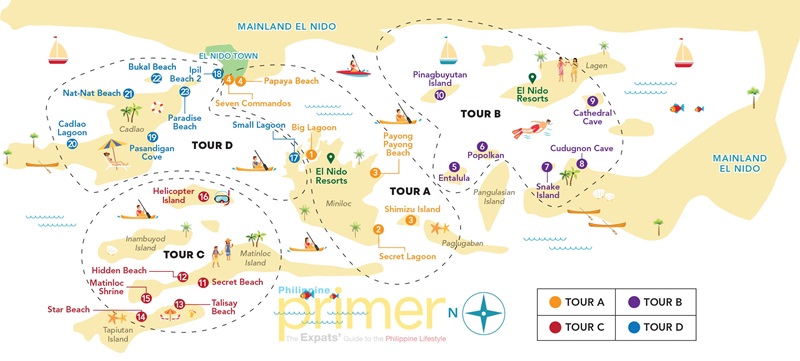 Pre-registration is now also required when visiting the premium spots, wherein an environmental fee for each is priced at Php 200. An Eco-Tourism Development Fee is also to be collected by the Municipal Government of El Nido, priced at Php 200 and is valid for 10 days. If you're under a tour provider, they will be the ones handling it. 
Island Hopping Tour
The tour usually starts from 9 a.m. (pick-up from hotel) and ends at 4 p.m. (departure back to land). One of the usual docking areas is Corong Corong Beach near El Nido town proper. And since tours usually last for almost one whole day, with each destination allowing up to one hour stay, you have no other choice but to be one with the water. 
Here are some things to consider in order to prepare yourself:
• Either you fully clothe yourself and save yourself from the very potential burning and darkening of the skin, or you wear swimsuits/swim trunks and achieve a good tan—otherwise, you'll leave with crystal clear tan lines. 
• Most boatmen have first aid kits to readily attend to small injuries such as grazes and cuts, but you can bring your own waterproof band aids just to be prepared.  
• Applying sunscreen ahead of each tour is not enough; apply a good amount of it every time you are about to dive into the water.
• Bring at least two towels: one to somehow protect yourself from the big splashes of waves, and one that you can keep in the boat's storage area and use thereafter to dry yourself at the end of the day.  
• Bring water tumblers; bottled waters are strictly not allowed in the islands.
• Bring extra cash (and put it in a waterproof case) for activities and extra snacks. Kayaking fees (Php 200 to Php 350/4 pax) for the lagoons are not included in the tour.
• Rent aqua shoes and snorkeling gear.
• Always wear your life vest!
Booking Your El Nido Island Hopping Tour
Unlike most travels that can be survived and enjoyed well even without planning ahead, going on an El Nido island hopping tour is not as carefree—because you have to book your tour in advance, no excuses. 
Luckily, there are readily available methods by which you can take care of your tour without going through so much hassle. A little tip, though: be careful in choosing your tour provider, because you would not want to spoil your trip.   
Booking online
There are a handful of websites where you can book your tour, and these would normally require the number of people availing it; personal details including name, age, and nationality that are vital to acquiring permits and entrance tickets; the preferred date among the non-fully booked ones; and of course the payment to secure your slot—although some accept deposits for doing so. 
You may also indicate if you wish to rent aqua shoes and snorkeling gear so they can prepare them in advance. 
Booking through a travel agency
As El Nido consistently receives attention from tourists, a number of travel agencies that are directly based in Palawan have been popping up in the hopes of catering to everyone, with each offering exclusive promos and their own take on the staple services. 
Among these is Corazon Travel and Tours, a duly-licensed travel and tour operator operating in Puerto Princesa that links their services to a network of trusted partners and suppliers in various parts of Palawan.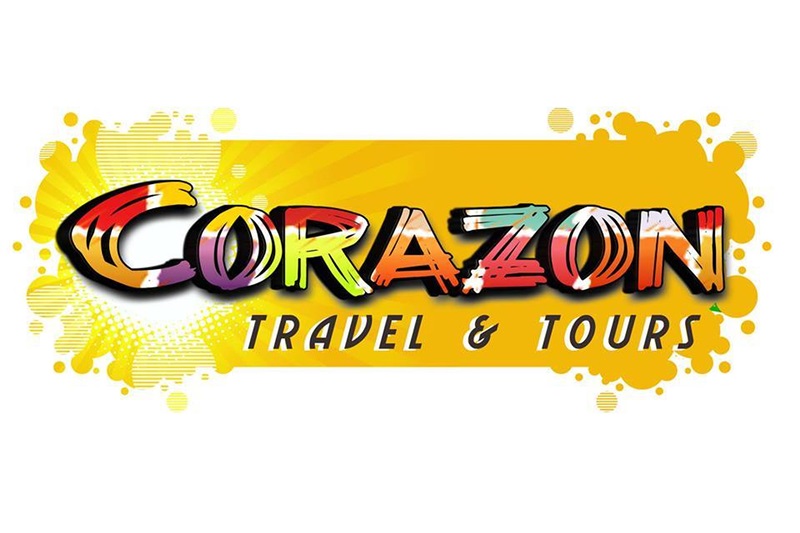 When you book with them, identify how many of you will join and then choose between a joiners tour and private tour. Like doing so online, you will also need to indicate your name, nationality, and preferred tour dates. You may also include your flight details if you wish to have them pick you up at the airport. 
Each tour package is inclusive of service of a tour guide, boat transfers, picnic lunch, entrance fees, and pick up at hotels within El Nido Town proper and Corong-Corong Area.