Panja Resort in Puerto Princesa Offers a Sweeping View of Palawan's Enthralling Nature
Panja Resort in Puerto Princesa, Palawan stretches amid a vast land along a place not usually frequented by tourists, naturally offering the serenity sought by its guests.
And because of the vines of yellow bell flowers that wound upon its facade of white, modest architecture, you can say that it truly blends well with nature around.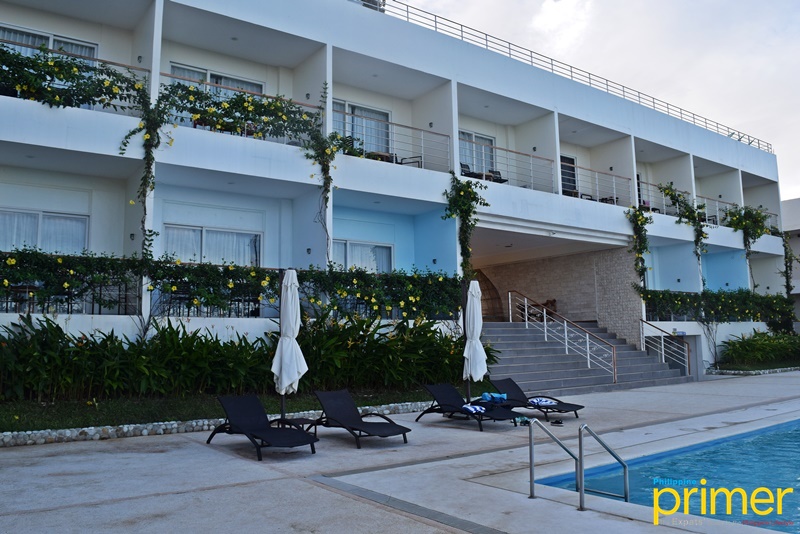 The resort, whose name directly correlates to an ancient tree that acts as a nook for people after utmost comfort, is prominently home to 35 rooms, restaurant, infinity pool, spa, and bar—with each providing an undisturbed view of the place's surrounding greenery and scaling mountains, particularly that of the Honda Bay islands. 
Plus, they have their own convenience store by the pool!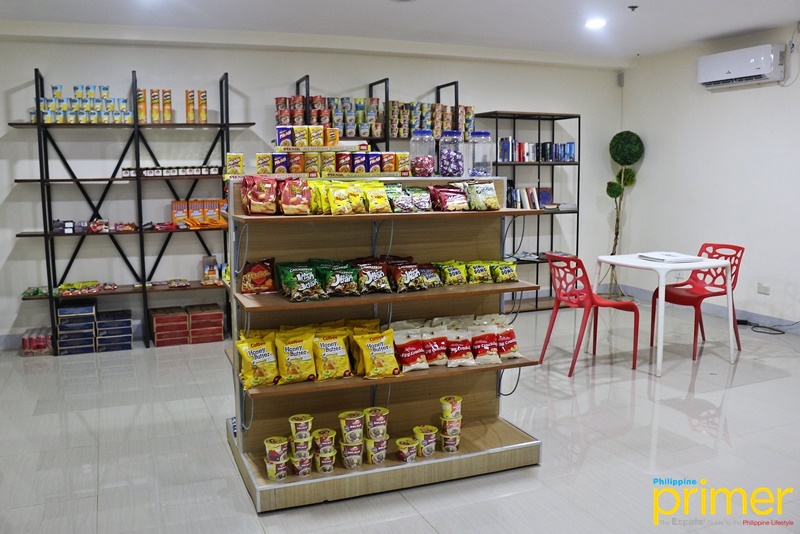 The convenience store is primarily built since their location is far from the town proper 
Hotel Rooms
Four types of collectively opulent rooms, which still somehow lean towards the minimalist spectrum, grace the expanse of Panja. One of which is the Deluxe Queen (Php 6,500) that is equipped with a coffee and tea maker, mini-refrigerator, dresser, and a veranda.
But what might be its highlight is its queen bed's headrest that extends across the wall because who does not want to lean on a soft cushion, right?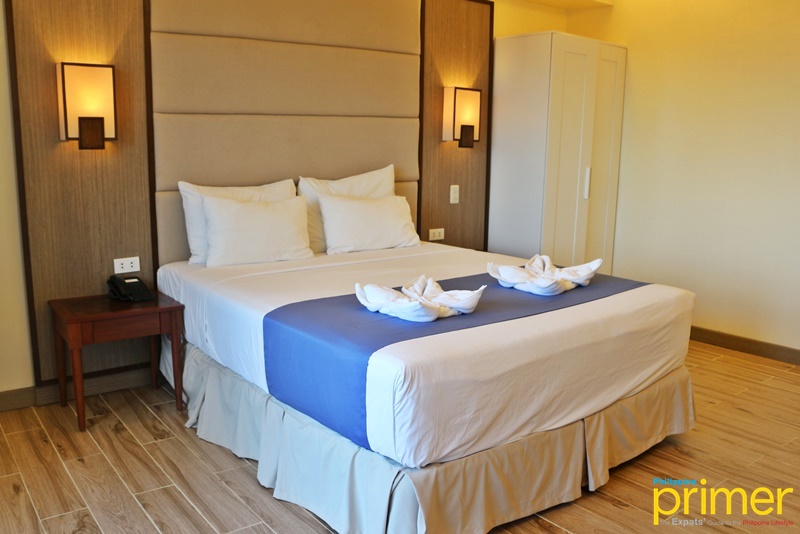 Deluxe Queen (Php 6,500) is good for two people; with an extra charge of Php 1,200 for an additional guest
Apart from this, there's also the Deluxe Twin (Php 6,500) with two single beds, Family Room (Php 7,500) with one queen bed and one single bed, and Premiere Deluxe (Php 8,100) with one queen bed boasting of the biggest space among the other rooms.
Horizon Restaurant
When you enter Panja, you will first be welcomed by its austere, glass-walled Horizon Restaurant accented by canvass paintings and the sweeping view outside.
Horizon Restaurant features a barely expansive space that is just right to fit in a regular number of diners—not too many and definitely not too little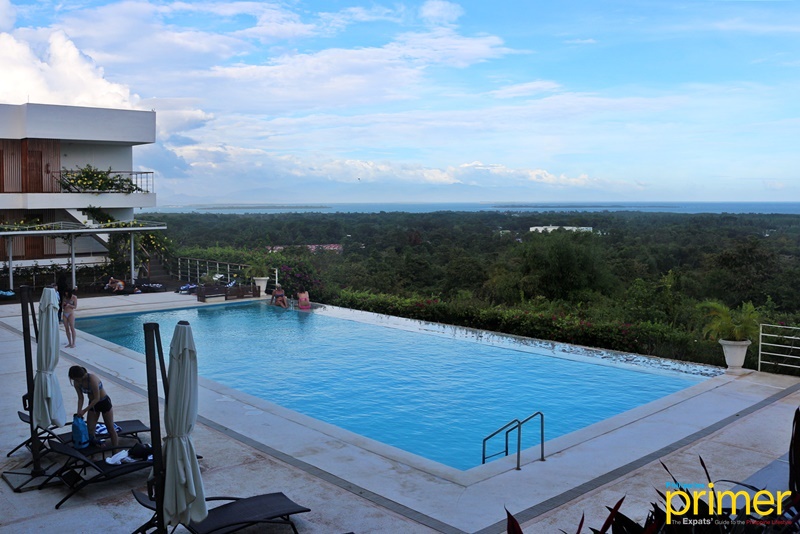 A view from the restaurant
From 6 a.m. to 10 a.m., guests and non-guests alike can delight in the restaurant's breakfast buffet. While the former can do so for free as it is complementary, the latter would have to pay Php 399. The buffet encompasses five meal courses, as well as food stations like salad station, fruit station, and cereal station.
By the time the clock ticks at 12 p.m., Horizon switches to their regular dining system where you can sample their very own Pinoy Festival (Php 1,200) among their many offerings that will remind you that yes, you are indeed in a Philippine island.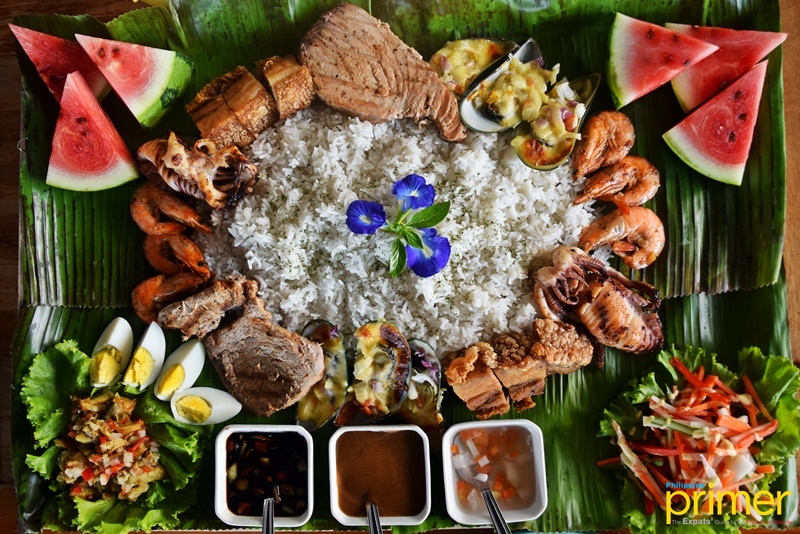 Pinoy Festival (Php 1,200) 
This is a trayful good for at least four people, which is graced by the fresh amalgam of seafood and pork including tuna, baked mussels, shrimps, grilled squids, and bagnet. Plus, it also boasts of slices of watermelon and boiled egg as well as a nice amount of Ensalada and vegetable salad on the side.
Whereas if you're seeking for some comfort food, they have their very own Panja Burger that features bacon and cheese, and a Classic Carbonara that is an undeniably creamy goodness topped with beef and mushroom pieces.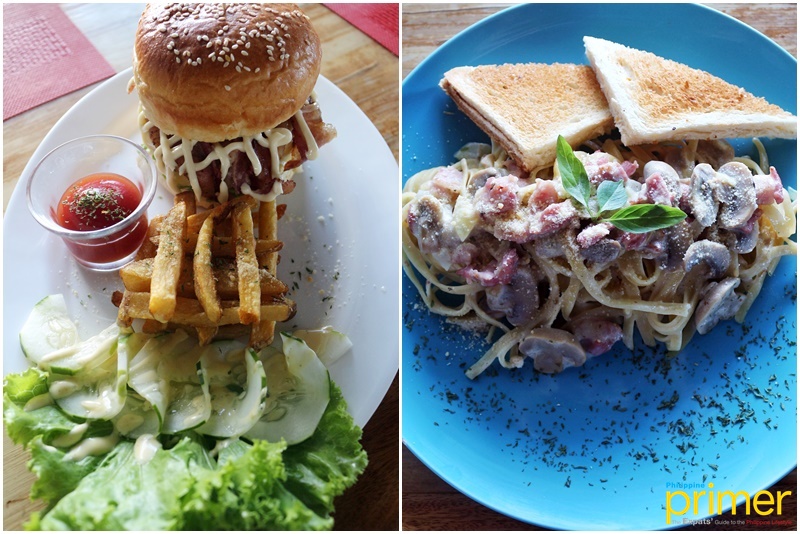 Presently, they source their ingredients from the local market. But once their garden is fully-operational, they will stick to utilizing their own produce.
360 Bar
Located on the topmost floor Panja, 360 Bar might as well be the best place to bask in Puerto Princesa's landscape and to embrace its unpolluted, cool breeze. It is open from 4 p.m. to 12 a.m., where partying isn't a thing but cozily chatting is.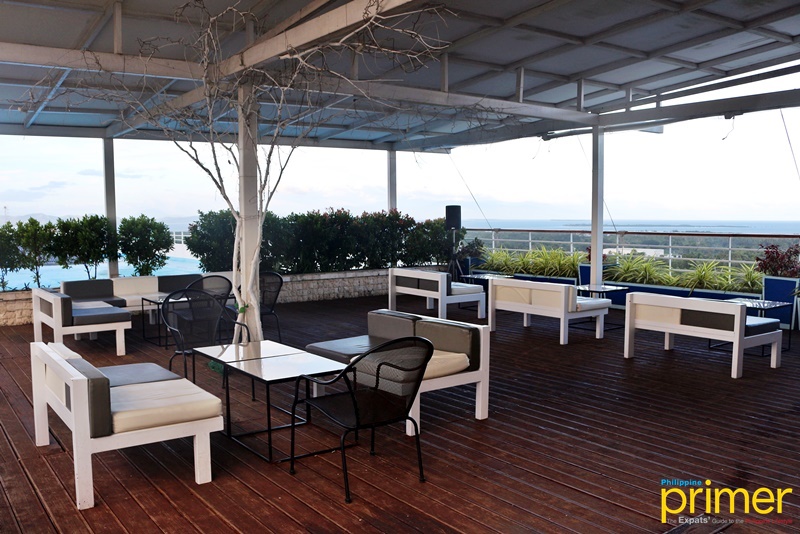 The peak hours of 360 Bar begins from 4 p.m. and lasts until 7 p.m.
Panja purposefully decided that the bar will be a place for guests to simply enjoy each other's company as they sip some good beverages without the blaring music, as they believe that the very reason they choose to stay in the resort is to soothe oneself through the tranquil nature of the environment uncommon to the city.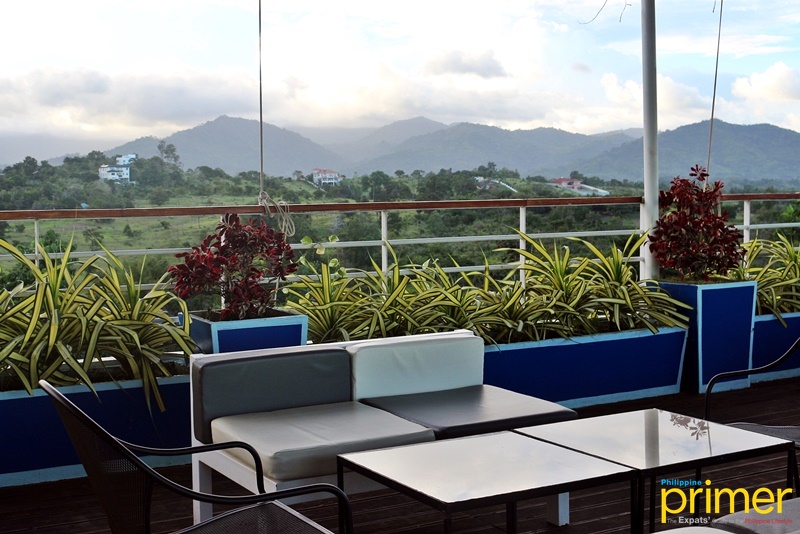 The bar foremost features an LED television where they normally show sports videos and YouTube videos for a kick of entertainment. And we'd say this is best enjoyed with their refreshingly addictive Long Island Tea (Php 280). 
But if you prefer less spirit, you'd want to get your hands on their Classic Margarita (Php 185) that is on the more alcoholic side.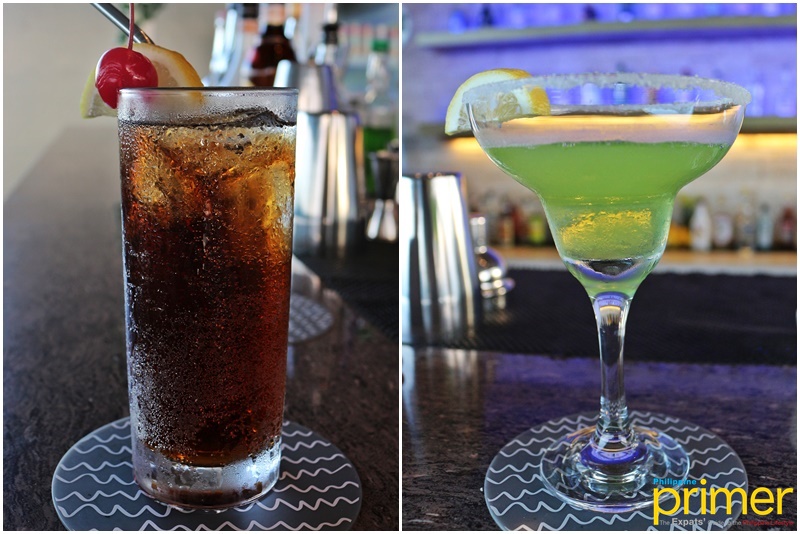 (L) Long Island Tea (Php 280); (R) Classic Margarita (Php 185)
Prana Spa 
Panja's Prana Spa is a two-story, stylishly archaic structure amid the space where the utmost solitude offered by the resort thrives. Like its namesake, which is a Sanskrit word for life force, the spa is where everyone can get their much-needed breath away from life's daily hustle.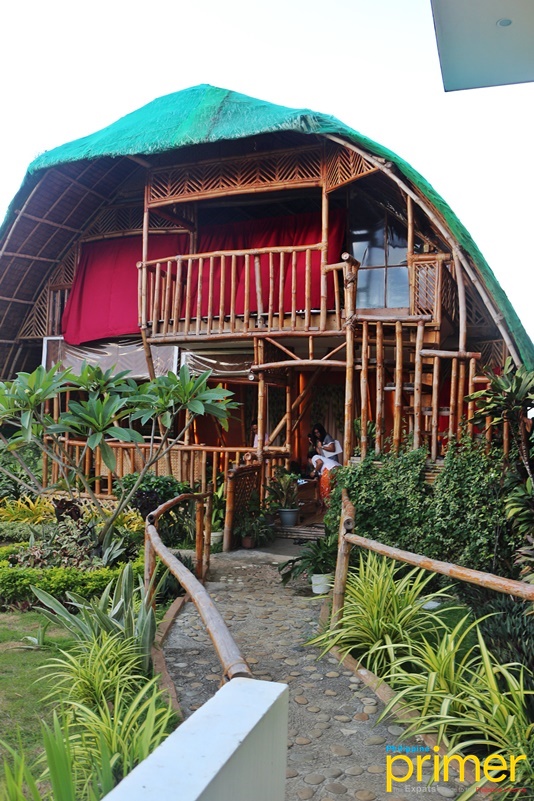 While the first floor is where treatments are done within the two rooms from 1 p.m. to 10 p.m., its second floor is a spacious area equipped with beds for guests to just lie down as much as they want.
Their services presently include Island Siesta (Php 1,200/90-min) that is a combination of foot massage and your choice of either Swedish or Shiatsu body massage, Perfect Day (Php 1,800/90-min) that offers facial massage on top of Island Siesta's combo, and the traditional herbal treatment Hilot (Php 1,500/90-min).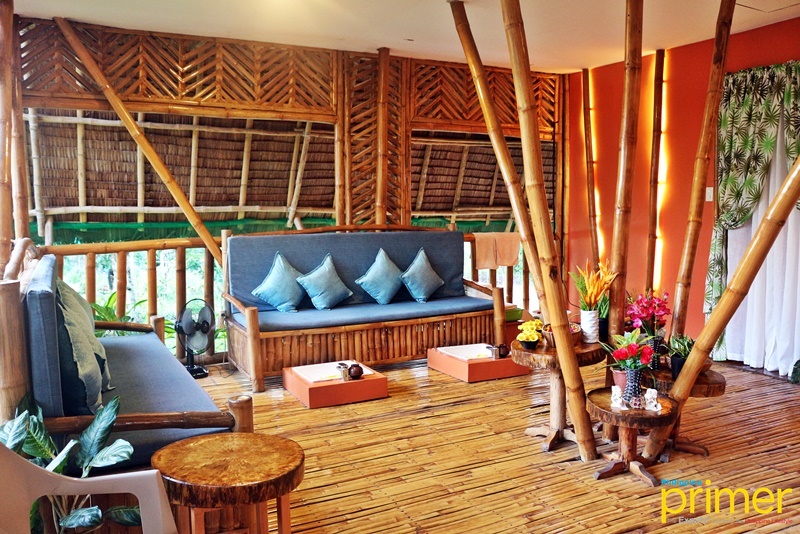 Moreover, they offer Oriental Touch (Php 2,000/90-min) or hot lava stone massage, as well as massage for kids (Php 1,200/1 hr) and for pregnant women (Php 1,500/90-min).
Also read: Blue Palawan Beach Club in Puerto Princesa: A Beach Resort Where Great Experiences Await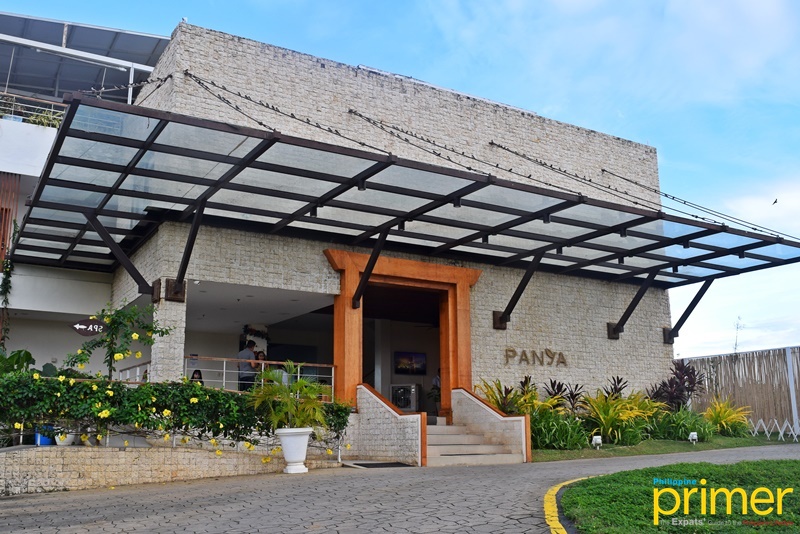 But apart from these tangible mementos of how much Panja quietly trailblazes to provide the best of everything for their guests, what's rather commendable about the resort is their initiative in promoting the hospitality and tourism sector of Palawan through giving scholarship grants to deserving students of Palawan State University.
How to get here 
• Panja Resort is located along Bay Vista Rd. From Robinsons Place Palawan, continue to head north until you see the 1st cross street toward where you will turn left to reach  Puerto Princesa North Rd. Once along said road, simply drive ahead and then turn left onto Caimito I Rd. Turn right onto Mitra Rd, then finally turn right onto Bay Vista Rd. 
Address: Bay Vista Rd., Brgy. Tagburos, Puerto Princesa, Palawan
Contact: 0945-799-2908 / 0917-376-4835
Email: panjareservation@gmail.com
Check-in / Check-out: 2 p.m. / 12 p.m.
Website: panjaresortpalawan.com
Facebook: facebook.com/panjaresortpuertoprincesa
Instagram: instagram.com/panjaresortpalawan
---
This first appeared in Philippine Primer's Japanese and English Magazine February 2020 issue.
Featured image courtesy of Panja Resort's Facebook page
You might also like...