Explore the Underground River in Puerto Princesa, A Wonder of Nature
One of the best tourist spots in Palawan is the Puerto Princesa Subterranean River National Park, also known as the Puerto Princesa Underground River, a UNESCO World Heritage Site since 1999. In 2012, it was accepted into the 7 Wonders of Nature for its unexplored cave systems.
The Underground River is one of the longest navigational rivers in the world running at 8.2km in length with more yet to be explored! Tourists can tour the first 1.5km while an extended tour with approval from the tourism office can take you 4km inside the Underground River.
A small boat rowed by an English and Tagalog-speaking boatman will take you in and out of the Underwater River
Yet even without the extended tour, the normal route could already tickle the imagination and surprise you with wonders as the boatman paddles under the limestone cliffs and through the large chambers riddled with stalactites and stalagmites.
The best time to visit the Underground River and explore the cave is during the dry season from November to May when the water is calm and there will be less chance of cancellation or delay due to bad weather.
Travel tip: The Philippine weather could be tricky so its best to constantly check weather updates or ask the locals how the weather has been for the past few days.
Sabang Beach is a great summer destination on its own!
Secure your permit!
If you are doing a DIY tour without a tour agency, individual tourists must secure a permit at the Underground River Booking Office for Php 500, an audio guide of Php 85, as well as the Environmental Fee of Php 150. Prepare your IDs.
The Underground River Booking Office is at City Coliseum, San Pedro, National Highway, Puerto Princesa City. Business hours are 8 a.m. to 4 p.m. on weekdays and 8 a.m. to 5 p.m. on weekends. The local government limits the number of tourists a day as it is a protected site.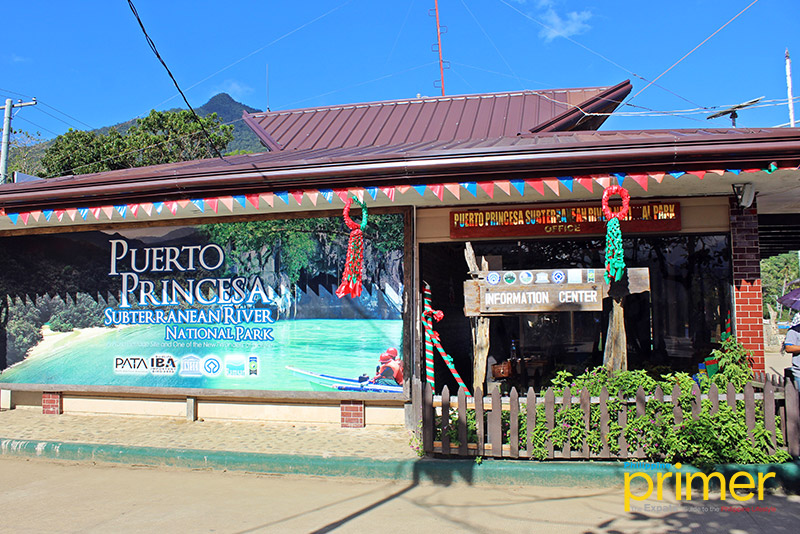 Find this information center at Sabang Port to pay your Environmental Fees
Once you have secured your permits, head on to Sabang Port via jeepney, bus, or van. At the port, present your permits and a boat number will be assigned to you which will take you to the Underground River entrance.
Travel tip: There is also the option to head to Sabang port a day ahead and stay in a humble cottage to be one of the first to tour the Underground River.
The boat ride starts at Php 160/head depending on the boat size and the group number. Travel time is approximately 20 minutes.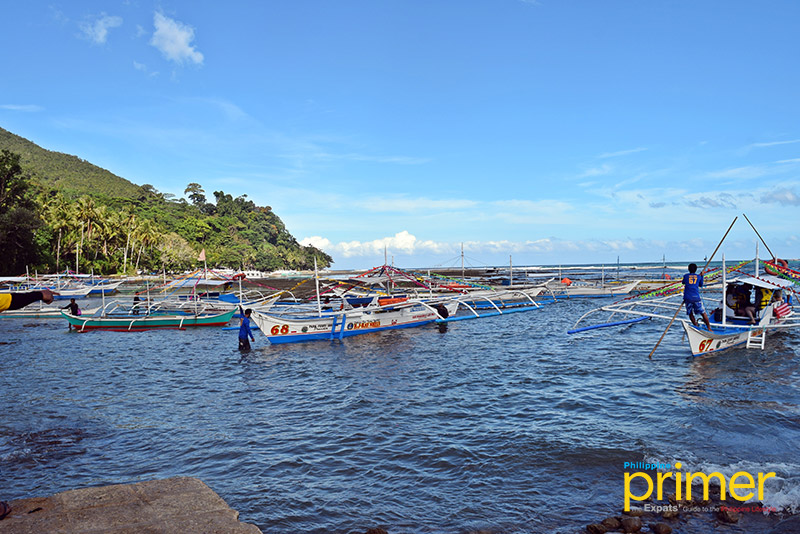 Big boats will take you to the Puerto Princesa Subterranean River National Park Entrance in 20 minutes or less
Arrive at the Puerto Princesa Subterranean River National Park Entrance
At the beach, you can take commemorative photos or read the bulletins that tell the history of the national park. Here you may encounter monkeys but it is advisable not to approach them as they are wild. Present your permit and you'll be guided to the river entrance.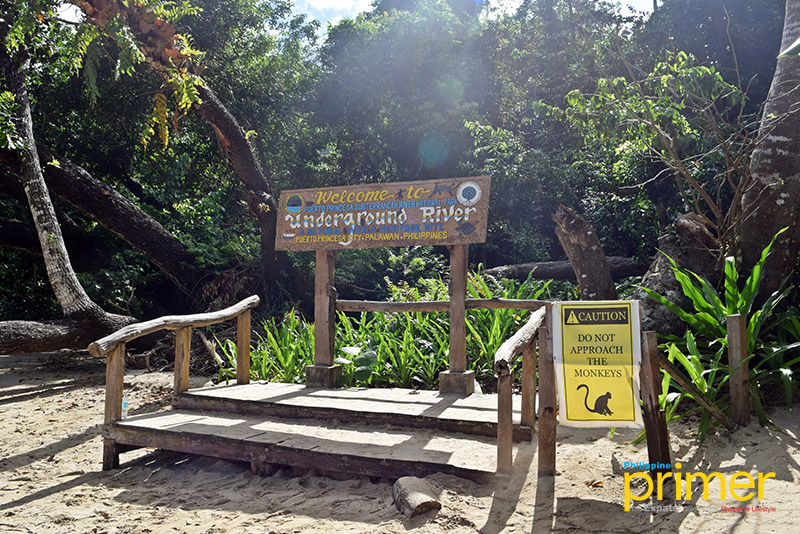 Take your commemorative pictures here before or after going through the Underground River tour
Each guest will be given their own audio guides available in multiple languages including English, Chinese, German, Japanese, Korean, Spanish, and Tagalog from where guests can better understand the history and wonders of the Underground River without creating noise.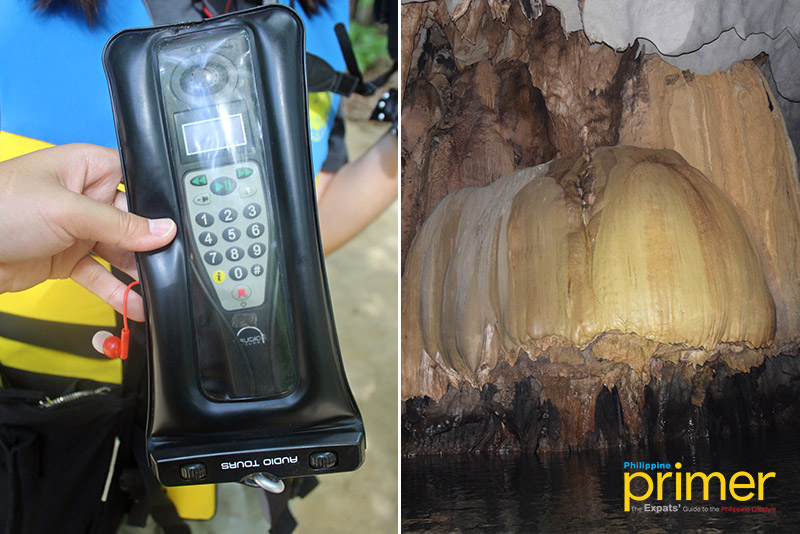 Tourists will be lent out these audio guides (left) which has explanations and information on the Underground River and the rock formations (right)
At the start of the tour, guests will be given hardhats and reminded to avoid excessive movements and to avoid touching the rock formations. Other than the audio guide, the boatman will also be pointing out the many rock formations they have named such as the candle, lion, corn, mushroom and more!
The cave is composed of gray limestone, black manganese phosphate, and brown stalactites and stalagmites formed from the dripping cold calcite from the ceilings. Guests will also be made aware of the harmless bats living on the cave ceiling.
Travel tip: When you look up, keep your mouth closed. If you feel cold water dripping from the ceiling, its harmless calcite but if it's warm, it could be the rare bat droppings and you've just been blessed.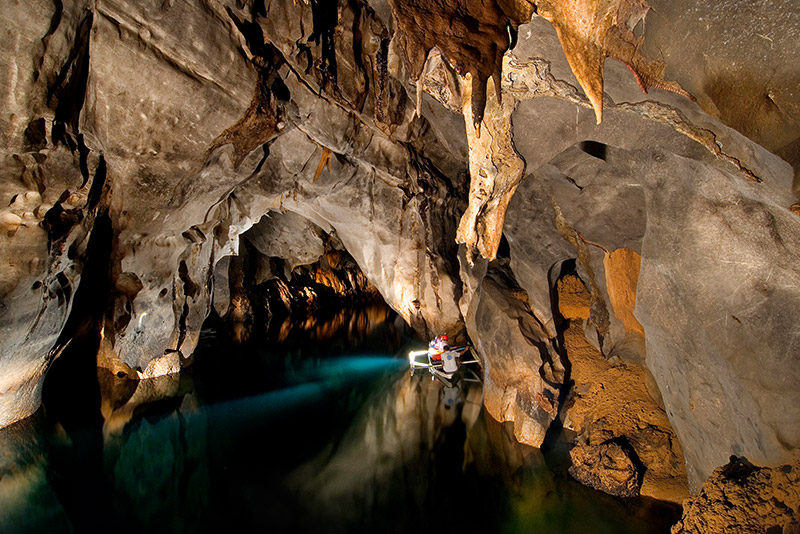 Photography and flash is allowed inside the cave/IMAGE courtesy of City Tourism Office of Puerto Princesa
Other than the bats, the Underground River is home to lizards, snakes, translucent crabs, and fish. The boatmen are trained to assist in emergency situations but they'll remind guests to behave themselves.
The tour takes about 45 minutes to an hour. Once done, you'll return to Sabang Port on the same boat. There are a few restaurants and resorts lining the beachfront if you wish to stay the night or grab a meal.
Travel tip: Try to take off your earphones and enjoy the serene boat ride through the Underground River.
Other attractions you can visit while in the Sabang area:
Ugong Rock and Sabang Zipline
Karst Mountain Elephant Cave
Also read: Ugong Rock Adventures in Puerto Princesa Mixes Calm and Exhilaration Upon Its Climb and Trip Down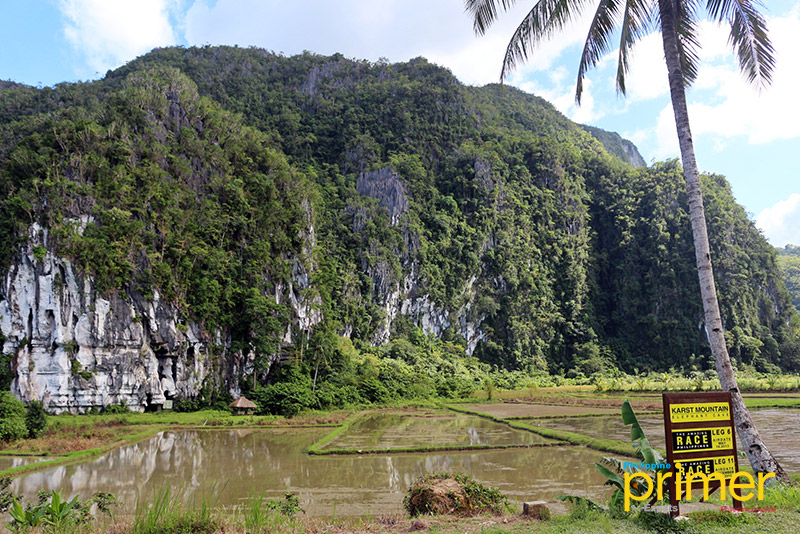 Karst Mountain Elephant Cave is a rock formation you can pass by on the way back to town proper
How to get here
•  From San Jose Terminal, Puerto Princesa located in San Jose New Market. There will be jeepneys and non-airconditioned buses going to Sabang Port on a schedule: 7 a.m., 9 a.m., 12 p.m., and 2 p.m. Fees start at Php 150/head while travel time is approximately 2 hours to the port.
•  There are also vans and tour providers that can offer round trip transfers from Puerto Princesa to Sabang in 2 hours or less. Fees start at 200/ head.
Our Underground River tour is a part of the 3 days, 2 nights tour with Corazon Travel and Tours.
Corazon Travel and Tours is a duly-licensed travel and tour operator based in Puerto Princesa Palawan, providing an all-in-one complete package with accommodation, eco-tours, and full meals guaranteed to make your stay hassle-free. They also offer private eco-tours or budget packages for solo or group travelers. All packages provide you with a local tour guide, driver, and tour coordinator to help you get the most out of your stay.
Details
Address: G/F, PC Arcade Building, Junction 1, Brgy. San Miguel, Puerto Princesa City, Palawan
Contact numbers: 0998-970-8790 (Smart) / 0977-843-3339 (Globe) / 0927-685-5534 (Globe) / (048) 433-0508 (PLDT)
Emails: travelwithcorazon@gmail.com / corazontravelandtours@gmail.com / corazontravelandtours@yahoo.com
Facebook: Corazon Travel and Tours
Website: corazontravelandtours.com
---
This first appeared in Philippine Primer's Japanese and English Magazine February issue.
All fees and fares as of February 2020
Written by Heloise Diamante
You might also like...