Gear Up for La Union Surfing Break 2019
It's time to hit the waves again as La Union Surfing Break returns for another fun-filled weekend of waves, music, and arts!
The event invites you to celebrate the best break of your year with them and their line-up of exciting activities, happening on October 25 to 27, 2019 at San Juan, La Union.
Also read: Surfing in La Union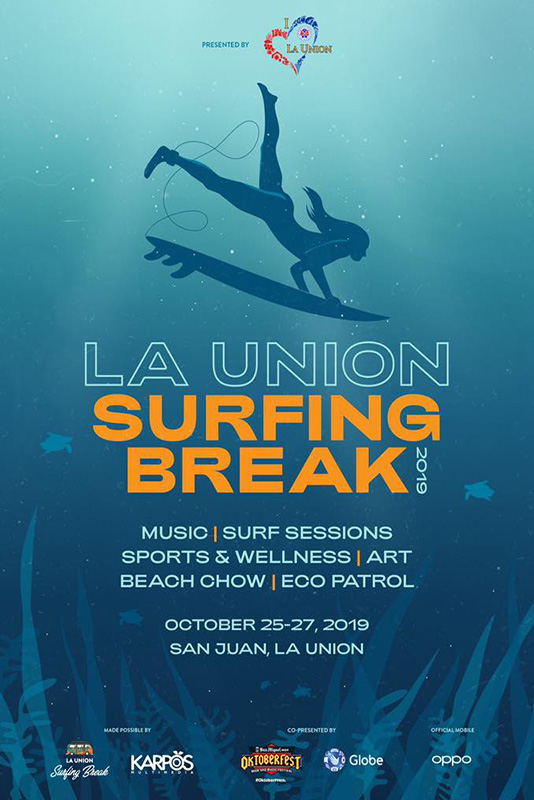 First launched in 2006, the La Union Surfing Break aims to educate and expose surfing to the general public.
The event is usually held during the semestral break, which allows students from Manila and other cities in Luzon to come and experience the waves that La Union has to offer.
La Union Surfing Break also helped launch the province as a go-to destination for beach, surfing, and festivals. In fact, it has become a breakthrough for La Union's tourism industry, promoting them as Northern Luzon's premier surfing location.
Also read: Urbiztondo Beach in La Union: Where waves and surfers meet
'Tis the season—we're back to making waves at the biggest surfing event in town. 🌊#LaUnionSurfingBreak 2019 edition soon.

La Union Surfing Breakさんの投稿 2019年9月11日水曜日
Further, La Union Surfing Break is an award-winning event that's been inducted into the Department of Tourism (DOT)'s Hall of Fame, which makes it one of the most sought-after surfing events in Luzon.
Take note that the event promotes an eco-friendly attitude towards the seas and beaches. One of their activities is a beach clean-up that will not only give the seas a break but will also allow guests to be one with nature.
Also read: Best Places to Surf in the Philippines
While the full line-up of activities for La Union Surfing Break is yet to be announced, interested visitors can expect surf sessions, sports, and wellness activities, art, and of course, music.
For more information, you may email them at launion.surfingbreak@yahoo.com.
Details
What: La Union Surfing Break 2019
Where: San Juan, La Union
When: October 25 to 27, 2019
Ticket information: TBA
Facebook: facebook.com/LUsurfingbreak
Instagram: instagram.com/launionsurfingbreak