Best Places to Surf in the Philippines
The Philippines' archipelagic state has etched its name as one of the travel destinations in the country, with thousands of its beaches that offer nothing but breathtaking views, seas with rocky or sandy shores, and teal green waters.
Some of these places are not only famous for these characteristics, but a number of them also offer the best places to do extreme sports, such as surfing.
Surfing has been an interest for thousands of local and international tourists. Be it in Siargao, La Union or in Baler, a lot of enthusiasts can attest that surfing in the Philippines is one for the books.
We listed down the top places in the Philippines that give good swell and awesome experience for you to enjoy.
(Photo via Kawayan Siargao Resort)
1. Siargao Island, Surigao del Norte
Siargao Island is the "Surfing Capital of the Philippines" and is known in the international scene as one of the best places to surf. Located in Surigao del Norte, the island's most popular wave can be found in General Luna which is dubbed as "Cloud 9." Other popular breaks in the island include Jacking Horse, Tuason Left, Rock Island, Stimpies and Pacifico.
The best months to surf the place is from August to the onset of November. This is because Siargao Island gets the most typhoon swells and best winds in this specific time, unlike during May and July, when it only has smaller waves.
Aside from having excellent surfing waves brought about by southwest monsoon and the currents and winds from the Pacific Ocean, the place boasts of its large mangrove forests in Mindanao.
Where to stay:
Sagana Resort
Address: Sagana Resort, Cloud 9 Siargao Island, Surigao del Norte, Philippines
Contact Details: sagana@cloud9surf.com
Website: http://www.cloud9surf.com/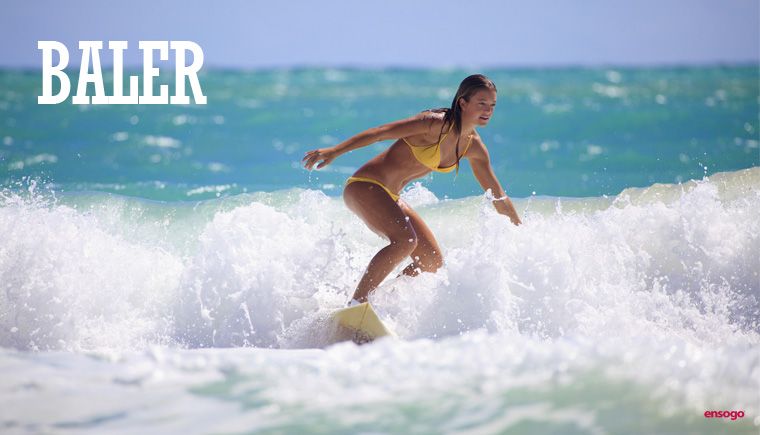 (Photo by ensogo via juzdeals.com
2. Baler, Aurora
Just a couple of house drive away from Manila is the famous surfing spot Baler. While many know Sabang Beach, which is just ten minutes away from the town proper, Cemento is also known for its reef break.
It is 30 minutes away from the town proper which can be accessed by either walking or riding a boat going to the reef. However, this reef is not for beginners.
 Other hot spots for surfing in Baler also include Charlie's Point and Lily's Point.
Where to stay:
Aliya Surf Camp
Address: Sabang, Baler, Aurora
Contact Details: inquire@aliyasurfcamp.com
Website: http://www.aliyasurfcamp.com/
(Photo by lokalsoul.com via Travel to the Philippines)
3. La Union
La Union boasts of its famous waves in months of the year, with its peak season during December to January. San Juan became one of the mostly-visited places for surfers due to the Beach Break, The Bowl, and The Point. It is also the home of the Billabong San Juan Surf School of Luke Landrigan—perfect place for long boarders.
Just a five minutes drive from San Juan is Carille, which is popular for its continuous 300m right hand point break. Also good places for surfers are Bacnotan and Darigayos which provide long rides and great swells on the months of October-April and May-September respectively.
Where to stay:
San Juan Surf Resort
Address: Urbiztondo, San Juan, La Union 2514
Contact Details: sanjuansurf@yahoo.com.ph
Website: http://www.sanjuansurfresort.ph/
(Photo via Mindanao Tours)
4. Lanuza Bay in Surigao del Sur
Surigao del Sur has a number of surfing destinations to choose from. Aside from the famous Siargao Island, Lanuza Bay in Cantilan is also making waves in the industry.
Peak season of surfing starts from November to March where big waves from the southern edge of the Northwestern Pacific typhoon belt. According to reports, waves can reach up to 15 feet if typhoon passes by the area.
Popular towns to experience world-class surfing like that in Siargao Islands are Doot Poktoy, Punta and Sitio Badiang.
Where to stay:
Casa Isabelle Hotel
Address: T Canedo St and Lacasa, Hinatuan, Mindanao, Philippines
Contact Details: 09434158919
Website: https://www.facebook.com/casaisabelle/?fref=nf
(Photos via pundaquit.com)
5. San Antonio, Zambales
Just three hours drive from Manila lays the beautiful province of Zambales known for its laidback beaches and nice surfing spots.
The most popular surf spot is in San Antonio, with its stunning south swell and "Magic Left." In Pundaquit in San Antonio, popular surfer Joseph "Joe" Villatora conducts regular surfing lessons for locals and tourists alike.
San Narciso, meanwhile, has left and right breaks, perfect for beginners and intermediate.  Moreover, the town San Felipe also has the "Lahar" which gives friendly to exciting waves on and off seasons.
Where to stay:
Crystal Beach Resort
Adress: San Narciso, Zambales-Pangasinan Road 2205
Contact Details: (047) 252 9978
Website: crystalbeach.com.ph
Article by Gelyka Ruth R. Dumaraos