Rainbows in Asia Music Festival Is a Feast for K-Pop Fans in the PH
This year has been packed with shows of Korean groups and artists, spoiling their fans with much-anticipated concerts and fan meetings. And since 2019 has not bid its farewell yet, there are definitely available rooms for more K-pop shows!
Also read: Korean Group GOT7 LIVE in Manila This October
If you enjoy but can't get enough of shows graced by either one group or a single artist alone, Rainbows in Asia Music Festival might be the right one for you. It's happening on September 21, 2019 at the Philippine Arena in Bocaue, Bulacan.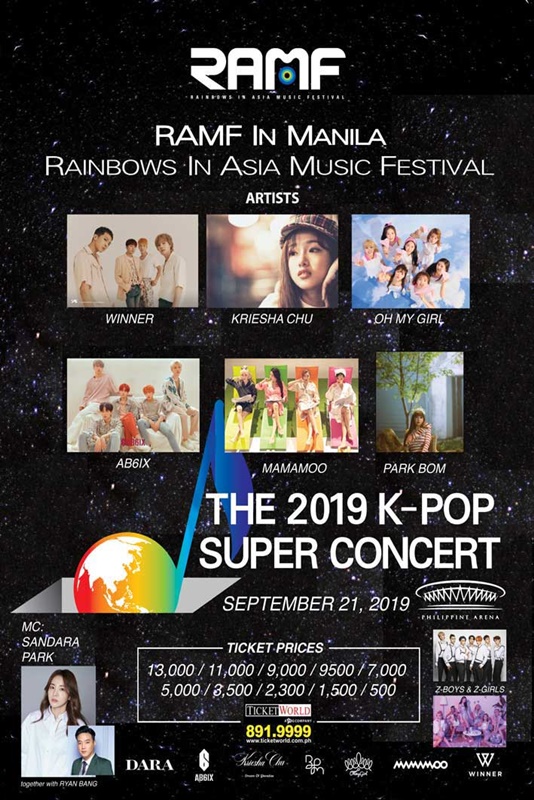 IMAGE Philippine Concerts
Deemed as the 2019 K-pop Super Concert, RAMF ushers in a good mix of Korean groups and solo artists who are expected to hype the crowd with a motley of performances. Adding to the fun are celebrity-hosts Sandara Park and Ryan Bang.
Also read: Lee Seung Gi Meets Fans Following Vagabond Premiere
Part of the line-up is WINNER, a four-piece group that debuted in 2013 with recent comeback song AH YEAH, and the rookie boy group AB6IX, composed of five members who just debuted this year with Breathe.
IMAGE WINNER (left) from Instagram and AB6IX (right) from Twitter
Meanwhile, girl groups include the four-member group MAMAMOO, whose latest addition to their five years' worth of discography is the single Gleam, and the four-year-old group OH MY GIRL made up of seven members who recently came back with the song BUNGEE (Fall in Love).
Amid the groups are two solo artists who will light up the stage with their individual performances: Kriesha Chu, a full-blooded Filipino who is presently making her name in the Korean entertainment, and Park Bom, former 2NE1 member whose latest song is 4:44 featuring one member of MAMAMOO.
Tickets went on sale last September 3, but you can still grab yours and be part of this super concert happening in a humongous venue!
Details
What: Rainbows in Asia Music Festival
Where: Philippine Arena, Bocaue, Bulacan
When: September 21, 2019
Ticket information: You can purchase the tickets here.
VIP (Standing) – Php 13,000
Lower Box A Premium Center (Reserved Seating)- Php 11,000
Lower Box B Premium Center (Reserved Seating) – Php 9,500
Lower Box A Regular (Reserved Seating) – Php 9,000
Lower Box B Regular (Reserved Seating) – Php 7,000
Upper Box A Premium (Reserved Seating) – Php 5,000
Upper Box A Regular (Reserved Seating) – Php 3,500
Upper Box B Premium (Reserved Seating) – Php 2,300
Upper Box B Regular (Free Seating) – Php 1,500
Upper Box B Sides (Free Seating) – Php 500