Lee Seung Gi Meets Fans Following Vagabond Premiere
With almost 15-year worth of works under his belt, Korean celebrity Lee Seung Gi is scheduled to meet his Filipino Airens for the first time since his debut. It's happening on October 12, 2019 at the New Frontier Theatre in Araneta Center, Cubao.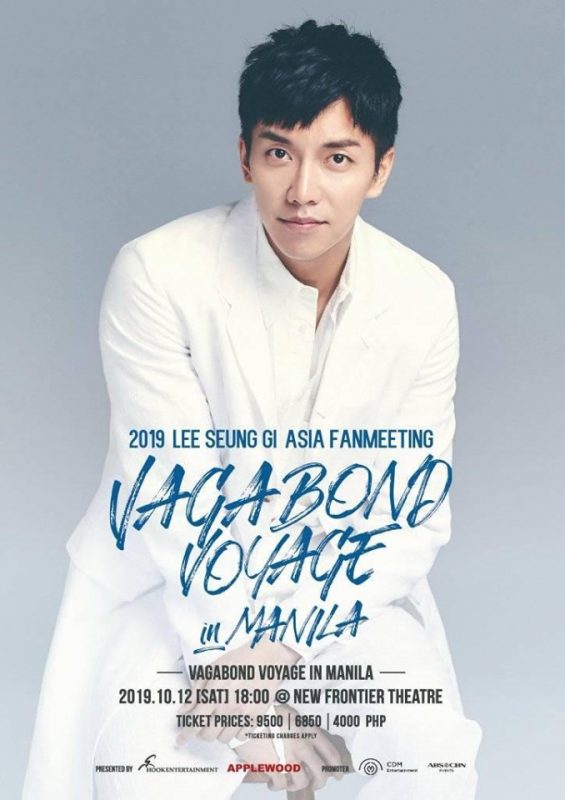 Teaming up with Applewood, local organizer CDM Entertainment is finally bringing Lee Seung Gi to embark his series of Asian Fan Meetings called Vagabond Voyage.
The 32-year old Korean celebrity Lee Seung Gi initially debuted as a singer in 2004 with the track Because You're My Girl, before treading the vast land of acting the following year. Until now, he is continuously loved for what he puts on the table as an actor.
Some of his hit dramas include Brilliant Legacy (2009), My Girlfriend is a Gumiho (2010), You're All Surrounded (2014), and A Korean Odyssey (2018). Vagabond, where he takes on the role of a stunt man, is set to grace the screens beginning September 20.
Aside from being a singer and an actor, Seung Gi also appears on Korean variety shows, very well sticking to the all-around entertainer label he proudly associates with himself. Presently, he is a regular cast of the show All the Butlers, which is already on its second season.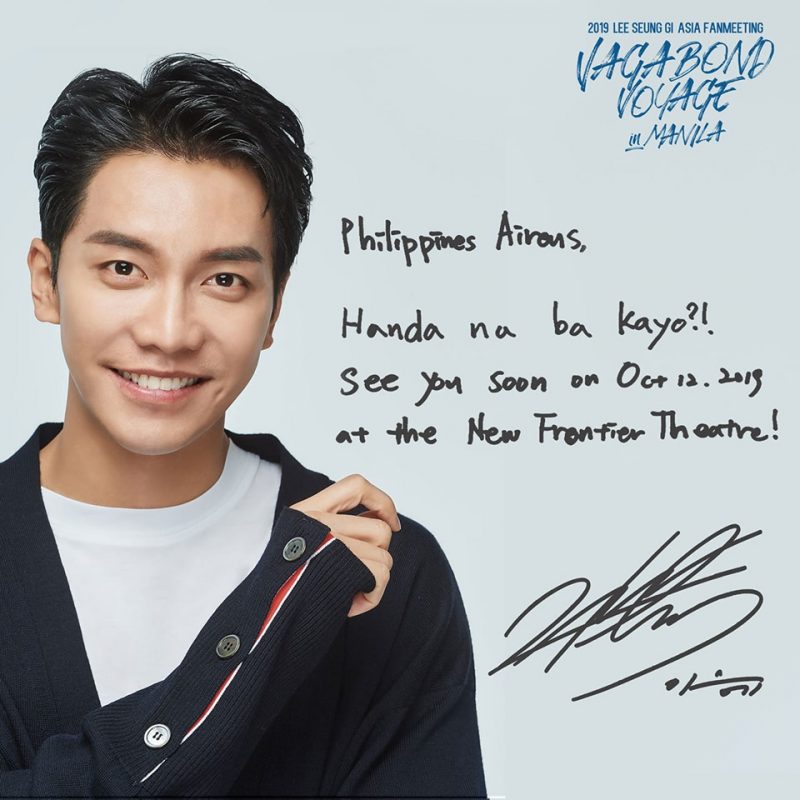 Aside from the personal invitation from Seung Gi himself, the tickets priced at Php 9,500 come with a group photo opportunity with him, while the Php 6,850 ticket makes the purchaser eligible in the random selection for the same photo op. 
It's not too late to grab tickets for yourself either through the physical outlets of TicketNet or through their website. 
Aside from the Philippines, Lee Seung Gi will also meet his fans in Singapore, Malaysia, and Thailand.
Details
What: 2019  Lee Seung Gi Asia Fan Meeting – Vagabond Voyage in Manila
Where: New Frontier Theatre, Araneta Center, Cubao
When: October 12, 2019 at 6 p.m.
Ticket Information: Tickets available at TicketNet outlets and website
Php 9,850 – MVP Ticket
Php 6,850 – VIP Ticket
Php 4,000 -Airen Pass
---
Source: CDM Entertainment