Celebrate an Autumn Festival at Mommy International Manila
This autumn season, Mommy International Manila invites you and your family to celebrate a fun-filled Autumn Festival with them on September 13, 2019 in BGC, Taguig City.
Also read: Mommy International Manila Continues to Redefine Children's Learning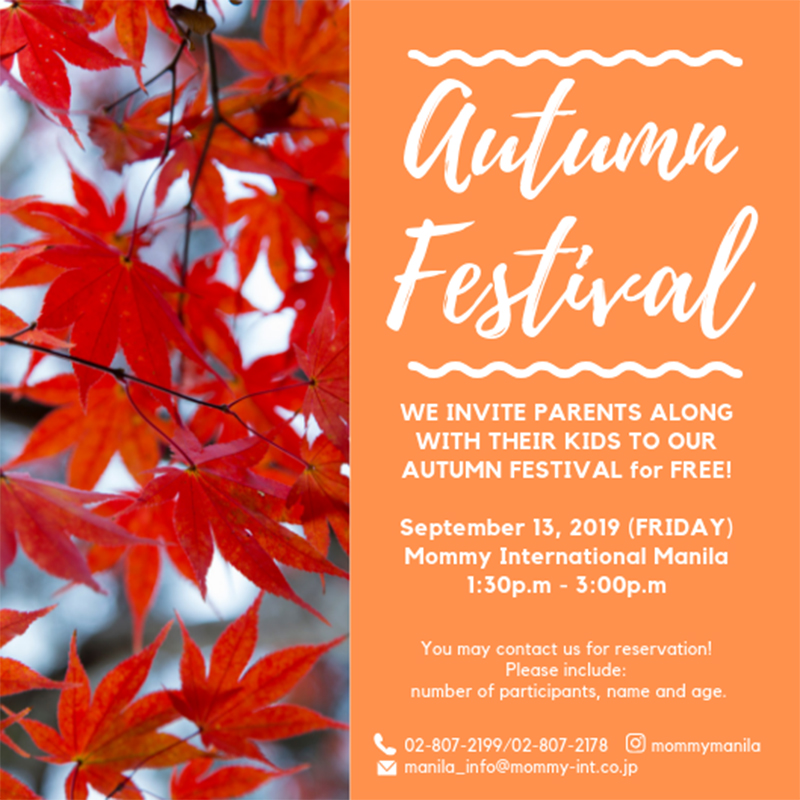 Autumn is one of the most colorful and fun seasons of the year, and you can celebrate this even in a tropical country like the Philippines! Get into the spirit of fall in Mommy International Manila's Autumn Festival, made especially for parents and kids to have an amazing time and bond over fun activities and festivities.
Mommy International Manila is a preschool that teaches Japanese culture and values to both Japanese and non-Japanese children. The preschool utilizes the rainbow program, integrated into their curriculum, which is rooted in the school's values, philosophy, and symbolic logo. The program is comprised of sports, literacy, arts and crafts, music, study, reading, and nutrition and dietary education.
Also read: Mommy International Manila in BGC Promotes Japanese Culture and Language
Do not miss out on all of the fun at the Autumn Festival in Mommy International Manila, BGC. Admission is free! For reservations, get in touch with them and include the number of participants, names, and ages. 
Details
What: Autumn Festival
Where: Mommy International Manila, G/F Avecshares Center, 1132 University Parkway, Bonifacio North Triangle, Bonifacio Global City, Taguig City
When: September 13, 2019 from 1:30 p.m. to 3 p.m.
Ticket information: Free admission
Contact: 02-807-2199 / 02-807-2178
Email: manila_info@mommy-int.co.jp
Website: mommy-int-manila.jp