EIGASAI Opening Week Features Shamisen Player Keisho Ohno
Opening this July 3, the Japanese Film Festival EIGASAI surely offers more than its long list of amazing films—along with it are exciting activities from The Japan Foundation, Manila. These include a Director's Talk with filmmakers and their features films, and of course, a special performance you can't miss!
Also read: EIGASAI 2019 Opens With a Unique Line-Up of Films!
The opening night of this year's EIGASAI features a performance by Shamisen player Keisho Ohno on July 3, 6 p.m. at The Grand Atrium of Shangri-La Plaza Mall. Ohno is a master of Shamisen, a three-stringed Japnese traditional music instrument.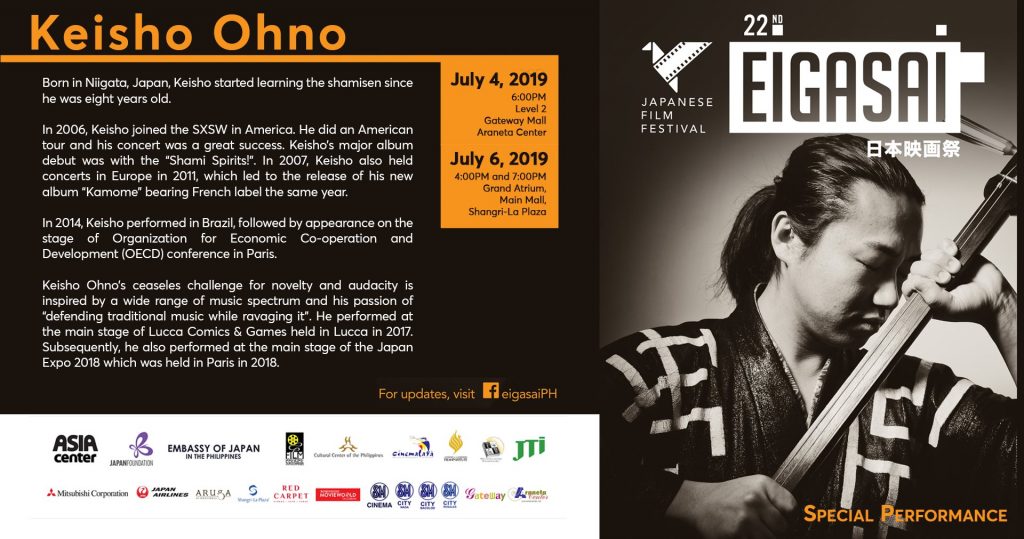 Keisho started learning the shamisen at age 8 and received accreditation at only 12 years old. Two years later, he became the first authored successor of authentic "Chikuzan-bushi" shamisen player.
He has since toured America, Africa, and Europe for the Organization for Economic Co-operation and Development (OECD) conference, as well as the Japan Expo 2019 in Paris, France.
One of his original music compositions named Samurai was used as a theme song for the New Year Ekiden or marathon relay race held and broadcasted nationwide on the New Year in Japan.
Other public performances include the following schedules:
July 4, 6 p.m. at the Gateway Mall and
July 6, 4 p.m. and 7 p.m. at the Shangri-La Plaza.
今年もヨーロッパに挑戦します!大野敬正ヨーロッパツアー2019 三味線魂~Shami Sprits!~5/31(FRI) Chalon-sur-Saône 🇫🇷 FRANCE6/1(SAT) Brangues 🇫🇷…

Keisho Ohnoさんの投稿 2019年5月26日日曜日
Exciting events will soon be announced for this year's Japan Film Festival EIGASAI!
Which films and activities are you looking forward to? Let us hear your thoughts in the comments below!
For more information, visit the JFM website and official Facebook page. You may also contact JFM at 02-811-6155 to 58 or email email@jfmo.org.ph.
Details
What: Japanese Film Festival EIGASAI Opening Ceremony and Keisho Ohno special performances
When:
• Opening Ceremony: July 3, 6 p.m. at The Grand Atrium of Shangri-La Plaza
• July 4, 6 p.m. at the Gateway Mall and
• July 6, 4 p.m. and 7 p.m. at the Shangri-La Plaza
Where: Shangri-La Plaza, Mall and Gateway Mall
Facebook page: eigasai PH and The Japan Foundation, Manila
Contact: 02-811-6155 to 58
Email: mail@jfmo.org.ph
Ticket Information: Free