EIGASAI 2019 Opens With a Unique Line-Up of Films!
The Japan Foundation, Manila has released the line-up of films, guests, and special talks for this year's Japanese Film Festival, popularly known as EIGASAI. The 2019th edition will run from July 3 to August 25, 2019, with 17 full-feature films for more than 135 screenings!
EIGASAI continues the tradition of screening films to viewers of all ages and interests with varied themes and genre. As a treat, this year's film festival features recent films released from 2016 to 2019, including The Tears of Malumpati, which is yet to be released in Japan.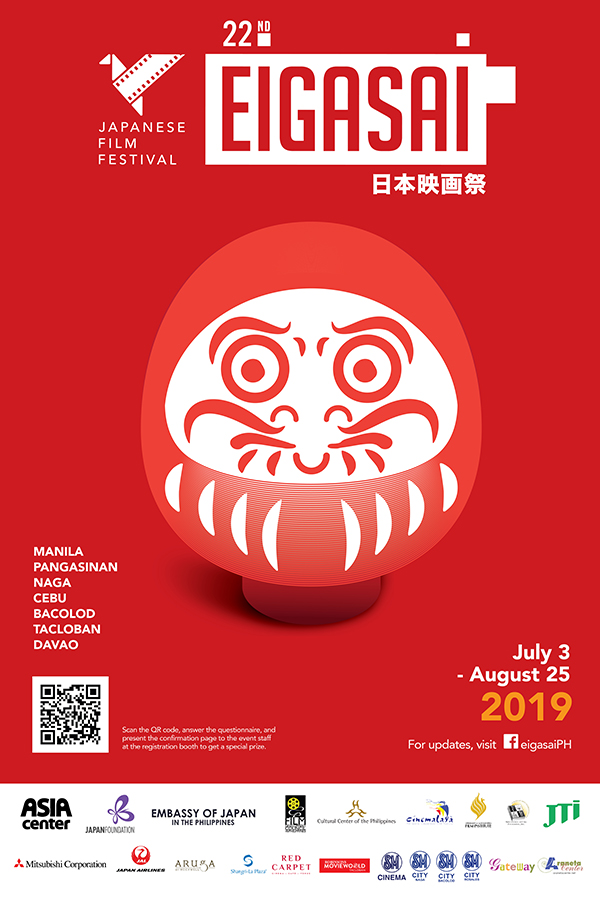 Expect a variety of film genres—romance, comedy, action/adventure, horror, mystery, feature, historical dramas, and all-time favorite anime films to complete this year's line-up!
Download the official schedules for Manila, Cebu, Davao, Bacolod, Naga, Pangasinan, and Tacloban online. These are subject to changes, please check the Japan Foundation, Manila website and Facebook for updates. Below is the schedule of screenings for Metro Manila:
Venues
All film screenings are free on a first-come, first served basis, except screenings at the Red Carpet at the Shang Cinema 4.
Metro Manila:
RED CARPET AT THE SHANG, CINEMA 4, from July 3-14
Main Wing, Shangri-La Plaza, EDSA Corner Shaw Boulevard, Ortigas Center, Mandaluyong City
Php 100 per screening. Tickets are available at the cinema ticket booth starting June 26
CCP, CCP COMPLEX, CCP Little Theater & Dream Theater from August 3 & 9
CCP Building, CCP Complex, Roxas Boulevard, Pasay City, Metro Manila
UP FILM INSTITUTE, UP-DILIMAN, from August 14-17
UPFI Media Center Building, Ylanan Ave., UP Diliman, Quezon City
GATEWAY CINEPLEX, CUBAO, from August 22-25
Gateway Mall, Araneta Coliseum Araneta Center, Quezon City
CEBU:
AYALA CENTER CEBU CINEMA, from August 15-18
Cardinal Rosales Ave, Cebu City, Cebu
DAVAO:
Cinema 1, Abreeza Mall Cinemas, from August 1-4
Abreeza Davao Ayala Mall, J.P. Laurel Avenue, Bajada, Davao City
Other venues:
SM CITY BACOLOD CINEMA, from July 25-28
Reclamation Area, Bacolod City
SM CITY NAGA CINEMA, from July 18-21
CBD II Terminal, Brgy. Triangulo, Naga City
SM CITY ROSALES CINEMA, PANGASINAN, from August 8-11
SM City Rosales, McArthur Highway, Carmen East, 2441 Rosales, Pangasinan
Robinson's Movieworld, from July 18-21
National Highway, Marasbaras, Tacloban City, Leyte
You can download the official flyer for the movie details.
Read on to know more about which movies will be screened this year:
Samurai Marathon
Opening Film
This year's opening film, Samurai Marathon, is directed by Bernard Rose. It's based on Akihiro Dobashi's novel Bakumatsu Marathon Samurai about the Ansei Tooashi, known as Japan's first marathon that is still celebrated annually to date. The movie starts with the Annaka feudal lord holding a run across mountain roads as a drill for his samurai warriors. However, the central government views this as a rebellion and sends assassins to the castle.
The House Where the Mermaid Sleeps
Closing Film
A couple in a troubled marriage has agreed to divorce once their daughter's elementary school entrance exams are over. However, just before they rehearse for the family oral interview, they are informed that their child drowned in a pool. The couple must now make a difficult choice.
Shoplifters
Special Screening at UP Film Institute
A day-laborer father and his son shoplift with brilliant teamwork. One day, they bring home a girl shivering in the cold only to find out later that the girl has been abused by her parents. The family continues to raise her as their own while a certain incident exposes the family's secrets.
Yakiniku Dragon
With Director's Talk on August 3 at CCP
Ethnic Korean Yong-gil runs a yakiniku barbecue restaurant in the slums on a government property. With wife, three daughters, and one son, he lives with bravado but is gradually bombarded by the tides of when Japan's economy was booming.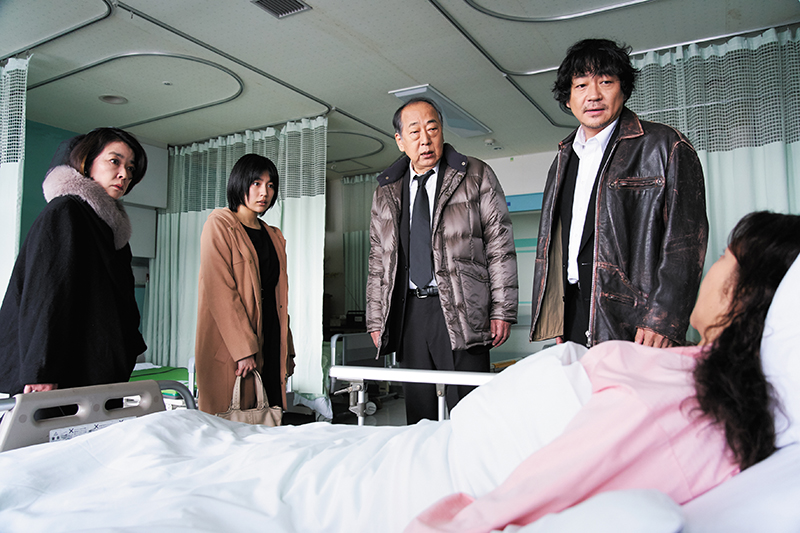 Lying to Mom
With Director's Talk on August 16 & 17 at UP Film Institute
Without warning, the Suzuki family's eldest son takes his own life. The mother, Yuko, is so shocked that she loses her memory so for her sake, her husband and daughter decide to tell a once-in-a-lifetime lie.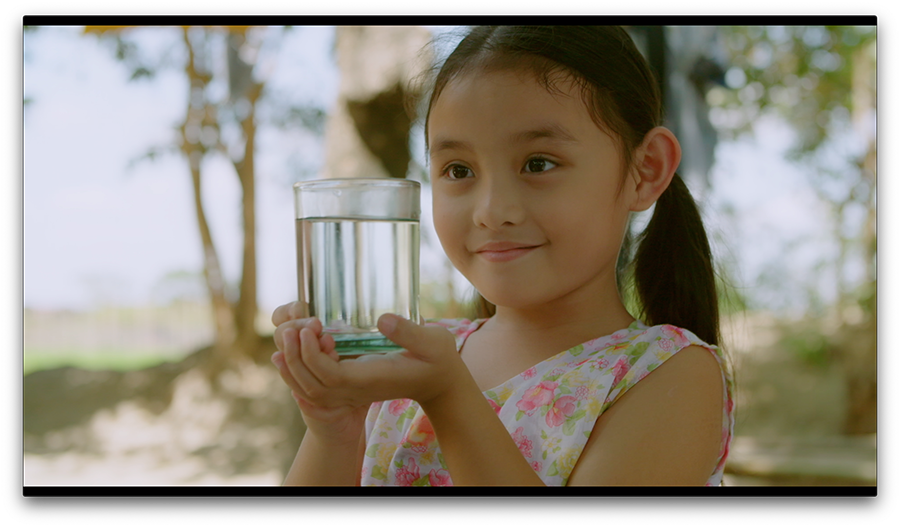 The Tears of Malumpati
In Panay Island, Philippines, a project was started to help the villagers with clean drinking water. Asuka, a Japanese volunteer student, realizes things are worse than expected. Labor is intensive, they lack funding, and the locals are hostile toward them. Despite this, a 5-year old girl, Amy, befriends her through Origami.
Lu Over the Wall
This animated film follows a Middle school student, Kai, who ends up in a declining fishing town as a result of his parents' divorce. He is one day invited by a classmate to join their band where he meets Lu, a young mermaid.
Other films include The 8-Year Engagement by Takahisa Zeze, KAKEGURUI by Tsutomu Hanabusa, The Crimes that Bind by Katsuo Fukuzawa, Laughing Under the Clouds by Katsuyuki Motohiro, Mixed Doubles by Junichi Ishikawa, One Cut of the Dead by Shinichiro Ueda, Perfect World by Kenji Shibayama, Mirai, an animated film by Mamoru Hosoda, and special screenings of award-winning Japanese film director Hirokazu Tsutsumi: After the Storm and The Third Murder.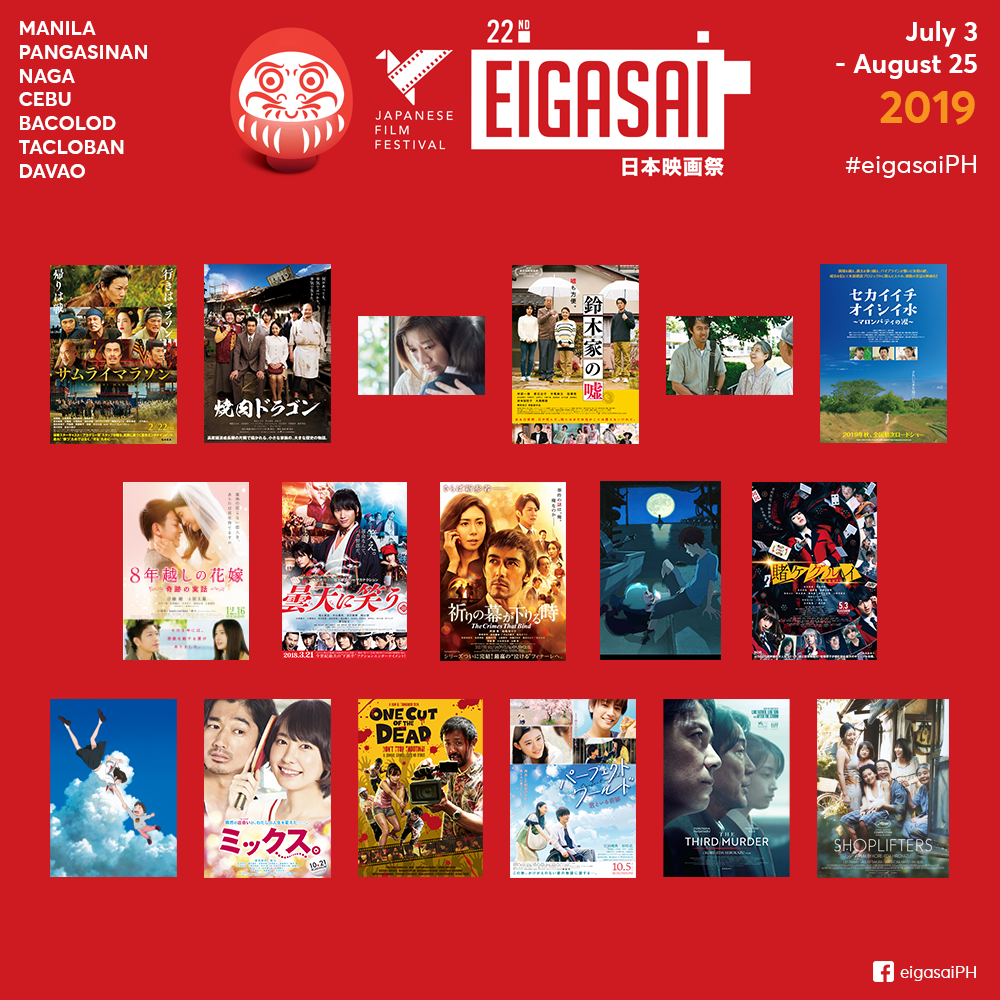 The opening week of this year's EIGASAI features a performance by Shamisen player Keisho Ohno on July 4, 6 p.m. at the Gateway Mall and July 6, 4 p.m. and 7 p.m. at the Shangri-La Plaza. His original composition, Samurai, is used as the theme song for the New Year marathon relay race.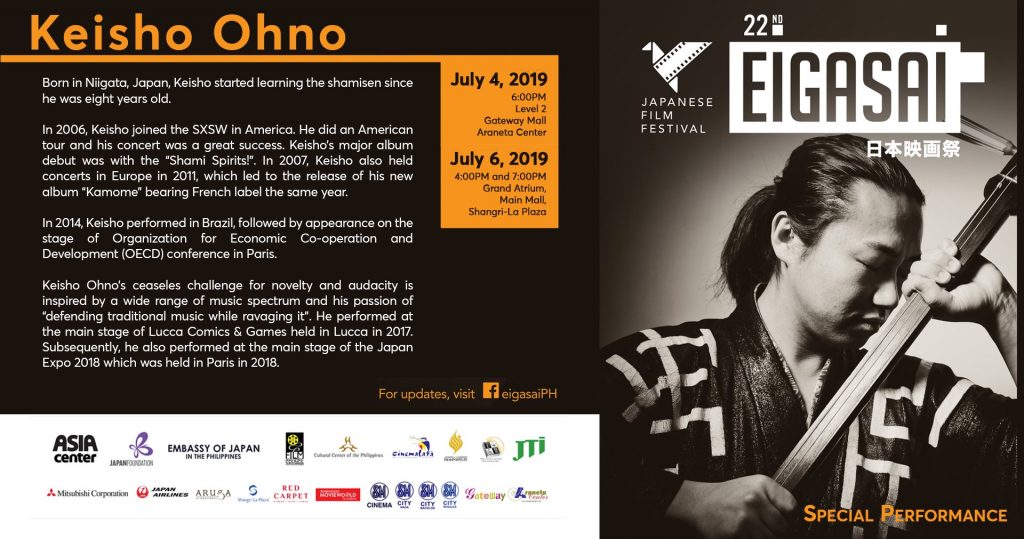 Other exciting events will soon be announced for this year's exciting Japan Film Festival EIGASAI! Watch out or tell us in the comments below which films are you looking forward to!
For more information, visit the JFM website and official Facebook page. You may also contact JFM at 02-811-6155 to 58, or email email@jfmo.org.ph.
Details
What: Japanese Film Festival EIGASAI
When: July 3 to August 25, 2019
Where: Metro Manila, Tacloban, Naga, Bacolod, Davao, Pangasinan, and Cebu
Facebook page: eigasai PH and The Japan Foundation, Manila
Contact: 02-811-6155 to 58
Email: mail@jfmo.org.ph
Ticket Information: All film screenings are free on a first-come, first served basis, except screenings at the Red Carpet at the Shang Cinema 4 (Php 100)