Mayday Parade Is Back in the Philippines for Sunnyland Tour 2019
Pop-punk band Mayday Parade once again makes its way to the Philippines as they bring the Sunnyland tour in Manila and Cebu City!
Mayday Parade is flying to Manila on May 5, 2019, to perform at the New Frontier Theater. Expect their top hits from their 2018 album Sunnyland, such as "Never Sure," "It's Hard to Be Religious When Certain People Are Never Incinerated by Bolts of Lightning," and "Piece Of Your Heart".
Sunnyland was an abandoned psychiatric hospital in Florida that mirrored experiences from the band's youth, hence they named the album after the hospital, even if it has long been gone.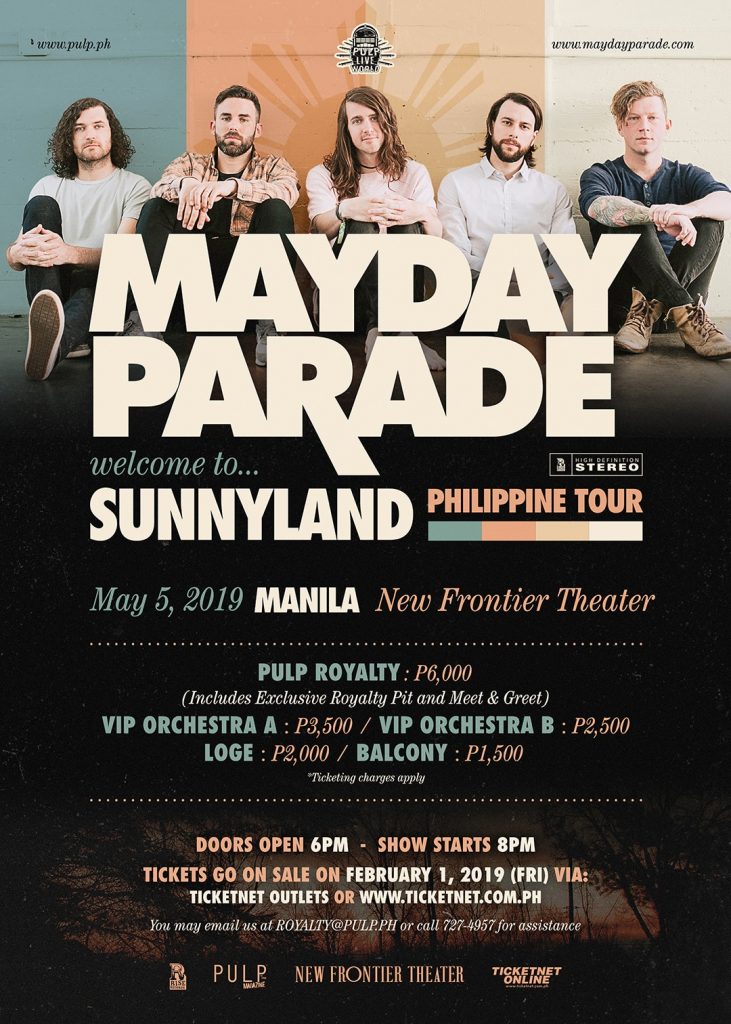 Ticket prices for their Manila tour are as follows: General Admission (Php 1,500), Loge (Php 2,000), VIP Orchestra B (Php 2,500), VIP Orchestra A (Php 3,500), and Pulp Royalty (Php Php 6,000). You may purchase your tickets at Ticketnet Outlets or online at ticketnet.com.ph.
Prior to that, Cebu is bound to see the band's groundbreaking performance for the very first time, happening on May 3, 2019, at the Skyhall Seaside Cebu. Their Cebu tour ticket prices are generally the same as in Manila, except that they don't have a Loge entry. You may purchase your tickets at SM Ticket Outlets or online at smtickets.com.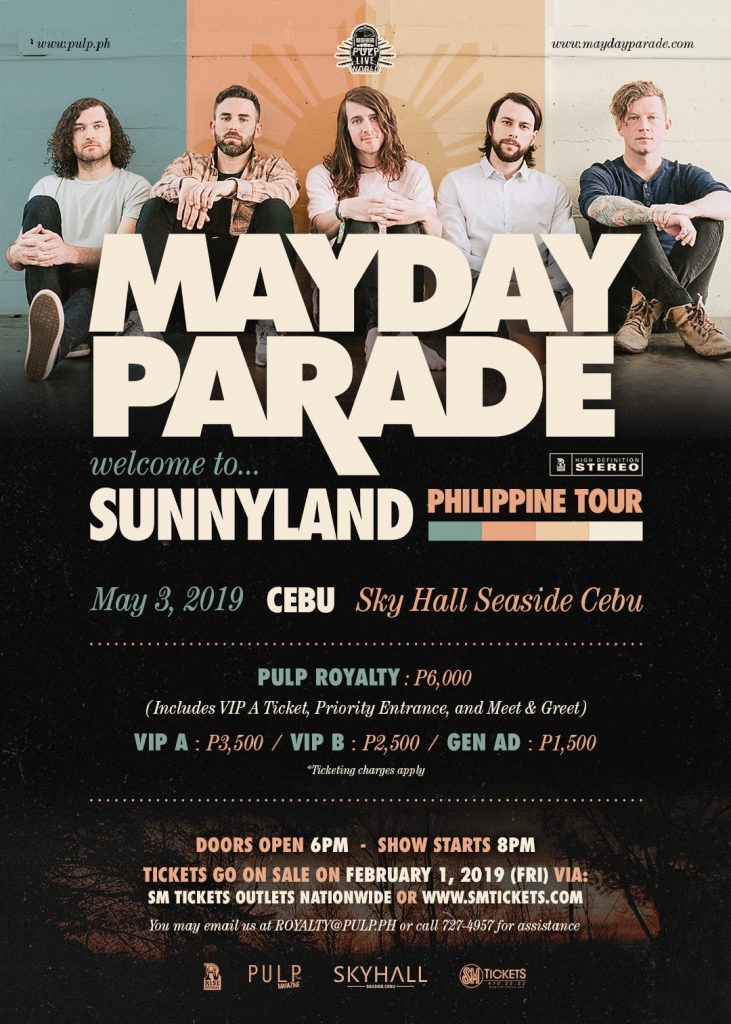 Mayday Parade is composed of Derek Sanders (lead vocals, piano), Jeremy Lenzo (bass guitar, backing vocals), Jake Bundrick (drums, percussion, vocals), Alex Garcia (lead guitar), and Brooks Betts (rhythm guitar). They're known for their heartbreaking songs that will surely rip you into pieces, with relatively longer titles and poetic lyrics.
The Sunnyland tour marks the band's 8th visit in Manila since it first performed at the Meralco Theater in 2011—just shows how their fanbase in the Philippines is going strong through the years!
Also read: Mayday Parade Live in Manila
Details
What: Mayday Parade Sunnyland Philippine Tour
When: May 3, 2019 (Cebu); May 5, 2019 (Manila)
Where: New Frontier Theater, 7 General Malvar Ave, Cubao, Quezon City (Manila)
SkyHall, SM Seaside City, 3rd Level South Coastal RD. Corner Mambaling EXT, Cebu South Coastal Rd (Cebu)
Ticket information:

Manila (Ticketnet Outlets or online at ticketnet.com.ph)
General Admission (Php 1,500)
Loge (Php 2,000)
VIP Orchestra B (Php 2,500)
VIP Orchestra A (Php 3,500)
Pulp Royalty (Php Php 6,000)
Cebu (SM Ticket Outlets or online at smtickets.com)
General Admission (Php 1,500)
VIP Orchestra B (Php 2,500)
VIP Orchestra A (Php 3,500)
Pulp Royalty (Php Php 6,000)
---
Source: pulp.ph