Cafe Scientifique: Cleopatra's Needle Happening at the Mind Museum This January 26
There's clearly a need to spread awareness about preserving natural resources—that's why Cafe Scientifique will be hosting Cleopatra's Needle on January 26, 2019 at the Mind Museum, Taguig City.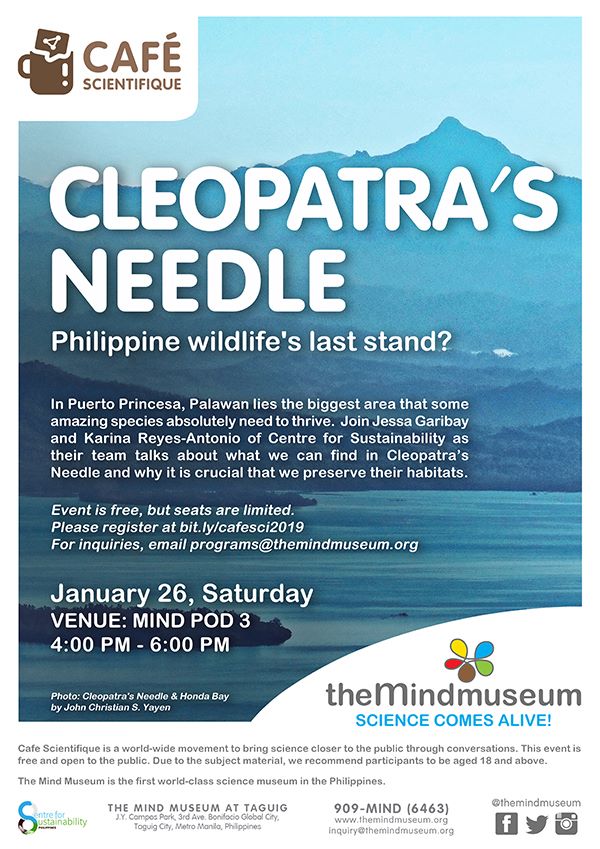 In the Philippines, Cleopatra's Needle is located in Puerto Princesa, Palawan, where diverse and rich natural wildlife is present. Cleopatra's Needle is said to be a mystical mountain in the island, which is adjacent to the Puerto Princesa Underground River.
The event will be anchored by Filipino researchers, Jessa Garibay and Karina Reyes-Antonio from the Center of Sustainability, leading a series of talk about the Cleopatra's Needle and how we can preserve the natural habitat, such as the importance of protecting it, tips on the don't and dos when you are in the location, and so much more.
Cleopatra's Needle has been a hot spot for trekkers and climbers for years. The mountain poses a challenging terrain for mountaineers since it involves several river crossings, steep boulders, and exhilarating biodiversity, which also attracted a lot from other countries.
Get to know more about the Cleopatra's Needle, one of the critically endangered habitats in the Philippines. Be sure to bring your friends, especially if you plan to visit this enchanting place soon!
This event is free and open to the public, but seats are limited. To get seat reservations, click here.
Also read: Ayala Museum's Creative Nights Together With Gus Albor and CRWN
Details
What: Cafe Scientifique: Cleopatra's Needle at the Mind Museum
Where: The Mind Museum, JY Campos Park, 3rd Ave, Taguig City
When: January 29, 2019; 4 p.m. to 6 p.m.
Ticket information: Free admission