Ayala Museum's Creative Nights Together With Gus Albor and CRWN
Ayala Museum and Bandwagon come together to bring you live music and a night of unbridled creative inspiration, celebration, and collaboration on Creative Nights with Gus Albor and CRWN.
See what an internationally renowned minimalist artist could create with electronic beatmaker and producer on February 8, 2019.
Happening at the Ayala Museum in Makati City, Creative Nights will deliver magic sparked by two creative forms coming together to bring forth a heightened sense of creativity and expression care of our local artists.
Also read: Ayala Museum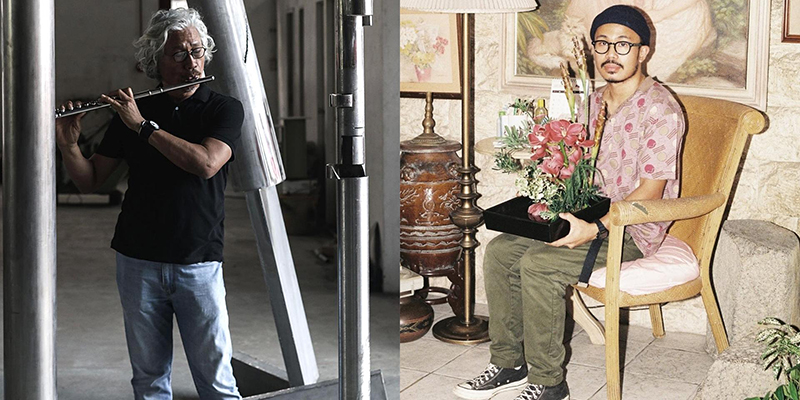 Experience how Gus Albor's minimalist art will pair up with the electronic music of CRWN
Gus (Augusto) Albor, an internationally renowned abstractionist, will present his exhibit titled Territory, which features almost 200 pieces including oil on canvas paintings, mixed media works, paper-based illustrations, large scale sculptures, and installation artworks. The exhibit will showcase the artist's works from 1969 to 2018.
His works have been shown in various exhibitions in Italy, Japan, and the United States, to name a few. Albor has also received many honors and distinctions, one of which is the prestigious CCP 13 Artist Award.
Also read: CCP announces its 13 Artists Awardees for 2018
CRWN, also known as King Puentespina, began his electronic project from his bedroom and has since unleashed powerful beats and tunes. He has also dropped beats at Bandwagon Music Market, and Bandwagon Riverboat II in Singapore. His beat tape Orchid is available now.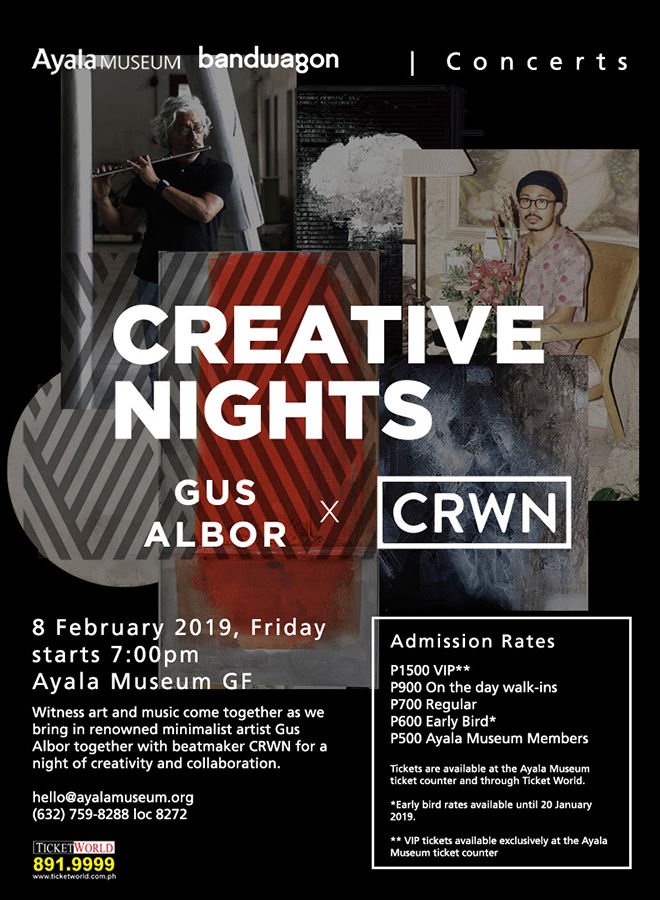 Tickets are now available for Php 1,500 (VIP), Php 900 (On the day walk-ins), Php 700 (Regular), Php 600 (Early Bird), and Php 500 (Ayala Museum Members) at the Ayala Museum ticket counter and via Ticketworld.
VIP tickets are exclusively available at Ayala Museum and are inclusive of priority seating, a meet-and-greet with the artists, an exhibit tour with our senior curator, and other exclusive offerings. All ticket tiers include access to Gus Albor's Territory exhibit.
Early bird ticket rates apply until January 20 only. For more information, email Ayala Museum at hello@ayalamuseum.org or call 02-759-8288 loc 8271.
Details
What: Creative Nights with Gus Albor and CRWN
When: February 8, 2019, 7 p.m.
Where: G/F Ayala Museum, Makati Avenue corner Dela Rosa Street, Greenbelt Park, Ayala Center, Makati City
Ticket information: Php 1,500 (VIP), Php 900 (On the day walk-ins), Php 700 (Regular), Php 600 (Early Bird), and Php 500 (Ayala Museum Members)
Contact information: hello@ayalamuseum.org or call 02-759-8288 loc 8271