Thrice Debuts First-Ever Concert in Manila This May 3
Legendary post-hardcore American rock band Thrice will perform live for the first time ever in the Philippines to introduce their new album, Palms. The tour is scheduled on May 23, 2019 at the SM Skydome in Quezon City.
Also read: Party for a Cause at the Syzygy Music Festival on February 9!
In this age of upheaval and division, my hope is that the youth will manifest the courage and love necessary to hold up a light and illuminate a new path forward, to embody a better story than the one that perpetuates fear and violence. -DustinWatch our new music video for "Hold Up A Light" at thrice.net.

Thriceさんの投稿 2019年1月8日火曜日
Thrice has made their name with their astounding experimental style that has combined post-hardcore and alternative influences.
In their album, the band flexes how they perform with their unique compositions, which have also been the trademark of the band's aesthetics.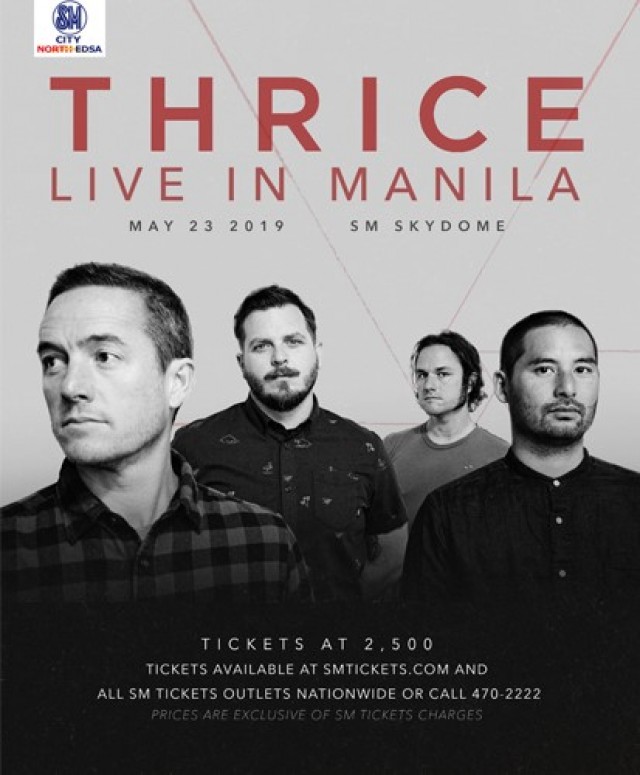 Dustin Kensrue, the guitarist-vocalist of Thrice, founded the band with guitarist Teppei Teranishi. The band is also formed by bass player Eddie Breckenridge and drummer Riley Breckenridge.
With their new contract signed with Epitaph Records, the band was able to release their most recent album Palm last September 2018. The debut of the album booked themselves at the top spot of the US Billboard Top Hard Rock Albums and US Billboard Independent Albums, while gaining the number 2 seat in the US Billboard Top Rock Albums.
Palms also stayed at the 27th spot in the US Billboard Top 200 on its release.
Aside from featuring the band's newest album, fans from the Philippines will also hear hits from their previous albums, such as the First Impressions, Identity Crisis, The Illusion of Safety, and so on—all brought to you by Evil Genius and Kbeam events!
Also read: Andy Brown Solo Concert LIVE in Manila on March 30, 2019
For more information about the band, you may visit their website at thrice.net or through their Facebook page. For ticket reservation and bookings, please check via SMTickets.com website.
Details:
What: Thrice Live in Manila 2019
Where: SM Skydome, SM City North Edsa
When: May 23, 2019; 8 p.m.
Ticket information: Php 2,500 (SM Ticket charges not yet included)